Chinykian Games has announced they will be releasing their vertical platformer Serious Scramblers on Steam on 11th November.  In this fast paced vertical platformer there is no jumping, instead players will need to drop down a hazardous pit and defeat a huge monster that hides at the bottom.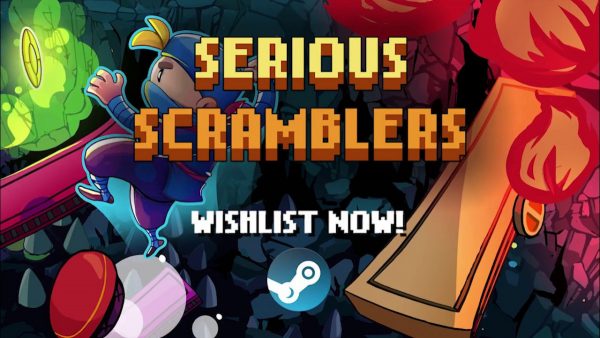 Serious Scramblers will have players descend down the pit, avoiding challenging obstacles and enemies and thanks to randomised level generation the pit will provide a different challenge with every playthrough.
Features:
• Intense arcade action as you drop through randomly generated levels.
• Challenging obstacles to test your skills.
• A massive boss fight faces players at the finale.
• A leaderboard to show off your score.
• Enjoy a chip-tune musical score while playing the game.
Players will be able to unlock a colourful cast of characters as they progress with each having their own game changing abilities.  Some of these characters include Motoko, a time jumper who has the ability to pause time when she stands still, however, when moving the level moves much faster; Mummy can provide more coins but moves substantially slower; and Silhouette who moves at top speed but brings in less gold.
Serious Scramblers will release on 11th November; visit the game's Steam page to add it to your wishlist.