Dolittle, 2020.
Directed by Stephen Gaghan.
Starring Robert Downey Jr., Antonio Banderas, Michael Sheen, Emma Thompson, Rami Malek, John Cena, Kumail Nanjiani, Octavia Spencer, Tom Holland, Craig Robinson, Ralph Fiennes, Selena Gomez, Marion Cotillard, Carmen Ejogo, Frances de la Tour, Jim Broadbent, Jessie Buckley, Ralph Ineson, Harry Collett, Carmel Laniado, Kasia Smutniak, Joanna Page, and Jason Mantzoukas.
SYNOPSIS:
Dr. John Dolittle lives in solitude behind the high walls of his lush manor in 19th-century England. His only companionship comes from an array of exotic animals that he speaks to on a daily basis. But when young Queen Victoria becomes gravely ill, the eccentric doctor and his furry friends embark on an epic adventure to a mythical island to find the cure.
With his Marvel Cinematic Universe tenure now wrapped up, it's easy to appreciate why Robert Downey Jr. would want to test his singular blockbuster pulling power away from sleek super-suits and genocidal purple titans, and if nothing else, the actor's vision for a Doctor Dolittle retelling is certainly a bold one.
Produced by the actor and his wife Susan Downey under their own Team Downey label, the project achieved the head-scratching feat of roping in Oscar-winning Traffic screenwriter and Syriana filmmaker Stephan Gaghan to both co-write and direct.
More so than any blockbuster in recent memory, Dolittle's end result proves just how utterly wrong-headed its director's appointment truly was. Though in fairness, the final film released to cinemas was reportedly the culmination of a troubled production which saw substantial re-shoots undertaken by filmmakers Jonathan Liebesman (Teenage Mutant Ninja Turtles) and Chris McKay (The LEGO Batman Movie).
But Dolittle isn't merely a film that feels as though it's been passed through countless hands on its way to the big screen. It also smacks of a creative process where seemingly no idea was a bad one; not even the placement of a scorpion boner gag nor the decision to have the film climax with Dolittle removing suits of armour and golf clubs from a dragon's anus – while it farts in his face, no less.
Yet in all honesty, the first 10 minutes of Dolittle belie most of its problems; a genuinely gorgeous opening animated sequence invites promise, and the early glimpses of Dolittle's animal pals suggest an impressively photoreal likeness (as achieved through indecently expensive CGI, of course).
But this initial potential quickly evaporates the moment that everyone – both human and animal – opens their mouths. The fleeting plausibility of the animals is shattered once their animated maws start to move, with a shockingly distinguished cast ripping through blandly unfunny one-liners like their lives depend on it. Somehow more grating is the Welsh-ish accent that Downey Jr. aggressively commits to, ensuring his performance is rife with inaudible mumbles and sub-Johnny Depp mugging.
You can't accuse the star of just resting on his laurels post-Marvel, but it's also tough to make sense of how this version of the story is what he keenly settled on. The threadbare plot focuses on Dolittle seeking out a fruit MacGuffin to cure Queen Victoria (Jessie Buckley) of a deadly ailment, and it mostly serves as an excuse for the character to voyage onward with his digital animal pals, while fending off an almost literally mustache-twirling antagonist, his blowhard rival Dr. Blair Müdfly (played with a hammy relish by Michael Sheen).
Throughout Dolittle, the reports of the film effectively being welded together in post-production are strongly corroborated; scenes frequently have a peculiar rhythm to their editing, and given how often Downey Jr.'s mouth isn't visible during dialogues, it's clear that much of his chit-chat has been recorded after-the-fact.
If the actor's performance of the title role is basically a bust, occasional entertainment does emerge through the cutesy antics of his animal cohorts; Emma Thompson is exceptionally well-cast as a strong-willed macaw, and there's an amusing bromance of sorts between plucky polar bear Yoshi (John Cena) and neurotic ostrich Plimpton (Kumail Nanjiani).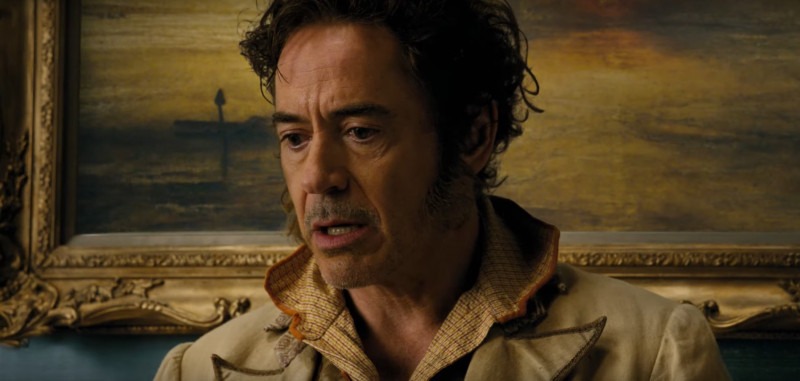 These roles are all positively dignified compared to that afforded to Ralph Fiennes, who was hopefully paid wildly over-the-odds to voice an antagonistic tiger named Barry who, after being kicked in the nuts by a gorilla, quips, "My Barry berries!"
Many of the other vocal cast members – namely Rami Malek, Octavia Spencer, and Downey Jr.'s MCU co-star Tom Holland – barely make much of a dent, though their lack of presence might ultimately be a relief all things considered.
And try as many might to hold up Dolittle as a Cats-like dud of deathly ironic proportions, at its core this is a far more generic adventure flick likely to exit the short-term memory in near-record time – the aforementioned dragon colonoscopy gag notwithstanding.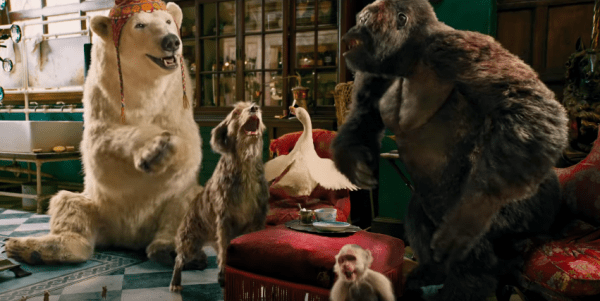 It's not exactly an easy film to fully loathe because some clear craft has gone into it and there are some decent enough ideas, yet with an ill-suited director, lead actor who overestimates the worth of a terrible accent, and most of all a woefully unadventurous screenplay, this latest attempt to shock the good doctor back to life better resembles a shambling Frankenstein's monster.
Dementedly misguided enough to at least be perversely watchable, Dolittle is a fascinating calamity that criminally wastes an all-star cast.
Flickering Myth Rating – Film: ★ ★ / Movie: ★ ★
Shaun Munro – Follow me on Twitter for more film rambling.