Call of Duty fans will be able to take part in a massive combat experience with up to 150 players tomorrow as Activision announce Call of Duty: Warzone will release tomorrow on Xbox One, Playstation 4 and PC.  Call of Duty: Warzone is a free-to-play experience that will give players the chance to explore the immense city of Verdansk and take part in large scale battles.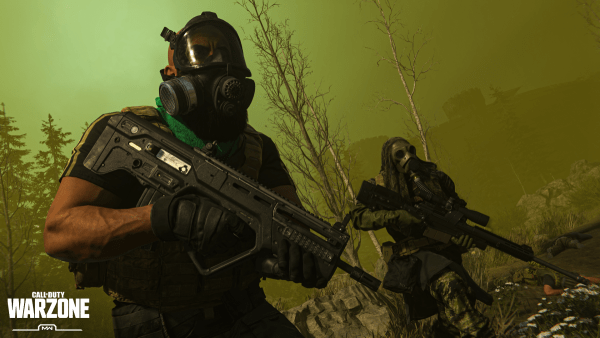 Call of Duty: Warzone features a signature Modern Warfare battle experience, although Call of Duty: Modern Warfare will not be required to play the game.  Players will be able take part in two different game modes, team up with their friend and earn rewards.  There's dozens of weapons, complete with attachments to discover, land and air vehicles to drive around in and discoverable Contracts located around the map.
In Warzone's Battle Royale mode players will drop into the massive Verdansk world with up to 149 other players (in teams of three) and fight to be the last squad standing.  This redefined Battle Royale experience will allow players to collect in-match Cash that can be used to purchase equipment, Field Upgrades, Killstreaks or Revive Tokens for fallen teammates from the special Buy Stations located throughout the map.
Optional in-match mini-missions located throughout the map known as Contracts that will give with in-match rewards upon completion, these include rare loot, in-match Cash, XP, and Weapon XP.
Going down isn't the end of the battle as there are multiple ways to get back in the game; firstly, when players are down they will go into a special 1v1 Gulag battle with the winner redeploying, secondly players can earn enough in-match Cash to purchase a Self-Revive Kit and heal themselves and finally, squads can purchase a special Squad Buyback at Buy Stations.
The second game mode is 'Plunder', this all-new, large-scale combat mode sees players race to collect as much in-match money as possible by raiding Supply Boxes, eliminating opponents, completing Contracts or by controlling key Cash deposit locations spread across the map.  Each player will get their own loadout, killstreaks etc. as well as unlimited respawns.
Players who own Call of Duty: Modern Warfare will be able to carry over all content already earned including Battle Pass items, Operators, weapons and customization items, while those who do not own the game will be able to carry any earnings over should they buy Modern Warfare in the future.
Call of Duty: Warzone arrives on Xbox One, Playstation 4 and PC on 10th March.