Tom Jolliffe delves into the delights of cabin fever and double bills The Lighthouse and The Shining…
I do love a double bill. Sometimes it's pre-planned, like pre-meditated eating of the chocolate in the cupboard. Sometimes it just happens to cross my mind when watching one film, that I can connect it to something else (whether tenuous of link or not). So upon watching The Lighthouse recently, it struck me that the film's predominant focus on psychological breakdown in confined space, succumbing to cabin fever bore very similar themes (and indeed quite a few stylistic traits too) to The Shining. So here it is, double bill time.
Minor spoilers follow…
The Lighthouse
Robert Eggers had a great weight of expectation in following up the critically acclaimed horror, The Witch. His slow brewing and atmospheric film, born out of old folk tales and lore was one which dazzled critics, if divided some fans. The film was certainly marketed as perhaps being filled with more overt horror tropes like jump scares etc than it actually was.
The Lighthouse as a film is even more of a unique and singular vision. It's very odd indeed. Marketing it was always going to be difficult, because no trailer will accurately convey exactly what you're in for, and it comes to pass that inevitably, there will be some misguided assumptions based on the advertising. The Lighthouse has horror elements for sure, but as The Shining also did, it's not about consistent scares, it's about unsettling the viewer. It's a slow moving and persistently discomforting descent into the madness of its central characters. It's more psychologically focused than scares and yet, much like Kubrick's masterpiece, that ability to constantly leave you on edge, is the greatest strength of The Lighthouse.
The plot is simple. Two lighthouse keepers are marooned together through duty to tend the light, on a small island. They descend into heavy drinking, slowly losing track of days and a grip on their sanity. On a visual standpoint, much has already been made of the cinematography, using old black and white stock from around the era of the films setting. Likewise filming in the old boxy academy format only adds to the feeling of claustrophobia that Eggers manages to create. Within 20 minutes we know that things already aren't quite right. Willem Dafoe's old salty sea dog is already a few sandwiches short of a picnic, whilst there's a clear imbalance to his younger aid, played by Robert Pattinson (R Batz).
By the time we've seen mermaid vaginas, a battered seagull and a sequence involving Pattinson testing out the 'you'll go blind' theory (the kind of scene that all but guarantees a film, and your performance, no matter how good, won't attract much Oscar attention) we're sucked into a literal folkish nightmare. The whole film is anchored by two astonishing performances and will certainly leave a lasting impression. Pattinson further cements himself as one of the best young actors around, and Dafoe as one of the finest (and probably most underappreciated) character actors of his generation (nay, any generation). That Dafoe wasn't even nominated for an Oscar is somewhat criminal, because were it my choice, he'd have won the trophy.
The skill of which Eggers (Robert, and cowritten by his brother Max) weaves this tale of claustrophobia driven breakdown certainly evokes the assure hand of a master like Kubrick. There have not been too many films to evoke that eerie, creepy, nightmarish atmosphere of dread from Kubrick's The Shining, but The Lighthouse definitely feels like something of that ilk. Indeed, this was my own personal favourite film of last year and one that repeat viewings will undoubtedly unveil hidden nuggets.
The Shining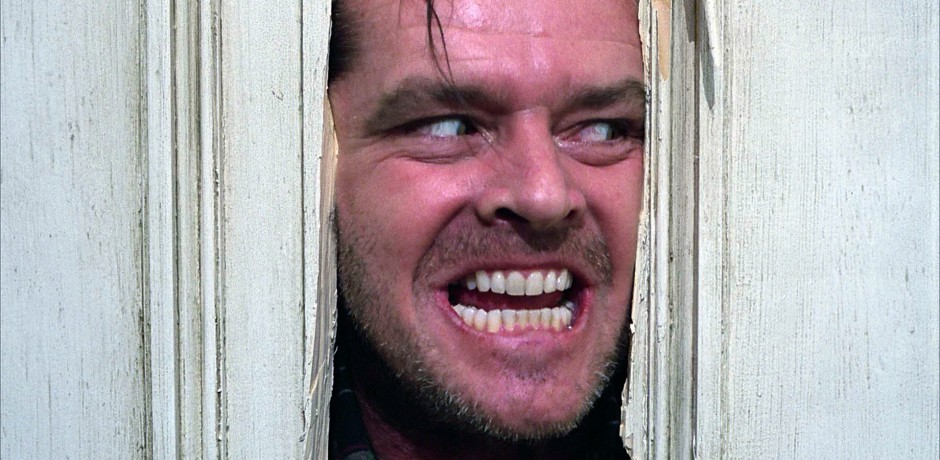 The Shining is a film I tend to watch at least once a year. Horror movies have perennially been viewed less favourably by the more elitist, snobbish side of Cinema. A lesser genre. One with less artistic inclination. Granted they had historically been housed in the B movie category, but to overlook masterfully weaved horror at its best is sad. Classic era Polanski, Friedkin's The Exorcist, were all examples of horror which had more layers that the genre historically did, but indeed had all the visual craft and acting heft that dramas etc did.
Kubrick's masterpiece certainly didn't come out of the blocks being deemed so. A director by this point widely regarded as one of the greats had seemed by the accounts of the hoi polloi, to be lowering his standards by delving into horror. On the surface, The Shining, which doesn't fully adhere to its Stephen King source material, is fairly simple. Man takes family with him to become caretaker of a huge hotel, left empty during winter months, and he slowly goes nuts. It bombed, particularly with critics. Time has seen a dramatic reappraisal. Even King, who has long held vitriolic views on what Kubrick did to his novel, has mellowed in time somewhat to the film (in at least to have an appreciation of the artistic brilliance).
Again, the brilliance of the film (and the strands of the book it stayed true too) is in carefully caressing the idea into the audience that Jack is far from well adjusted when he goes into the job. There's an instant sense of tension and discord with how he interacts with his family. We also, of course, become acquainted with Danny Torrance and his gifts. One thing that never occurred to me throughout watching this film, several bazillion times, as a theory, was that Danny's presence, and his 'shining' is perhaps what actually activates the spirits within the hotel, which in turn then trigger the imbalance that's already within Jack. Like many, who read so intensely into the film, I've always had my own theories, but they had always revolved predominantly around Jack. Said Danny theory, is actually made in passing in Doctor Sleep (the film, and I assume the book?). So it's always interesting to consider new angles and discover new caveats behind the film.
Still, the biggest strength behind the film is Kubrick. The bull headed perfectionism, impeccable eye for detail and his drive are why his films often rank as some of the most visually awe inspiring. The Shining is no different, every design element (of which he had final say on), every camera track, dolly, framing (again, nothing was not ultimately orchestrated by Kubrick) and his habit of take upon take, mean that we watch a film where nothing seems out of place. No shot feels like a compromise. No shot feels like it was rushed in the last 20 minutes of a day coming to an end.
As mentioned too, regarding The Lighthouse, our setting is very quickly established. In what could have seemed superfluous shots, or labouring of pace, we dolly through the hotel following one of the three leads. We almost know every inch. Kubrick lays out the setting for us and makes it seem incidental. We feel the space. Likewise, though the film is often seen in widescreen, it wasn't shot in scope, and indeed Kubrick intended it to be shown in a narrower wide format, to increase the feeling of claustrophobia. Top to bottom seems domineering with high ceilings. Likewise, framing symmetry was always impeccable with Kubrick, adding to this feeling of everything seeming to close in on us. The hotel has a very designed orchestration and placement of pillars, staircases, carpet design that counters well with the impending chaos that comes once Jack finally goes full batshit.
The Shining remains a landmark film in horror and an inspiration to countless that have followed, not least The Lighthouse. What are your thoughts on either film? Let us know in the comments or on our Twitter page @flickeringmyth…
Tom Jolliffe is an award winning screenwriter and passionate cinephile. He has a number of films out on DVD/VOD around the world and several releases due in 2020, including The Witches Of Amityville Academy (starring Emmy winner, Kira Reed Lorsch). Find more info at the best personal site you'll ever see…https://www.instagram.com/jolliffeproductions/