GungHo Online Entertainment has released the Crow Tengu DLC Bundle for their online Ninja-Gum action game, Ninjala.  This is the first DLC released for their ninja fighting title where players take control of a cast of colourful ninjas across dynamic environments.  The Ippon Matsuri festival is also underway and runs until 26th July.  Watch the new developer diary video below to see what's coming in Season 2.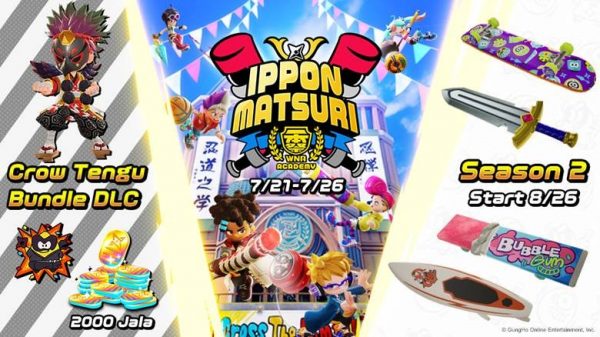 The Tengu DLC Bundle is themed after the mythical Japanese demon, the Crow Tengu, and those who purchase this pack will receive a special costume, emote and a sticker themed after the Crow Tengu itself.  Purchasers will also receive 2,000 Jala to spend on in-game items.
The Ippon Matsuri Festival event runs until 26th July and provide rewards based on the total amount of Ippons scored by the player during the event.  As an extra bonus, if the total Ippons reached by all players exceeds 10 million then everyone will be rewarded with 30 Gold Medals.  There will also be special bonuses to rewards that players obtain at the end, including higher rates for Ninja-Gums, Assist Codes and Medals.
To celebrate this event there's a Twitter campaign that will provide a special 1000 Jala reward for one of 100 users whofollow and retweet Tweets tagged with #IPPON_MATSURI from the official @PlayNinjala and @Ninjala_JP Twitter accounts.
The new DLC pack and special festival event are available now.