Martin Carr reviews the eighth episode of Snowpiercer…
Two episodes from the end of season one and blood is about to flow. An essential subterfuge has been compromised, engines are on lockdown and Melanie languishes under house arrest. Layton is preparing his army, brinksman take sides and a night car smack down pays homage to Braveheart in the subtlest way. LJ and the Folgers rally first class while Ruth is compromised and Bennett gets put in a tight spot. All this happens before the inevitable insurrection and class clash which ends in a melee of weapons and wounded pride.
As back story is revealed, Wilford's demise is laid bare and resurrection begins from within the drawers it is clear things have kicked up a notch. With no one maintaining order behaviour soon becomes primal as power is divided up, boundaries established and Snowpiercer devolved into anarchy. Emotional and psychological casualties are rife beneath the surface of veiled threats and literal confinement while tensions increase.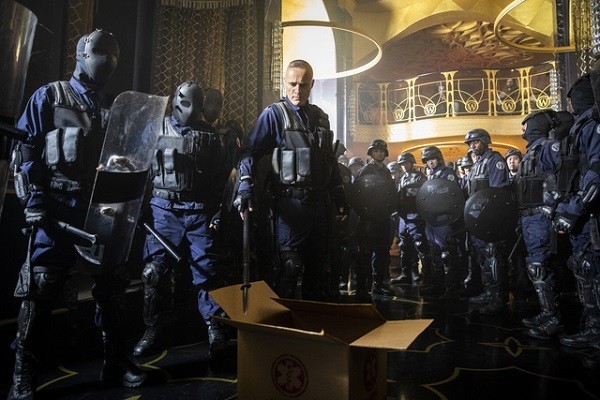 Trust is lost, allegiances shift and it turns from a class struggle into a full on war of attrition. Retribution will be harsh and swift while past misdemeanours are destined to be punished through banishment or dismemberment. Self-interest and personal agendas now take precedence over the bigger picture as Snowpiercer opens itself up to chaos.
With Josie gone Layton has only one thing left on this train which matters to him beyond overall victory. Bloodied and beaten, demoralised and diminished in number his tail end army look to plan their next move. Like William Wallace on the battlefield he must use his cunning, guile and savvy to outwit a superior force. Words as weapons mean nothing without actions to back them up and Snowpiercer stands at a tipping point. Go too far one way and the structure will fall, to far the other and compromise is inevitable.
As the Folgers attempt to supplant Melanie and replace her with their own malleable pawn the cards could fall either way. We now stand at the crossroads of a three way Mexican stand-off where victory is subjective, class a matter of opinion and leaders will be decided by those left alive after the machetes stop swinging.
Martin Carr