Giancarlo Esposito, who plays villain Moff Gideon in The Mandalorian, says his character has a surprising connection to the force in season two.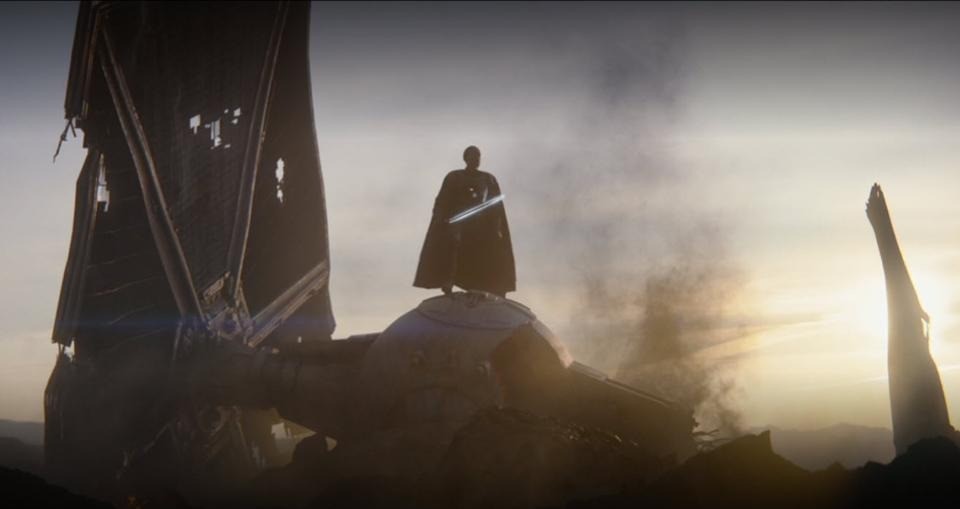 When it comes to The Mandalorian season two, there are a lot of unknowns. One of the only things we know for certain is that Moff Gideon, played by Giancarlo Esposito, is going to continue his pursuit of Baby Yoda, wielding the darksaber in the process.
We know very little about Gideon so far but season two promises to reveal a little more about the villain. Giving fans a tease of what's to come, Giancarlo Esposito has spoken to SYFY and said the character even has a surprising connection to the force.
When asked if Gideon was force-sensitive, the actor said: "I say that's a possibility. I can't say for sure that that is completely the truth, but look, we've seen him come out of his TIE fighter, and we've seen him also with the Darksaber. I would have to say that there's some surprises coming down the pike in regards to the connection he has to the Force. You don't quite know where he fits in there, but he certainly has some information that we don't that connects him to the old school."
SEE ALSO: The Mandalorian's Giancarlo Esposito did all of his own stunts in season two
It's going to be fascinating to watch season two develop and just how Gideon, Baby Yoda, Din, and apparently even Ahsoka and Boba Fett all fit together. Fortunately, we only have a couple of months more to go.
The Mandalorian season two is set to premiere in October 2020 and sees the returning Pedro Pascal (Din Djarin), Gina Carano (Cara Dune), Carl Weathers (Greef Karga), Giancarlo Esposito (Moff Gideon) and Bill Burr (Mayfield) alongside new cast additions Rosario Dawson (Daredevil), Temuera Morrison (Star Wars: Episode II – Attack of the Clones), Katee Sackhoff (Star Wars: The Clone Wars), Timothy Olyphant (Justified) and Michael Biehn (The Terminator).