One of the stars featured in the stellar cast for Rian Johnson's murder-mystery Knives Out was Katherine Langford (13 Reasons Why), and now the actor has discussed her time on the set alongside the director.
During an interview with Collider, Langford discussed her experience working on Knives Out whilst praising writer/director Rian Johnson for his likeable personality and allowing actors to have creative freedom on set.
"Rian Johnson is one of my favourites as well and he is, talking about the 'don't be a dick'/just being a great working human being, he doesn't have an ego. He just knows what he wants. He allows freedom of creativity for all of the actors on set. And he's also just a very genuinely nice human being, so much love to Rian Johnson and everything that he does," Langford said.
Langford continued to explain the one factor that made her time working with Johnson more memorable was allowing her to extend her filmmaking curiosity by letting her behind the cameras in between set-ups.
"I remember – talking about kind of freedom and being a lovely human being – he noticed that in between scenes that I was in, that I would go behind the cameras and that I would watch what other people were doing and also the set-ups of different shots," Langford continued. "That's something that I've kind of been doing more and more I think throughout acting, just because I really like it and I'm curious how things work. But he saw that I was doing that so he would almost always make sure that there was a place for me to be in between set-ups next to him, behind him to go and watch what was happening. And that, to me, was really, really special because, again, he's an incredible director, he's also incredibly busy directing and doing everything, so to even think of having a place and just kind of letting me watch his work was really special and a really great memory."
SEE ALSO: Katherine Langford opens up about being cut from Avengers: Endgame
Unfortunately, it seems like Langford won't be returning for the Knives Out follow-up movie as director Rian Johnson has previously stated that the film will follow in the same vein of Agatha Christie's Poirot novels by featuring an entirely new cast in a completely different setting, with the exception of Daniel Craig's Benoit Blanc.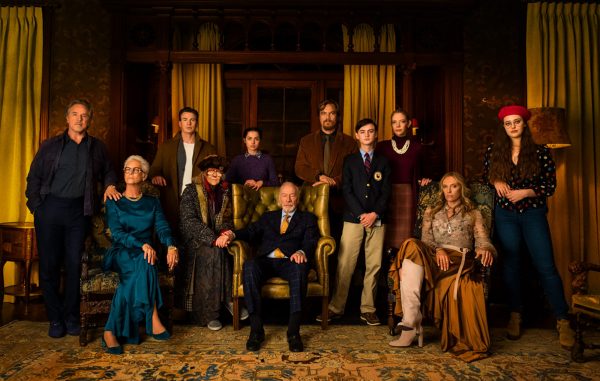 Acclaimed writer and director Rian Johnson (Brick, Looper, The Last Jedi) pays tribute to mystery mastermind Agatha Christie in KNIVES OUT, a fun, modern-day murder mystery where everyone is a suspect. When renowned crime novelist Harlan Thrombey (Christopher Plummer) is found dead at his estate just after his 85th birthday, the inquisitive and debonair Detective Benoit Blanc (Daniel Craig) is mysteriously enlisted to investigate. From Harlan's dysfunctional family to his devoted staff, Blanc sifts through a web of red herrings and self-serving lies to uncover the truth behind Harlan's untimely death. With an all-star ensemble cast including Chris Evans, Ana De Armas, Jamie Lee Curtis, Don Johnson, Michael Shannon, Toni Collette, LaKeith Stanfield, Katherine Langford and Jaeden Martell, KNIVES OUT is a witty and stylish whodunit guaranteed to keep audiences guessing until the very end.