Giancarlo Esposito, the actor behind The Mandalorian's Moff Gideon, has teased what the villain is really up to.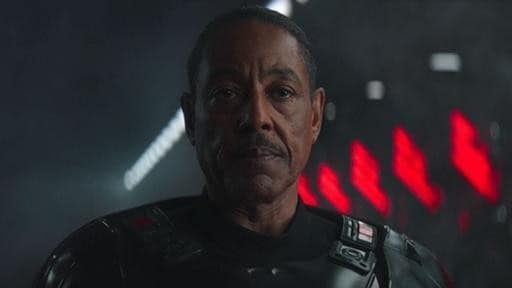 In The Mandalorian's latest episode 'The Siege', we got a lot more insight into the plans of villain Moff Gideon. We learned that Dr. Pershing, on behalf of Gideon, is conducting experiments on test subjects to infuse them with force-sensitive blood.
We also saw Gideon overlooking what appear to be Dark Troopers – which we know from Legends to be imperial battle droids. But what is the end goal? Is Gideon helping Palpatine clone himself? Is he creating Snoke? Does Gideon want to be force-sensitive himself or is he create an army of force wielders? While we will have to wait to find out, actor Giancarlo Esposito has teased the villain's future plans when speaking to EW.
"Well, in the galactic ballpark, I think we're all trying to figure out what does he really want. Somewhere in my brain, I hold out something and he has some kind of ethical consideration here. When people flow out of control and there are all these different Moffs who've been assigned different areas to be wardens of, isn't there one person or someone that may have guidance over all of them? They're questions that are answered. It could be super soldiers. It could be that he wants to save the galaxy."
There are certainly some interesting nuggets there from the actor. So, perhaps Gideon is battling it out with other Moffs for supremacy of the Imperial Remnant by creating super soldiers to, in his mind, "save the galaxy"?
Whatever his plans are, unfortunately, it involves harming Baby Yoda, so everyone will be rooting for Din to protect the creature from Gideon in the next several episodes of season two.
SEE ALSO: The Mandalorian's latest episode fulfilled actor's childhood Star Wars dream
The Mandalorian season two sees Pedro Pascal (Din Djarin), Gina Carano (Cara Dune), Carl Weathers (Greef Karga), Giancarlo Esposito (Moff Gideon) and Bill Burr (Mayfield) joined by new cast additions Temuera Morrison (Star Wars: Episode II – Attack of the Clones), Katee Sackhoff (Star Wars: The Clone Wars), Timothy Olyphant (Justified), Michael Biehn (The Terminator) and WWE Superstar Sasha Banks.
The Mandalorian season two airs on Fridays on Disney+.