Ultrasound, 2021.
Directed by Rob Schroeder.
Starring Vincent Kartheiser, Chelsea Lopez, Breeda Wool, Tunde Adebimpe, and Rainey Qualley.
SYNOPSIS:
After his car breaks down, Glen spends one hell of an odd night with a married couple, setting in motion a chain of events that alter their lives plus those of several random strangers.
Rob Schroeder's darkly playful sci-fi thriller debut Ultrasound channels the spirit of a more hemmed-in early David Cronenberg – minus the gore, basically – and affirms once again the virtue of sharp storytelling fundamentals over big budgets.
While the particulars of the narrative are best kept under wraps, the basic setup sees a man, Glen (Vincent Kartheiser), suffering "motor troubles" after his car is immobilised by a strip of nails left out on the road. This causes him to seek refuge at a nearby house with married residents Art (Bob Stephenson) and Cyndi (Chelsea Lopez), who play host to Glen for the night as it soon becomes clear that all is not as it seems.
This initial tee-up, one we've seen in so many horror films over the decades, is just the primer for an ambitiously labyrinthine, cerebral odyssey, delving deep into the power and psychological impact of hypnotic suggestion.
Schroeder does a fantastic job keeping viewers feeling uneasy as he steadily unspools the tangled threads of his heady mindfuck. Unexpected shifts of both perspective and reality ensure a fast-escalation of weirdness, experimenting in a playfully meta way with the very nature of cinematic performance itself as the film's major conceit is soon enough laid bare.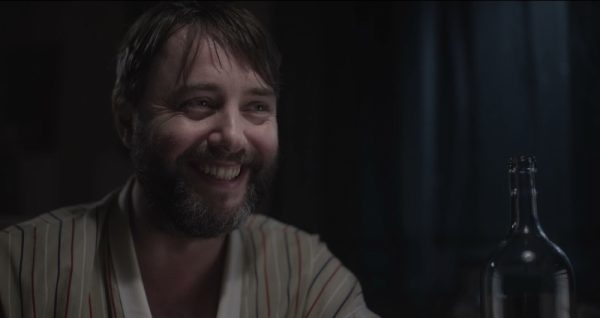 There is a necessary, continual obfuscation present throughout the film, as viewers must consider what is real and what is actually part of a wider experiment transpiring within a laboratory. Schroeder and writer Conor Stechschulte hold back the finer details for a good while, but find a way to satisfying collide everything together in act three.
No, this isn't another self-consciously opaque sci-fi film which revels perversely in confusing its audience past the end credits; much of the ultimate explanation may be plainly expository in nature, but given that a large portion of the film takes place in a shady lab, this clinical approach doesn't feel out of place.
Ultrasound is a challenging film to review spoiler-free, so it's perhaps more appropriate to discuss themes than story. The Cronenberg comparison rears its head again via the film's slyly effective political commentary, examining the nightmarish potential of large-scale hypnotic technologies and the difficulty of "good science" to simply exist for humanity's net benefit in a capitalist society.
Schroeder should also be commended for his impressively patient, deliberate direction, taking full advantage of DP Mathew Rudenberg's crisp lensing – bar some occasionally noticeable out-of-focus shots – to deliver evocative close-ups in particular. The visual package is tied together neatly by Zak Engel's moody, ambient electronic musical score.
As ingeniously free-wheeling as the execution might be, Schroeder's efforts are matched at every turn by a stellar cast. Leading the pack is Vincent Kartheiser, whose Glen is nothing if not a far cry from his insufferable star-making Pete Campbell from Mad Men, and who alongside Chelsea Lopez brilliantly sells the topsy-turvy disorientation of the central narrative humdinger.
Breeda Wool also turns in strong work as Shannon, a counsellor who finds herself inextricably pulled ever-deeper into Glen's predicament, though the movie is frequently stolen away by ever-recognisable "that guy" character actor Bob Stephenson, whose neon-signposted weirdo Art brings the most compelling character arc to the table.
Not all strands of the tripartite story are admittedly equally convincing or persuasively fleshed-out – the slightest one, involving a sleazy Republican senator (Chris Gartin) using suggestion to deal with a personal issue, feels especially anemic – but the overall effect is nevertheless startling. As a totally unique, enticingly soupy depiction of extreme hypnosis, Ultrasound successfully spins numerous plates on a modest budget.
Rob Schroeder makes a sharp directorial debut with this bold, creative sci-fi thriller that continually upends audience expectations.
Flickering Myth Rating – Film: ★ ★ ★ / Movie: ★ ★ ★ ★
Shaun Munro – Follow me on Twitter for more film rambling.