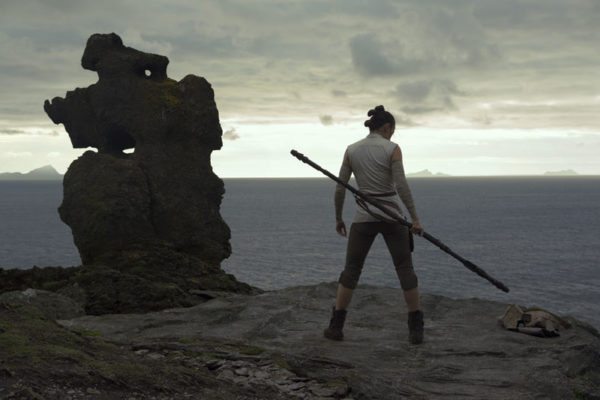 With Rian Johnson announcing that production on Star Wars: The Last Jedi is now complete, we'll soon be getting a new look at the hotly-anticipated blockbuster thanks to the second trailer, which is due to arrive this October (or more specifically, October 9th, according to a now-deleted social media post from Mark Hamill).
Of course, whenever there's a Star Wars trailer imminent, you can be sure that several alleged trailer descriptions will surface online, and sure enough that is the case here. This one comes by way of YouTuber Mike Zeroh, by way of 4Chan, so you'll likely want to have a pinch of salt handy.
According to the report, the trailer will open with a wide shot of Ahch-To amid a massive thunderstorm, before cutting to a squad of TIE Fighters detaching from a Dreadnaught above the planet D'Qar (the location of the Resistance base in Star Wars: The Force Awakens). We then see Finn and Rose in a speeder chase scene on the planet of Canto Bight, shots of Luke and Rey as the latter embarks on her Jedi training, a shot of Rey running towards a raging fire, and a final shot of Kylo Ren looking out into space through the window of what could be Supreme Leader Snoke's Mega Star Destroyer, the Supremacy.
SEE ALSO: Star Wars: The Last Jedi concept art shows new Luke Skywalker costume
Check out the full video here…
In Lucasfilm's Star Wars: The Last Jedi, the Skywalker saga continues as the heroes of The Force Awakens join the galactic legends in an epic adventure that unlocks age-old mysteries of the Force and shocking revelations of the past.
Star Wars: The Last Jedi is set for release on December 14th in the UK and December 15th in the States and sees returning cast members Mark Hamill (Luke Skywalker), Carrie Fisher (Leia Organa), Adam Driver (Kylo Ren), Daisy Ridley (Rey), John Boyega (Finn), Oscar Isaac (Poe Dameron), Lupita Nyong'o (Maz Kanata), Domhnall Gleeson (General Hux), Anthony Daniels (C-3PO), Gwendoline Christie (Captain Phasma), Billie Lourd (Lieutenant Connix), Andy Serkis (Supreme Leader Snoke), Peter Mayhew and Joonas Suotamo (Chewbacca), Tim Rose (Admiral Ackbar), Mike Quinn (Nien Nunb), Simon Pegg (Unkar Plutt), and Warwick Davis joined by new additions Jimmy Vee (Pan) as R2-D2, Kelly Marie Tran (Ladies Like Us) as Rose, and Benicio Del Toro (Guardians of the Galaxy) and Laura Dern (Jurassic Park).