Warner Bros. has announced a new Justice League VR experience tying in to the upcoming DC superhero blockbuster, which invites fans to step into the shoes of Batman, Wonder Woman, The Flash, Aquaman and Cyborg. Take a look at a selection of screenshots here…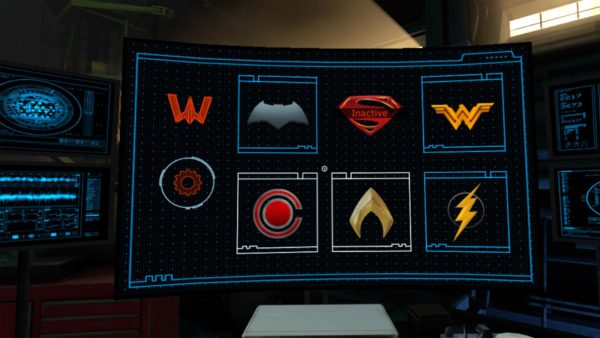 Here's the full press release from Warner Bros. (via Batman-News)…
The Justice League VR experience will be rolled out in stages—to be released prior to, during, and after the theatrical opening of Justice League, on November 17, 2017.  The four-stage unveiling will culminate with the at-home Justice League VR: The Complete Experience.
The first taste of the VR experience kicks off globally with a promotional demo in partnership with Gillette: Justice League VR: Join the League – Gillette Edition. It will be available for iPhones and Android phones starting September 7 for free download from Apple App Store, the Google Play Store and at http://justiceleaguethemovie.com/vr. This demo version is an interactive, gaze-based experience and will have up to 90 seconds of gameplay per character. The experience requires Google Cardboard or an equivalent VR viewer to play.
The following month, the Justice League booth at New York Comic Con will offer attendees a more in-depth sneak peek of the HTC Vive version of the experience with the Justice League VR: Join the League – New York Comic Con Edition. Users will be able to use the HTC Vive's controllers for an enhanced version of the Super Hero simulations.  Located at the Javits Center, New York Comic Con runs from October 5 through October 8.
The IMAX VR: Justice League Experience will be unveiled at IMAX VR Centres beginning on November 17—the opening day of the feature film—and will be an IMAX exclusive for its first two weeks. This totally immersive and completely interactive adventure will test if you are able to master your Super Hero powers. For more details and locations please visit http://imaxvr.imax.com.
Finally, in December, the VR experience comes home with an expanded Justice League Virtual Reality: The Complete Experience, to be released for transactional purchase on multiple VR platforms. Featuring additional modes and expanded missions, the home-based VR experience will support controllers, spatial tracking and room scale tracking, depending on the platform. Targeted platforms include HTC Vive, Oculus Rift, Samsung GearVR, Google DayDream and Sony PSVR (subject to change).
The Missions Include:
Play as the Justice League members and see if you can master their powers:
Outrace your enemies as BATMAN
Fight Parademons as WONDER WOMAN
Face a creature from the deep as AQUAMAN
Stop a ticking bomb as THE FLASH
Take out enemy drones as CYBORG
In addition, other characters from the DC universe may be added into the VR experience.
You can't save the world alone. Join the league! http://justiceleaguethemovie.com/vr
Fueled by his restored faith in humanity and inspired by Superman's selfless act, Bruce Wayne enlists the help of his newfound ally, Diana Prince, to face an even greater enemy. Together, Batman and Wonder Woman work quickly to find and recruit a team of metahumans to stand against this newly awakened threat. But despite the formation of this unprecedented league of heroes—Batman, Wonder Woman, Aquaman, Cyborg and The Flash—it may already be too late to save the planet from an assault of catastrophic proportions.
Justice League will reunite Batman v Superman: Dawn of Justice stars Henry Cavill as Superman, Ben Affleck as Batman, Gal Gadot as Wonder Woman, Ray Fisher as Cyborg, Jason Momoa as Aquaman, Ezra Miller as The Flash, Amy Adams as Lois Lane, Jeremy Irons as Alfred Pennyworth, Jesse Eisenberg as Lex Luthor, Connie Nielsen as Queen Hippolyta and Robin Wright as General Antiope alongside J.K. Simmons (Whiplash) as Commissioner Gordon, Amber Heard (The Danish Girl) as Mera, Willem Dafoe (Spider-Man) as Vulko, Kiersey Clemons (Dope) as Iris West, Ciaran Hinds (Game of Thrones) as Steppenwolf, and Julian Lewis Jones (Stella) and Michael McElhatton (Game of Thrones) in as-yet-unrevealed roles.