Breathe, 2017.
Directed by Andy Serkis.
Starring Andrew Garfield, Claire Foy, Tom Hollander, Ed Speleers, Diana Rigg, Dean-Charles Chapman, and Hugh Bonneville.
SYNOPSIS:
The inspiring true love story of Robin and Diana Cavendish, an adventurous couple who refuse to give up in the face of a devastating disease. Their heartwarming celebration of human possibility marks the directorial debut of Andy Serkis.
Andy Serkis is clearly a master at expressing emotion without the means to speak or emote like a regular human being (he is most famous for motion capture work, specifically as Caesar in the recent Planet of the Apes trilogy), so it only feels right that he doesn't stray too far from his comfort zone with his directorial debut, Breathe. The film tells the true life story of Robin Cavendish (Andrew Garfield in a hugely limited physical role that he impresses in, assuredly thanks to both his natural talent and Serkis), who was stricken with life-threatening polio (Robin's estimated life expectancy was 18 months, which he crushes to become referred to as a medical phenomenon) while vacationing with his wife Diana in Kenya during the 1960s.
Much like last year's Me Before You which also dealt with an adventurous man's life drastically turned upside down, Breathe explores the often frustrating restrictions of disabled life although this time with more extreme circumstances, but from a far less technologically advanced standpoint. Paralyzed from the neck down, Robin is unable to breathe without the help of a respirator, meaning that anything from a power outage or inanimate object accidentally unplugging the power cord could result in immediate death (the average person can go roughly 2 minutes without breathing before dying), meaning he is permanently stuck living in a hospital.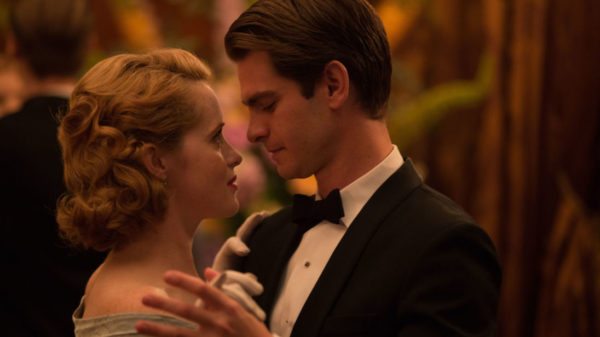 Consistently wishing for death and unable to look at his own newborn son Jonathan (Robin had gotten Diana pregnant shortly before the diagnosis), his wife diligently seeks out ways to improve his depressive state of mind. The answer is simple: get him in the fuck out of the morbid hospital. With the help of a persistently dedicated wife and friends involved in inventions, Robin is taken out to live in a new home despite heavy warnings from doctors. Thanks to homemade creations such as a wheelchair with the respirator equipped with it, it's not long before he is semi-active out and about, transitioning into a disabled rights activist. Hell, he even continues going on transcontinental voyages with his family; in one of the films most heartwarming sequences, the trio becomes stranded but not before help arrives along with the formation of a party that celebrates the inspiration that is Robin.
Although Andrew Garfield certainly sells the hell out of the condition (contrary to popular belief, speaking on a respirator isn't fun even if it does make you sound like Darth Vader); his facial expressions are enough to get across moods ranging from sadness to happiness. He delivers one of the widest smiles I have ever seen in cinema, and grits his teeth frequently, commonly when facing negative news or being placed under the impression that an activity will be too difficult to accomplish. Again, it's a strong performance built on eye contact and body language, and honestly the strongest aspect of Serkis' debut feature. This all benefits from Serkis employing a number of close-up shots on Robin's face, the only body part he can control.
Breathe unfortunately isn't that interested in exploring the hardships of disabled life, instead playing out as a series of inspirational moments that grow Robin as a character on a very basic level. Are we really supposed to believe that none of this was a strain on the marriage between Robin and Diana at all, or that Robin was enjoying life day-to-day? The latter implication is kind of insulting; struggles aren't fun to watch but without them, there is a sensation that the character doesn't always feel genuine.
The reason for this approach to the direction is actually quite obvious, as the real-life Jonathan Cavendish actually served as the producer for Breathe. So, with that knowledge in mind, it's understandable that this film was solely designed to honor and pay tribute to Robin, and nothing more outside a push for some awards consideration (the Academy loves stories like this). In doing so, Breathe comes off as too safe, unable to truly engage the viewer emotionally. I say all of this as a disabled person myself.
Not to mention, some of the direction from Andy Serkis is a bit amateurish, sappy, and feels like a made for television film. Breathe spans the course of two different decades, and yet the characters never evolve physically with age nor do the times. If it weren't for on-screen pop-ups making the audience aware of time jumps, one might rightfully be confused as to when the movie was taking place. Still, this is a story worth telling and one fascinating on a personal level to see what life was like for the disabled back in the day.
Flickering Myth Rating – Film: ★ ★ ★ / Movie: ★ ★ ★
Robert Kojder is a member of the Chicago Film Critics Association and the Flickering Myth Reviews Editor. Check here for new reviews, friend me on Facebook, follow my Twitter or Letterboxd, or email me at MetalGearSolid719@gmail.com