Firefly: 15th Anniversary Collector's Edition
Created by Joss Whedon.
Starring Nathan Fillion, Gina Torres, Alan Tudyk, Morena Baccarin, Adam Baldwin, Jewel Staite, Sean Maher, Summer Glau, and Ron Glass.
SYNOPSIS:
Joss Whedon's cult show Firefly has been reissued on Blu-ray in a new set that includes some nice packaging, a poster, and character cards. It doesn't include any new bonus features, so if you have the previously issued Blu-ray set, you're not missing anything in that department. However, the Blu-rays do have a couple things not found in the original DVD collection, so this is a worthwhile pick-up for those who haven't grabbed Firefly on Blu-ray yet.
I admit I didn't catch Joss Whedon's Firefly when it first aired on Fox in the fall of 2002. My wife and I had welcomed a baby to our family that summer, so between that and a move to another city, it slipped off my radar. I heard great things about the show, however, so when I had a chance to finally catch the whole series on Hulu this year, I wasn't disappointed.
If you're a fan, you probably want to know if this new 15th Anniversary Collector's Edition on Blu-ray is worth purchasing. These are the same discs, including the bonus features, that were previously released on Blu. The only new things here are the packaging, which has a nice, weathered look to it, as if it's from the setting of the show, a poster that lays out the United Alliance of Planets, and character cards.
If you haven't picked up the series on home video yet, or you have the older DVD set, you can pick this one up for a relatively cheap price, so you might want to take the plunge. Note that the Blu-ray discs have a couple bonus features that weren't on the DVDs: an audio commentary on the episode "Our Mrs. Reynolds" and an additional reunion featurette.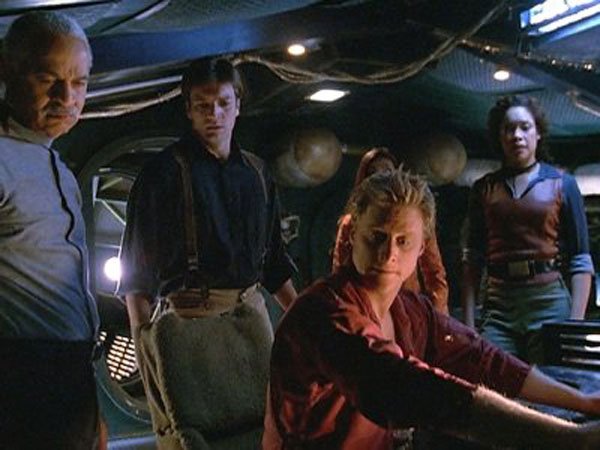 For the uninitiated, Firefly is a show set in the year 2517. Humans have left Earth (it's unclear if anyone is still left on "Earth that was," as the characters call it) and terraformed various planets during the search for new homes. The United States and China were the remaining superpowers when that happened, so much of the culture found on the new worlds is a mix of the two, with people slipping into Chinese on occasion. (None of that dialogue is sub-titled, but according to the bonus features, it involved many obscenities, since the writers could put whatever they wanted there without worrying about network censors.)
The Alliance is the central government that controls most of the new planets, with outlying worlds tending to be on their own – Western tropes are used as shorthand to demonstrate that those places lack the advanced technologies used by the Alliance. The solar systems containing these planets are grouped together, and faster-than-light travel remains unavailable, so it takes a while to get around.
The main characters of Firefly are the crew of a ship called Serenity. Malcolm "Mal" Reynolds (Nathan Fillion) captains the craft; he was a member of the rebels known as "Browncoats" who fought a losing civil war against the Alliance. His goal, as he describes it, is: "Find a crew. Find a job. Keep flying." He and his crew travel between the planets, taking on various jobs from smugglers, criminal kingpins, and other unsavory types.
The crew includes:
Zoe Washburne (Gina Torres): She served with Reynolds during the war and is his second-in-command onboard the ship.
Hoban "Wash" Washburne (Alan Tudyk): Serenity's pilot and Zoe's husband. He never served in the military and doesn't typically get involved in fights.
Inara Serra (Morena Baccarin): A Companion (i.e., an escort, if you know what I mean) whose presence on the ship gives it some social acceptance it otherwise wouldn't have, since she's a member of a guild and often has appointments on various planets.
Jayne Cobb (Adam Baldwin): A mercenary who's handy with various weapons but who mostly cares about himself before anyone else.
Kaywinnet Lee "Kaylee" Frye (Jewel Staite): She's the mechanic who keeps Serenity flying, but she has a fondness for various girly things, such as flowers and nice dresses.
Simon Tam (Sean Maher): A surgeon who comes aboard during the first episode because he needs a ride between planets. He ends up staying with the crew, which is handy because they often need medical assistance.
River Tam (Summer Glau): Simon smuggled her aboard Serenity, a fact that doesn't sit well with Captain Reynolds, especially when it's revealed that she struggles with mental health problems, thanks to experiments conducted on her at a secret Alliance facility.
Derrial Book (Ron Glass): A Shepherd (i.e., a minister) who joins the ship at the same time as the Tams and ends up hanging around. While he doesn't often take actions during episodes, he acts as the crew's moral center. He proves to be proficient in combat when necessary, though, and has a mysterious backstory.
The 14 episodes in the brief Firefly series tend to feature a "problem of the week" style of storytelling, but there are ongoing storylines that bubble up from time to time, such as River's condition. In addition, a few supporting characters making more than one appearance, which is another nice bit of connective tissue. For example, Christina Hendricks plays a con artist who tries to pull a scam on Mal in one episode and reappears in another episode to join forces with him for a robbery.
While the cast is large, Whedon and his writing team, which included The Tick creator Ben Edlund, typically found ways to include all the characters in each episode, although Book tended to be the one with the least to do, except second-guess his crewmates' motivations when necessary. It's a shame the series didn't continue, since there were plenty of things to explore, including the mysterious Reavers, a nomadic group of humans who are known for viciously attacking ships and killing their crews.
Whedon's vision of the future is one that feels realistic. I've never bought into Star Trek's idea that humanity will end up as one happy unified world that's part of a united Federation of planets. Humans are so diverse in their cultural and language differences that if we ever do spread out among the stars, we'll probably rehash the same problems over and over, something Whedon has acknowledged in his interviews about the show.
The western/sci-fi mash-up also gives the series a bit of fresh air. Horses show up often, and while the Western style of talk can be a bit much at times (I'm not sure humans would revert to a style of speaking that's pretty much dead in the year 2017), it's a useful shorthand for designating which characters live a more hardscrabble existence.
This Blu-ray collection includes Whedon offering his thoughts in the half-hour Here's How it Was: The Making of Firefly featurette, along with various cast members and co-producer and co-writer Tim Minear. It also features a reunion lunch with Whedon, Tudyk, Fillion, and Glass that runs 24 minutes and wasn't included in the original DVD collection.
Camaraderie on the set is a recurring theme in both featurettes, and that's very clear during the reunion lunch. The "We were a big happy family" message is also clear in the commentaries that are on eight of the episodes. Those tracks feature different mixes of the cast and crew, and like many group commentaries, they sometimes go off on tangents as the participants start reminiscing about the old days. However, the final episode, Objects in Space, has Whedon chatting by himself, and he offers up many insightful thoughts on the story and the themes he wanted to convey through it. I would have liked to hear him do extra commentary tracks on all the episodes.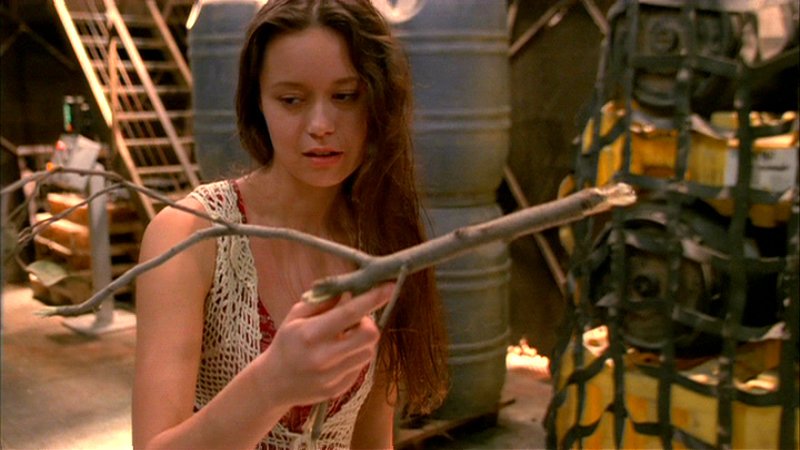 The rest of the bonus features in this set include:
Serenity: The 10th Character (10 minutes): A closer look at the ship's design and its sets.
Deleted scenes: Five scenes cut from the series. Most are inconsequential, but the first one, which was sliced from the opening of the pilot episode, offers a different take on Mal. Personally, I prefer the final version, which shows him as a more upbeat guy compared to the somber one featured throughout the rest of the episodes.
Alan Tudyk's audition: The actor complains during the reunion lunch that his was the only audition included in the original DVD set, despite a sticker on the front advertising multiple auditions. He hoped more would be included in the new Blu-ray set. Sorry, Alan.
Joss sings the Firefly theme: Whedon plays the theme song on an acoustic guitar over the opening credits.
Joss tours the set: This is 83 seconds of Whedon walking through the sets while the show was still in production. "Kind of like a really crappy hotel that flies," he says at one point.
Gag reel: Created for the first (and only) Christmas party, this is your typical assortment of goofs that happened during filming.
Brad Cook