Guillermo del Toro's fishy fantasy The Shape of Water entered the awards season race with a strong showing at the LA Film Critics Association awards, though it was romance Call Me By Your Name that won the Best Picture prize.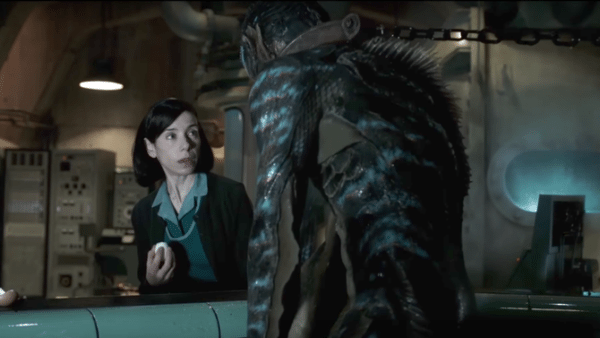 The critics' group met on Sunday to decide the recipients of its annual prizes and it was Del Toro's creature feature and Luca Guadagnino's sun-dappled gay romance that dominated proceedings.
SEE ALSO: Lady Bird lands top prize at New York Film Critics Circle awards
Guadagnino's film scooped the main prize, but he shared the Best Director gong with Del Toro and the two films split the acting honours, with Timothée Chalamet winning Best Actor for Call Me By Your Name and Sally Hawkins named Best Actress for The Shape of Water.
The night ended in a dead heat with three awards apiece for the two films, though The Shape of Water was recognised as runner-up in another two categories.
Elsewhere, Willem Dafoe continued his stranglehold over the Best Supporting Actor category with another win for his work in The Florida Project and Laurie Metcalf netted Supporting Actress for Lady Bird.
Get Out continued to make its presence known, winning the screenplay award, while the highly-fancied Three Billboard Outside Ebbing, Missouri had to settle for runner-up in Best Screenplay, Best Actress and Best Supporting Actor.
In the night's biggest surprise, Afghanistan-set drama The Breadwinner beat well-reviewed Pixar title Coco to the Best Animated Feature award.
SEE ALSO: Call Me By Your Name and Get Out win big at the 2017 Gotham Awards
The full winners for the LA Film Critics Association Awards, which will be formally handed out at a ceremony in January, were as follows…
Best Picture: Call Me by Your Name
Runner-up: The Florida Project
Best Director: Guillermo del Toro (The Shape of Water) and Luca Guadagnino (Call Me by Your Name)
Best Actress: Sally Hawkins (The Shape of Water)
Runner-up: Frances McDormand (Three Billboards Outside Ebbing, Missouri)
Best Actor: Timothée Chalamet (Call Me by Your Name)
Runner-up: James Franco (The Disaster Artist)
Best Supporting Actress: Laurie Metcalf (Lady Bird)
Runner-up: Mary J Blige (Mudbound)
Best Supporting Actor: Willem Dafoe (The Florida Project)
Runner-up: Sam Rockwell (Three Billboards Outside Ebbing, Missouri)
Best Animated Film: The Breadwinner
Runner-up: Coco
Best Foreign Language Film: BPM (Beats Per Minute) and Loveless
Best Documentary: Faces Places
Runner-up: Jane
Best Screenplay: Jordan Peele (Get Out)
Runner-up: Martin McDonagh (Three Billboards Outside Ebbing, Missouri)
Best Editing: Dunkirk
Runner-up: I, Tonya
Best Production Design: Blade Runner 2049
Runner-up: The Shape of Water
Best Music: Jonny Greenwood (Phantom Thread)
Runner-up: Alexandre Desplat (The Shape of Water)
Best Cinematography: Dan Laustsen (The Shape of Water)
Runner-up: Roger Deakins (Blade Runner 2049)
Douglas Edwards Independent/Experimental Film/Video Prize: Purge This Land
Career Achievement Award: Max von Sydow
New Generation: Greta Gerwig