Harrison Abbott on the best movie action scenes of 2017…
It's that time again. That's right, it's time for arbitrary lists that subjectively rank the best/worst things of the year! This one is about 2017's decent catalogue of cinematic action scenes, which means there's likely a lot of omissions to piss you off.
With that in mind, remember to post your baffling vitriol and inexplicable anger in the comments.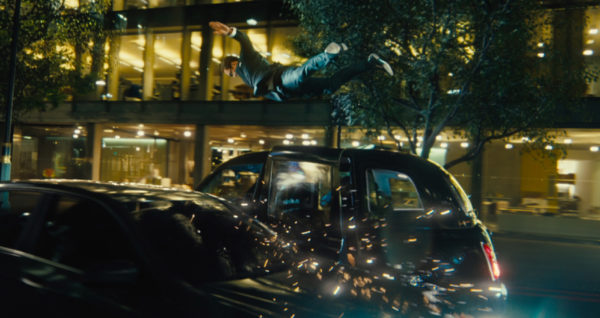 Kingsman: The Golden Circle – Taxi Chase
Irrespective of its less-than-stellar narrative and apparent script problems, this polarising spy flick did at least confirm that Matthew Vaughn is in a league of his own when it comes to spectacle. No matter what material he's working with, the British director can always be depended upon to pull off a killer set-piece or two. From Stardust's inspired voodoo sword fight, to Kick-Ass' unbelievable strobe-light rescue (and of course the infamous church massacre), Vaughn always has something audacious up his sleeve.
And for all its faults, The Golden Circle is no exception. Opening with an awesome car chase that races through the streets of London, the blockbuster sequel hits the ground running with a gleeful return to the world of Kingsman. It promises everything that we anticipated from the follow-up, including crazy gadgets, boisterous energy and just the right level of cartoonish silliness.
That last element is something that the movie admittedly struggles with later, as it goes a tad overboard with all the robot dogs, Alpha Gel resurrections and a weirdly protracted Elton John cameo. However, while it lasted, this chase kicked things off with a euphoric bang and gave us a taste of what Kingsman 2 could (and should) have been like. As Merlin would say, ''Fucking Spectacular''.
War for the Planet of the Apes – Alpha-Omega Attack
For the most part, War for the Planet of the Apes is decidedly light on action, focussing instead on internal frictions and moral conflicts. That being said, when Matt Reeves does allow the simian fur to fly, it is both riveting and chilling in equal measure.
Perhaps the best showcase for this is the film's nail-biting opening, which sees a military squadron stealthy approach an ape outpost. It's suspenseful as hell, thanks to the haunting cinematography and ominous score from Michael Giacchino. However, when an inciting incident alerts the apes to the invading presence, then full-blown carnage takes hold.
Unlike the other entries in this list, there's nothing cool about War's introductory battle. In fact it's quite oppressive and bleak, characterised less by dazzling acrobatics or exciting explosions and more by a "Battle of the Bastards"-esque feeling of hectic panic and senseless death. Another decent reference point is probably the beginning of The Revenant,  which is high praise indeed for a summer blockbuster.
John Wick: Chapter 2 – The Hall of Mirrors
The vast majority of 2017's standout moments can be traced to this superior sequel. Which is hardly surprising, given that it exhibits a near-peerless dedication to crafting vivid fight sequences, often entirely in-camera.
Director Chad Stahelski's aptitude for jaw-dropping action is evidenced in every facet of his filmmaking, from the mesmerising ''gun-fu' choreography, to the crystal clear camerawork and impeccable editing. His note-perfect execution is the ultimate counterpoint to the shoddy and incoherent stylings of Olivier Megaton or Paul W.S Anderson. In fact, the standard in John Wick: Chapter  2 is so consistently strong, that even the weakest shootout would be considered an absolute highlight anywhere else.
If there is a peak though, then it is undoubtedly the climactic battle that takes place within a disorienting hall of mirrors. The setting alone makes for a compelling scene in its own right, as does the use of exhilarating ultra violence.
However, what really makes this bit shine is something that most viewers wont even notice. You see, because this sequence is realized with such finite precision, you don't consider how goddamn hard it must have been to stage. Think about it, literally every surface in that room is reflective and not only that, but the camera is constantly moving around at a frenetic pace.
An absurd amount of patience was thus required to skillfully coordinate this, without having the crew show up in the frame. Essentially, the production team were forced to use a blend of techniques to make sure that everything went off without a hitch. These ingenious methods included the use of portable mirrors on wheels, refracting light wherever possible and the occasional instance of digital manipulation. By pooling all of these tricks together and combining them with intensive blocking sessions, the filmmakers succeeded in making this troublesome shoot feel seamless and easy.
What's most impressive about this is that, even in the face of such restrictive conditions, Stahelski still delivers something that holds its own against the rest of John Wick 2. In a weird way, it's a shame that this tremendous feat goes by unnoticed. But then again, that's just a testament to how committed everyone was to doing this film properly and without compromise.
Baby Driver – Neat Neat Neat
This inclusion has been named after its soundtrack accompaniment because, quite frankly, the two cannot be divorced from one another. It's a truly masterful pairing of audio and image, one that hits the bullseye so astutely, that even the main character feels the need to restart the track when it's interrupted. The resultant ''musical'' sequence is guaranteed to thrill and delight even the most snobby of audience members.
Of course, some might argue that the film's ''Bellbottoms'' opening is more memorable, but that's perhaps less to do with the chase itself and more to do with the preceding build up. Because make no mistake, while that serves as an enjoyable introduction to the central gimmick of Baby Driver, in terms of pure vehicular mayhem, it is the second getaway sequence that is the movie's crowning achievement. Wittily directed, blisteringly paced and full of jaw-dropping stunt work, ''Neat Neat Neat'' is more satisfying in 3 minutes, than most films are for their entire runtimes.
…Click below to continue on to the second page…