Black Panther, 2018.
Directed by Ryan Coogler.
Starring Chadwick Boseman, Michael B. Jordan, Lupita Nyong'o, Danai Gurira, Martin Freeman, Daniel Kaluuya, Letitia Wright, Winston Duke, Angela Bassett, Forest Whitaker and Andy Serkis.
SYNOPSIS:
T'Challa, after the death of his father, the King of Wakanda, returns home to the isolated, technologically advanced African nation to succeed to the throne and take his rightful place as king.
The Marvel Cinematic Universe may have cornered the market on event cinema, but Black Panther is the superhero franchise's first movie that truly feels like a genuine moment. At once a landmark for the representation of black bodies on the big screen at a premium price point and a terrifically crafted entertainment in its own right, director Ryan Coogler (Fruitvale Station, Creed) ably delivers on the enormous expectations laid before him.
Picking up shortly after Captain America: Civil War, Black Panther reconvenes as T'Challa (Chadwick Boseman) prepares for his coronation as King of Wakanda, the nation built on a plentiful mound of the precious metal Vibranium, which has allowed it to flourish far in excess of the rest of the world. On the eve of being crowned, T'Challa wrestles with the guilt of being unable to save his father, while considering Wakanda's place in the world; should it share its vast resources for Earth's benefit, or remain hidden for the sake of self-preservation?
In many ways, Wakanda itself really is the star of the show, a superbly well-realised setting which Coogler captures with considerable visual majesty, while suffused with a wealth of detail for its social structure and regard – or rather, lack thereof – for the rest of the world. Wakanda is not merely a fancy gloss for Coogler to frame another conventional MCU jaunt; instead, there's a full commitment to depicting the country as palpable and alive like any real-life MCU location. In the fictional state stakes, it's certainly brimming with more life and intrigue than anything we've seen of Asgard in three Thor movies.
Unique though the set-up and execution feels, there are more conventional, Marvel-y elements for sure, largely as it pertains to one of the film's villains. South African arms dealer Ulysses Klaue (Andy Serkis) is back and catches Wakanda's eye when trying to offload a stockpile of Vibranium. Serkis, who goes full ham in a riotously entertaining performance, is a fairly simple, one-dimensional baddie here, though ultimately serves to foreground just how much more interesting the real big bad is.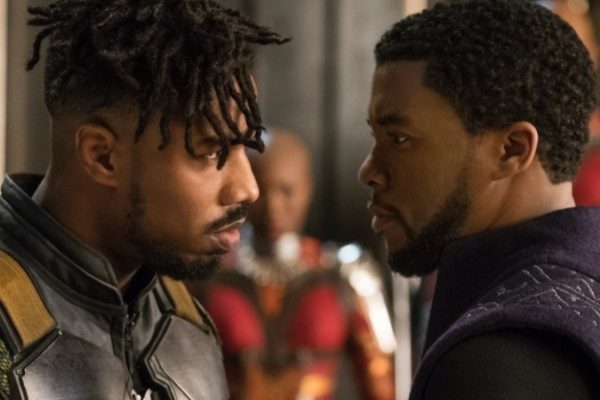 Klaue is working alongside Erik Killmonger (Michael B. Jordan), an exiled, vengeful Wakandan with some deeply personal motivations for wanting to rule the country himself and invert the entire world's stacked deck against black people. Though Killmonger's scheme isn't massively original, Coogler does a bang-up job making it feel fresh. Jordan's committed, intense performance combines with some unexpected reveals to give Killmonger's mission a surprising amount of emotional heft and moral ambiguity.
The violent, impulsive way he operates may not be easy to sympathise with, but his motivations certainly are, wrought through several smaller, quieter moments of affecting character development. Though the bar isn't exactly set high for MCU villains, Killmonger's most certainly one of the best to date.
Killmonger's arc ties into one of the film's most impressive overall aspects; it has its eye keenly trained on contemporary black oppression, but also doesn't hold back when it comes to skewering the horrifying past of white colonialism. There are numerous moments where Wakandans speak to the film's few white characters – most often CIA stuffed shirt Everett Ross (an hilarious Martin Freeman) – with a clear distrust or even total dismissal, referring to him as a "colonial" or refusing him permission to speak.
In more overt terms, the film is a call to action for the present, where black people are still treated as second-class citizens in large swathes of even the developed world. That the film incorporates this commentary without feeling remotely preachy, and ultimately confronts it in an emotionally gratifying, even sweet way, is a major achievement for filmmaking at this level. It is a rare MCU film with something to say about the real world, and it's delivered with staggering force.
And on top of all this, there's the usual over-the-top superhero shenanigans to consider. Coogler doesn't leave audiences wanting in this regard either, for though the action generally doesn't sit among the MCU's best or most memorable, it is solidly executed throughout, whether it's more simple, physical fisticuffs or the typically ridiculous, death-defying suited-up insanity.
The mid-movie chase through South Korea is the easy high-point, a frantic, superlative mad dash to chase down Ulysses Klaue that makes thrilling use of Wakanda's nifty tech – namely a virtual reality cockpit which allows T'Challa's sister Shuri (Letitia Wright) to drive a car remotely from Wakanda – as well as Coogler's clear eye for intense combat (as he proved beyond all doubt in Creed). Predictably, it does overdo it in the final reel with some less-than-convincing digital bombast and a total over-abundance of blurry CGI mayhem, but given how well-judged the rest of the movie is, it's pretty easy to forgive.
Not a single one of these elements would work, however, without the talents of a top-tier cast, who bring their A-game across the board. As King T'Challa, Chadwick Boseman once again lends a unique brand of quiet intensity that's refreshingly at-odds with most of the MCU's more quip-happy heroes. He's realised here as a complicated, relatable human being with palpable anxiety about both his and his country's future.
Michael B. Jordan damn-near matches him with his complex performance as Killmonger, while Danai Gurira is a sure standout as the stern Dora Milaje leader Okoye, and Letitia Wright accounts for much of the film's comic relief as T'Challa's sassy sister Shuri. It's fair to say that a few cast members have disappointingly small or underdeveloped roles – especially Forest Whitaker as the Obi-Wan-esque mentor Zuri – but considering the huge cast Coogler has to juggle here, he gives most everyone their time to shine.
Black Panther is a refreshing MCU film that dares to take itself seriously, yet is also unafraid to crack wise when the time calls for it. It is a rare blockbuster with something to say about the world around us, touting an ultimately all-inclusive, humanist message which transcends race to contend that, after all, we're all just people existing on the same piece of space rock. That this is wrapped around a highly entertaining superhero spectacle is just the icing on the cake.
Flickering Myth Rating – Film: ★ ★ ★ ★ / Movie: ★ ★ ★ ★
Shaun Munro – Follow me on Twitter for more film rambling.