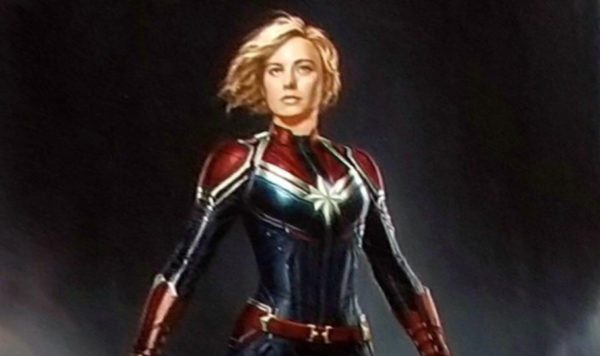 Now that he has officially been announced as part of the cast, actor Ben Mendelsohn is free to start talking about his upcoming Marvel Studios role in next year's Captain Marvel – although as you'd expect given the secrecy about the MCU, he's keeping things rather vague.
During an interview with Entertainment Tonight, the Rogue One: A Star Wars Story star avoided giving any details on his as-yet-unrevealed villain role, but he was happy to sing the praises of Brie Larson and explain why she's a perfect choice to play Carol Danvers.
"Brie is absolutely perfect for that role," said Mendelsohn. "Why? Because she's a strong, yet sensitive, contemporary female. She is a champion, she's a fantastic actress and she's a great human. So you can't ask for better for Captain Marvel."
SEE ALSO: Brie Larson's Carol Danvers goes grunge in latest Captain Marvel set photos
While details on Captain Marvel are scarce, we do know that it will take place in the 1990s, and both the Skrulls and the Kree are set to feature in the cosmic adventure – as presumably is S.H.I.E.L.D., given that Samuel L. Jackson (Nick Fury) and Clark Gregg (Phil Coulson) are both on board.
The story follows Carol Danvers as she becomes one of the universe's most powerful heroes when Earth is caught in the middle of a galactic war between two alien races. Set in the 1990s, "Captain Marvel" is an all-new adventure from a previously unseen period in the history of the Marvel Cinematic Universe.
Captain Marvel is being directed by Anna Boden and Ryan Fleck (Mississippi Grind) and sees Brie Larson (Kong: Skull Island) leading the cast as Carol Danvers alongside Samuel L. Jackson (The Avengers), Ben Mendelsohn (Rogue One: A Star Wars Story), Djimon Hounsou (Guardians of the Galaxy), Lee Pace (Guardians of the Galaxy), Lashana Lynch (Fast Girls), Gemma Chan (Fantastic Beasts and Where to Find Them), Algenis Perez Soto (Sambá), Rune Temte (Eddie The Eagle), McKenna Grace (I, Tonya), with Clark Gregg (The Avengers), and Jude Law (Fantastic Beasts: The Crimes of Grindelwald).
Captain Marvel will be released on March 6th 2019 in North America and March 8th 2019 in the UK.