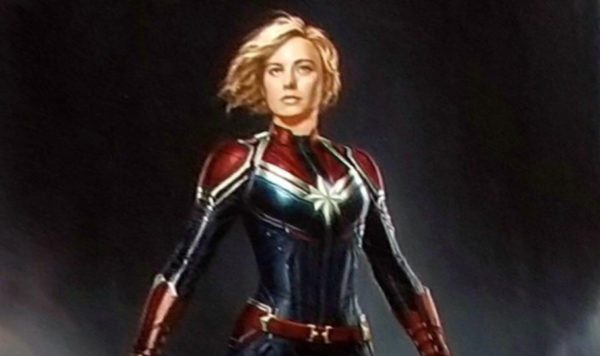 Following this week's official announcement from Marvel that filming is underway, some new photos have arrived online from the set of next year's female-fronted superhero blockbuster Captain Marvel. We've already seen a few spy images of Brie Larson's titular hero in her green Captain Marvel costume, and now we've got a look at Carol Danvers in her 90s, grunge-style civilian clothing; check them out at the link below…
#CaptainMarvel production is on fireeee! Brie Larson on set – March 26th, 2018! # pic.twitter.com/O2TqyuhcaL

— Captain Marvel News? (@CaptMarvelNews) March 28, 2018
UPDATE: And here's a few more, this time featuring Carol in a USAF T-shirt…
By Hala! CAROL!! rocking 90's style on the set of #CaptainMarvel, baby! ?? cheeeck that USAF shirt! Ooh my god. pic.twitter.com/SR1H9l2PMt

— Captain Marvel News? (@CaptMarvelNews) March 29, 2018
The story follows Carol Danvers as she becomes one of the universe's most powerful heroes when Earth is caught in the middle of a galactic war between two alien races. Set in the 1990s, "Captain Marvel" is an all-new adventure from a previously unseen period in the history of the Marvel Cinematic Universe.
Captain Marvel is being directed by Anna Boden and Ryan Fleck (Mississippi Grind) and sees Brie Larson (Kong: Skull Island) leading the cast as Carol Danvers alongside Samuel L. Jackson (The Avengers), Ben Mendelsohn (Rogue One: A Star Wars Story), Djimon Hounsou (Guardians of the Galaxy), Lee Pace (Guardians of the Galaxy), Lashana Lynch (Fast Girls), Gemma Chan (Fantastic Beasts and Where to Find Them), Algenis Perez Soto (Sambá), Rune Temte (Eddie The Eagle), McKenna Grace (I, Tonya), with Clark Gregg (The Avengers), and Jude Law (Fantastic Beasts: The Crimes of Grindelwald).
Captain Marvel will be released on March 6th 2019 in North America and March 8th 2019 in the UK.