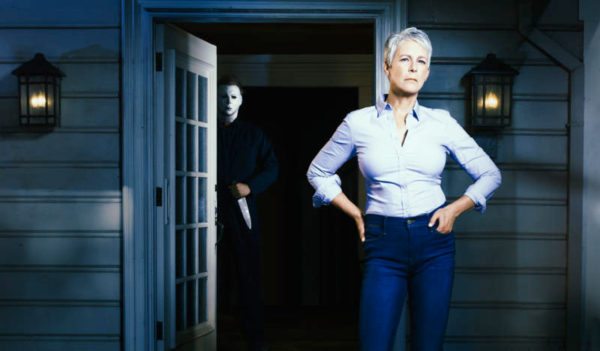 Universal Pictures kicked off the promotion for the next instalment in the Halloween series this past week with the release of a first teaser poster for the upcoming reboot, and now actress Jamie Lee Curtis – who reprises her iconic role as Laurie Strode – has revealed to Yahoo that a "terrifying" trailer is on its way.
"I've seen a trailer and I've seen some footage, and it's terrifying," said Curtis. "They went full-tilt boogeyman. And I've never said that in my life, and I will say full-tilt boogeyman for the rest of the year as I go around talking about this."
Curtis also went on to discuss why she decided to return to her role from the 1978 slasher classic, stating:
"And as soon as I read what David Gordon Green and Danny McBride had come up with … and the way that they connected the dots of the story, it made so much sense to me that it felt totally appropriate for me to return to Haddonfield, Ill., for another 40th-anniversary retelling. There was the idea of, 'What do you call it?' If I had had my druthers, I probably would've called it Halloween Retold. Because it's being retold. It's the original story in many, many, many ways. Just retold 40 years later with my granddaughter."
Meanwhile, producer Jason Blum of Blumhouse Productions has officially confirmed that, as well as serving as executive producer, franchise creator John Carpenter will be scoring the movie:
Confirm!

— Jason Blum (@jason_blum) April 19, 2018
The new Halloween will serve as a direct sequel to the original 1978 film, and while it will ignore the events of later sequels, Danny McBride did confirm to us at SXSW that it will be packed with references and Easter eggs to every other Halloween movie.
Jamie Lee Curtis returns to her iconic role as Laurie Strode, who comes to her final confrontation with Michael Myers, the masked figure who has haunted her since she narrowly escaped his killing spree on Halloween night four decades ago. 
Master of horror John Carpenter will executive produce and serve as creative consultant on this film, joining forces with cinema's current leading producer of horror, Jason Blum (Get Out, Split, The Purge, Paranormal Activity). Inspired by Carpenter's classic, filmmakers David Gordon Green and Danny McBride crafted a story that carves a new path from the events in the landmark 1978 film, and Green also directs.
Halloween is being directed by David Gordon Green from a script by Green and Danny McBride. In addition to the returning Jamie Lee Curtis (Laurie Strode) and Nick Castle (Michael Myers), the film stars Judy Greer (War for the Planet of the Apes), Andi Matichak (Orange Is the New Black), Will Patton (Shots Fired), Virginia Gadner (Runaways), Miles Robbins (Mozart in the Jungle), Dylan Arnold (Mudbound) and Drew Scheid (Stranger Things).