Black Panther, 2018.
Directed by Ryan Coogler.
Starring Chadwick Boseman, Michael B. Jordan, Lupita Nyong'o, Danai Gurira, Martin Freeman, Daniel Kaluuya, Letitia Wright, Winston Duke, Angela Bassett, Forest Whitaker, Sterling K. Brown, Florence Kasumba, John Kani, and Andy Serkis.
SYNOPSIS:
The Marvel Cinematic Universe keeps chugging along with Black Panther, which has arrived on Blu-ray with a good, but not great, complement of bonus features. The best ones are the commentary track with director Ryan Coogler and production designer Hannah Beachler and a roundtable discussion with Coogler, others involved in the movie, and a trio of writers who have tackled past and present incarnations of Black Panther.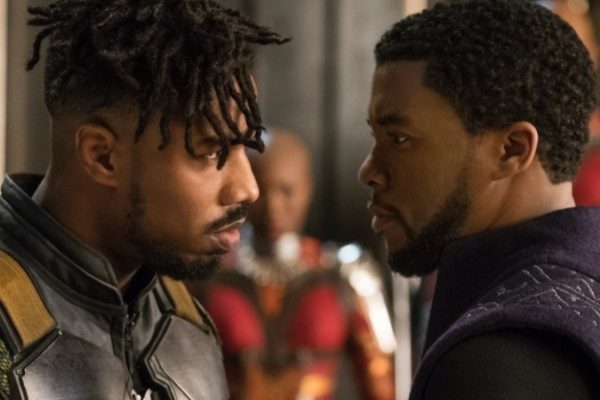 "Now in his own series!" the cover of the comic book would proclaim, if the Marvel Cinematic Universe was in comic book form and Black Panther #1 hit shops. It's a shame Jack Kirby isn't around to witness this amazing achievement, one in which all the tricks from the comic book world – including cross-overs, tentpole events, and guest appearances – have been employed in a decade-long series of movies.
I remember when Richard Donner's Superman: The Movie and Tim Burton's Batman were a huge deal, and they were a decade apart. Now we have major comic book movies coming at us at a rapid pace, and the box office ticket window is the new comic book shop cash register. As someone who once worked at a comic book shop and who has loved the medium since I was a kid, I hope the print versions of these characters won't fade away.
I'll confess the MCU is both exhilarating and a bit exhausting. Twenty years ago, a movie like Black Panther would have been a summer event – now it's merely a big budget prelude to Avengers: Infinity War. At least many kids today have parents who grew up with these characters and are happy to hit the theater with them. When I was young, a new Star Wars movie every three years was cause for my dad to groan, "Another one of these things?" as he took me to the theater.
While Black Panther has a big, bold storyline that takes us deep into Wakanda, a reclusive high-tech country that the rest of the world thinks is poor and desolate, it does feel a bit like an appetizer before the meal laid out on the table by Infinity War. The character made his first appearance in Captain America: Civil War, in which his father, King T'Chaka, was killed in a bombing. Prince T'Challa (Chadwick Boseman) became king and Black Panther portrays his efforts to guide his country into the modern era and potentially reveal its secret to the world.
The movie's early scenes indulge in some world building as T'Challa fends off a rival's challenge for the crown in ritual combat and we meet his younger sister, Shuri (Letitia Wright), who functions as Wakanda's version of Q (James Bond's tech guy). Angela Bassett lends some gravitas to the production as their mother, Ramonda, and Andy Serkis has a rare non-motion-capture role as Ulysses Klaue, a black market arms deal who is allied with Erik "Killmonger" Stevens (Michael B. Jordan), T'Challa's cousin and a threat to the new king's rule.
The plot is set in motion when Klaue and Killmonger steal a Wakandan artifact from a London museum and T'Challa travels to South Korea to intercept a plan to sell the artifact to CIA agent Everett K. Ross (Martin Freeman). Okoye and Nakia, two members of Wakanda's all-female special forces, accompany T'Challa on the mission.
After some back-and-forth fighting, Klaue and Killmonger get away and T'Challa takes a gravely injured Ross to Wakanda. Eventually, T'Challa learns the truth of the history between his father and his uncle, and the stage is set for a final confrontation between the new King of Wakanda and his wayward cousin. T'Challa must also decide how to best serve his people.
The story moves at a brisk pace, like most MCU films, and the production design continues the tradition of capturing the look and feel of the 60s era Marvel comics in which many of these characters were first introduced. There have been so many MCU movies that it's hard for me to say where this one ranks on the list, but it's certainly somewhere in the top ten.
My favorite bonus feature on this Blu-ray is a roundtable discussion with co-writer/director Ryan Coogler, executive producer Nate Moore, screenwriter Robert Cole, and comic book writers Christopher Priest, Ta-Nehisi Coates, and Don McGregor. The group covers everything from Black Panther's origin during the Civil Rights era to how the character was translated to the big screen for modern audiences.
Another highlight is the commentary track, in which Coogler and production designer Hannah Beachler discuss every aspect of the making of the film. It's a passionate conversation, and they convey many interesting tidbits about the shoot, such as the day that Martin Luther King Jr.'s daughter came to the set to meet everyone and give her blessing to the project.
The rest of the bonus features include:
A brief introduction to the movie by Coogler.
Nearly seven minutes of deleted scenes: They include some character moments for T'Challa as well as another bit of awkwardness for CIA agent Ross and a conversation between Okoye and W'Kabi, a friend of T'Challa who heads security for Wakanda.
Crowning of a New King (5.5 minutes): This examines Black Panther's MCU storyline and touches on his comic book origins.
The Warriors Within (6 minutes): This is a closer look at Wakanda's all-women special forces.
Wakanda Revealed: Exploring the Technology (6 minutes): Wakanda is home to the largest cache of Vibranium in the Marvel universe, and this featureette discusses its role in the movie.
The Hidden Kingdom Revealed (7 minutes): This covers Wakanda in more detail.
Marvel Studios: The First Ten Years – Connecting the Universe (8.5 minutes): If you need a primer on all the movies that came before and how they built toward Infinity War, here it is.
A 2.5-minute sneak peek at the upcoming Ant-Man and the Wasp
A 1.5-minute gag reel
A code for a digital copy of the movie is included too.
Flickering Myth Rating – Film: ★ ★ ★ ★ / Movie: ★ ★ ★ ★
Brad Cook