Villordsutch reviews Doctor Who Series 11 Episode 6 – 'Demons of the Punjab'…
Written by – Jamie Childs
Directed by – Vinay Patel

Doctor – "I love biscuits!"
If we're being totally honesty, the past couple of weeks of Doctor Who haven't really been too great.  If we were being really honest we would probably call them both "a couple of duffers", as episodes Arachnids in the UK and The Tsuranga Conundrum failed to hit the mark.  So we can only hope that this week's slice of Who – from Vinay Patel – picks the show back up and points it back towards the right path with Demons of the Punjab.
With Yaz's (Mandip Gill) interest being fired up by her Grandmothe'rs mysterious gifts, she convinces the Doctor to take her back to see her Nani Umbreen (Leena Dhingra) before she earned the family moniker of Nani.  With a bit of trepidation, as well as caution handed down to her new TARDIS companions, the Doctor (Jodie Whittaker) turns the Blue Box toward Punjab in 1947.
There first introduction to the Punjab locals instantly throws the Doctor's caution warning out of the window, as they meet up with Prem (Shane Zaza), who is on his way to the home of his future wife (also Yaz's future grandmother) Umbreen (Amita Suman).  This however, raises serious flags for Yaz, for she knows that Prem isn't – to her knowledge – the man Umbreen marries.  Things begin to take a turn for the worst when the Doctor & Co. discover the holy man who was due to officiate the wedding is lying dead in the forest with two of the galaxy's most ruthless assassins above his body, who it appears Prem has seen before during World War 2.
It's during all of this that history unfolds as the Partition of India is declared, which saw the division of both Pakistan and India, separating towns, villages, cities, and placing people who had once been neighbours for generations into two different countries, sometimes a country they didn't recognise; nor did they recognise those newly located citizens who turned, on occasion, brutally on their once neighbours.  Over two million people died in the enforced relocations and over 14 million people were displaced.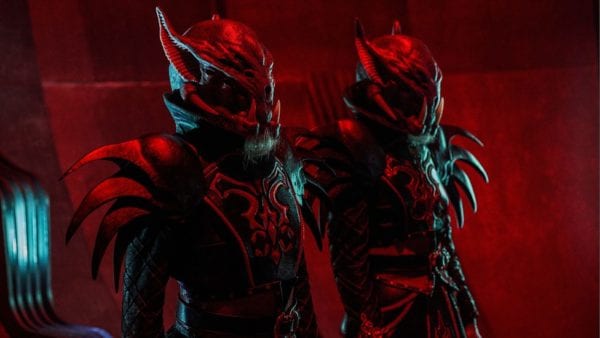 This is Doctor Who!  This is what a Doctor Who episode is!  Granted there's not much in the way of spaceships and different planet landscapes to enjoy, but here is Doctor Who.  As with Rosa, this is what Who initially set out to do – entertain and educate – plus as with all sci-fi, it likes to hold a mirror up to the us (the viewers) and hopefully we'll see a reflection or two.  

Vinay Patel has certainly scored a winner here, with the fate Prem being set in stone and it cannot be altered (very much like Father's Day) as the world has to keep moving, yet the Doctor's Companions know of his impending doom and gave him his day, his time and his moment.  This was extremely touching, if not heartbreaking.  

It was finally good to see Yaz's character being fleshed out that little bit more too, though once again the prize for being the standout member of the TARDIS crew goes to the beating heart of the team Graham (Bradley Walsh).  The wisdom and emotion he passes over to everyone he meets across space and time surely must be earning him 'Karma Points' somewhere?
My own hang-ups with this episode came with the Thijarians, who were built up as the assassin aliens to end all assassin aliens.  Instantly I thought, 'So they're here for good then?' and I was right. Next came the shout-really-fast-about-alien-technology-and-hope-nobody's-paying-attention.  I dislike this, I know this is 'Science-Fiction' but it's still 'Science'. Make us interested, slow it down.
SEE ALSO: Trailer for Doctor Who Series 11 Episode 7 – 'Kerblam!'
Other than those minor issues it's fair to say I really did enjoy Demons of the Punjab and I hope later down the line we see more scripts from Vinay Patel.