Last week saw the release of Serenity, the new film from director Steven Knight (Locke, Peaky Blinders), and despite an A-list cast headed up by Matthew McConaughey and Anne Hathaway, the film tanked at the U.S. box office, grossing just $4.4 million in its opening weekend for an eighth-placed finish.
According to Deadline, both McConaughey and Hathaway are furious with the film's distributor Aviron, accusing the company of failing to support the movie with an agreed advertising campaign which ultimately led to the lowest box office opening of both of their careers.
The site reports that the two stars had agreed to do a full promotional campaign including interview junkets, and in return were expecting Aviron to promote the movie with TV spots which were not forthcoming. The night before the Los Angeles interview junket, the distributor informed that them there would be no advertising spend, leaving McConaughey and Hathaway feeling duped.
In response to the claims, Aviron has released a statement to Deadline, stating that the advertising budget was pulled as a response to poor test screenings and reviews from critics:
"We had the best intentions for Serenity. We were excited for the opportunity to release this uniquely original movie and work with such a stellar cast and talented filmmakers. As much as we love this film and still hope it finds its audience, we tested and retested the film — with audiences and critics alike — and sadly, the data demonstrated that the film was not going to be able to perform at our initial expectations, so we adjusted our budget and marketing tactics accordingly. Regardless of the spend, it's next to impossible for an adult-skewing drama to overcome a 23% score on Rotten Tomatoes and a D+ CinemaScore. To have spent more would have been irresponsible to our capital partners and wouldn't have made prudent business sense for an independent distributor. We have enormous respect and admiration for the talent and all the hard work they put into the film and wish the box office results were better."
You can read our Serenity reviews here and here, and be sure to check out our exclusive interview with director Steven Knight here.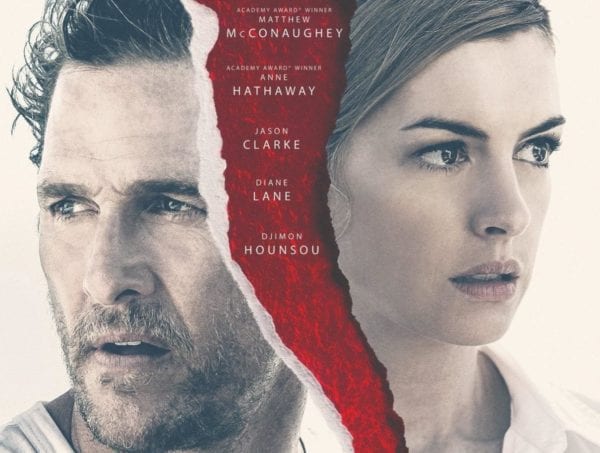 From the creative mind of Oscar nominee, Steven Knight comes a daringly original, sexy, stylized thriller. Baker Dill (Academy Award winner Matthew McConaughey) is a fishing boat captain leading tours off a tranquil, tropical enclave called Plymouth Island. His quiet life is shattered, however, when his ex-wife Karen (Academy Award winner Anne Hathaway) tracks him down with a desperate plea for help. She begs Dill to save her – and their young son – from her new, violent husband (Jason Clarke) by taking him out to sea on a fishing excursion, only to throw him to the sharks and leave him for dead. Karen's appearance thrusts Dill back into a life he'd tried to forget, and as he struggles between right and wrong, his world is plunged into a new reality that may not be all that it seems.