The Flickering Myth writing team share their top ten Christmas movies…
Christmas is upon us! For many people, feeling festive is all about Christmas films. They can easily transport you back to your childhood, to happier times, to memories with your loved ones. If you're struggling to choose a film to help induce your festive cheer then fear not – the writers at Flickering Myth have compiled the top ten Christmas films for you, so work your way through them and we promise they'll put you right in the mood!
10. The Snowman (1982)
Directed by Dianne Jackson (based on book by Raymond Briggs)
Genre: Animated
The Snowman is quite simply, a classic. An ageless, wordless animated film about a boy and his snowman. A mere thirty minutes long, it invokes a strange kind of emotion – it's magical, awe-inspiring and bloody tragic, all rolled into one. It's repeated on British television every year and was even nominated for an Academy Award for Best Animated Short Film. It spawned an equally if not more devastating sequel in 2012 entitled, The Snowman and the Snowdog. If you find someone who didn't watch this as a child, you must remedy this immediately. But warn them first about the absolute certainty that they will shed a tear.
9. Love Actually (2003)
Directed by Richard Curtis
Genre: Romantic Comedy
Starring Hugh Grant, Alan Rickman, Emma Thompson, Liam Neeson (plus many more British stars!)
Love Actually tells the story of several different couples on the countdown to Christmas, all whom are interlinked in some way, shape or form. Featuring an absolute stellar cast of mostly British actors, it shows love in many forms; newly-weds, recent widowers, affairs, porn stand ins – you name it, this film features it. Although interestingly, one of the plots was dropped from the final cut about a lesbian couple – the only representation of the LGBT in the entire film. Although Love Actually always adorns our television schedules each year, and leaves the majority of people with that warm fuzzy feeling inside, it has notoriously been picked apart in the last few years for being the antithesis of a romantic comedy. Have a gander this festive season and tell us what you think!
8. Jingle All the Way (1996)
Directed by Brian Levant
Genre: Family comedy
Starring Arnold Schwarzenegger, Sinbad, Rita Wilson
Jingle All the Way may not have been the first film you thought of when considering a top ten list – a top ten list for anything to be honest. But many consider it a holiday classic! It centres around two dads who end up in competition for the latest must-have toy, ending in a desperate dash around the shops on Christmas Eve, something many of us can probably relate to. It got generally awful reviews and only holds an approval rating of 16% on Rotten Tomatoes, but if you fancy watching a film that is light-hearted and silly, then this is a good bet! Not to mention the not-so-quiet commentary on the insanity of Christmas consumerism. Actually, this might put you off Christmas altogether!
7. Elf (2003)
Directed by Jon Favreau
Genre: Family Comedy
Starring Will Ferrell, James Caan, Zooey Deschanel
Elf is an absolute staple on British television every year and if you haven't seen it, I'm not entirely sure how you've avoided it. Ferrell plays Buddy the Elf, a man who was brought up as an Elf in Santa's workshop and upon learning that he is a human, travels to New York to find his birth-father. It is full of incredibly silly scenes, hilarious quotes and slapstick humour. Widely considered to be one of the greatest Christmas films ever made, it put Will Ferrell on the map, a few months before Anchorman cemented him as a comedy great. This will definitely put you in the mood for Christmas and you may just start believing in Father Christmas again…
6. The Nightmare Before Christmas (1993)
Directed by Henry Selick
Genre: Animated Christmas musical
Starring Chris Sarandon, Catherine O'Hara
This is a true cult classic – think back 15 years and you might remember the abundance of Jack Skellington bags that every goth seemed to be adorned with. Jack Skellington is the leader of Halloween Town but is slowly getting bored of the same old shenanigans, year in year out. He ends up finding a portal to Christmas Town and tries to bring his findings to the people of his town. Tim Burton initially conceived the idea of a Jack Skellington back in 1980s in a piece of poetry. The film went on to be nominated for an Academy Award for Best Visual Effects and has been reissued in 3D. It's a massively different take on the 'Christmas Classic' so if you're looking for something a bit eccentric to increase your festive cheer, then this is a good one for all of the family.
5. Gremlins (1984)
Directed by Joe Dante
Genre: Comedy Horror
Starring Zach Galligan, Phoebe Cates
Oh hello, curveball! Yes, yes, we know what you're thinking, this isn't a bloody Christmas film. We beg to differ – it's set at Christmas, so by association, this makes it a Christmas film. The film tells the story of a young man who receives a Mogwai as a pet with rules that it should not get wet, never feed it after midnight and don't let it wander into bright lights. The result if you break these rules? Little Mogwai spawns some aggressive and way less cute beings who wreak havoc and mischief among the town. This film might be perfect for you if you're feeling slightly 'Bah Humbug'. A bit of destruction may help your mood.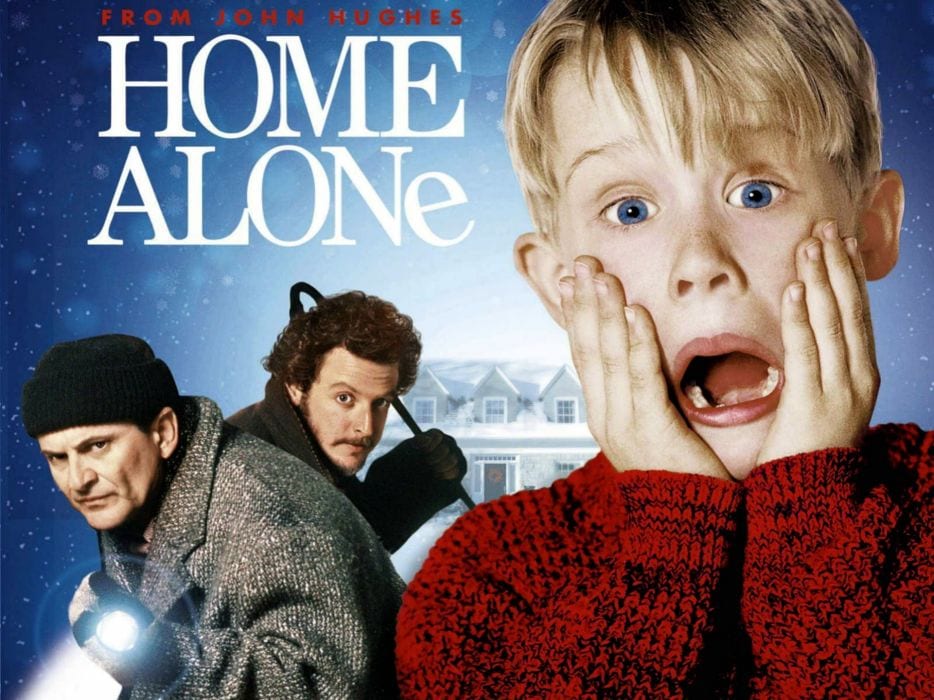 4. Home Alone (1990)
Directed by Chris Columbus
Genre: Family comedy
Starring Macaulay Culkin, Joe Pesci, Daniel Stern
Macaulay Culkin's Kevin McCallister has been abandoned by his entire family. They'd rather go on holiday without him. Who can blame them? They claimed they left him accidentally, but who really knows. Hilarity soon ensues when two local thieves target Kevin's house, assuming there is no one currently occupying it. They soon get their comeuppance however when young Kevin plays a number of (sometimes) stomach churning tricks on them. Home Alone is truly a classic – it's timeless! No matter how many times you watch it, you still grimace at the same bits and find the same scenes funny. Home Alone cemented Macaulay Culkin as a celebrated child actor, the role even earning him a Golden Globe nomination at the grand old age of 10. This is the kind of film you could introduce to your children, and they'll introduce it to their own children for generations to come.
3. The Muppet Christmas Carol (1992)
Directed by Brian Henson
Genre: Musical comedy drama
Starring Kermit the Frog, Miss Piggy, The Great Gonzo, Michael Caine
An adaptation from Charles Dickens' novella A Christmas Carol, this was the fourth Muppets feature film, but possibly the most loved. A film to enjoy with the whole family, this is a cult classic with excellent, merry musical numbers and a wonderful message. Although some of the film is really quite sad, on the whole the Muppets add in that splash of comedy that any Charles Dickens novel could probably use. Despite the Muppets making up the majority of the cast, the film is an incredibly faithful adaptation with stunning costumes and sets. Like Home Alone, this film will be forever shown throughout the generations, and will be forever loved as one of the greatest Christmas movies of all time.
2. It's a Wonderful Life (1946)
Directed by Frank Capra
Genre: Christmas fantasy comedy drama
Starring James Stewart, Donna Reed, Lionel Barrymore
This black and white tear-jerker initially performed poorly at the cinema but it has since become regarded as a classic around the world. It was nominated for five Academy Awards including Best Picture and crops up on 'Best of' lists constantly. If you haven't seen it, it tells the story of George Bailey, a man who has given up on life and plans to commit suicide. He is shown what life in his community would be like without his presence and the tears fall from that moment onwards. As you can well imagine, a film in the 1940s depicting male suicide was incredibly rare but as the years have dragged on, this film has become more and more relevant to today's society. This film has a dark core but ultimately has an uplifting message.
1. Die Hard (1988)
Directed by John McTiernan
Genre: Action Thriller
Starring Bruce Willis, Alan Rickman, Bonnie Bedelia
Not a curve ball! As I'm sure you haven't been able to avoid there seems to be a constant argument as to whether or not Die Hard is a Christmas film but it's set at a damn Christmas Party! Of course it's a Christmas film! Not exactly a light hearted family film so avoid it with the kids, but it does include scenes that are cemented in cinema history and some absolute classic quotes masterfully delivered by in increasingly dirty John McClane, who is trying to stop a terrorist attack at his estranged wife's Christmas party. The terrorist gang, led by the wonderful Alan Rickman's Hans Gruber (his first feature film role!) gradually get picked off until John and Hans come face to face. With the inclusion of Run-D.M.C.'s Christmas in Hollis, one of the most under-rated Christmas songs ever, Die Hard whole-heartedly deserves its place at the top of the list. So pop this bad boy on once the kids have gone to bed and see the Christmas period in the right way!
What are your favourite Christmas movies? Let us know on our social channels @FlickeringMyth…
Sade Green