7. Elf (2003)
Directed by Jon Favreau
Genre: Family Comedy
Starring Will Ferrell, James Caan, Zooey Deschanel
Elf is an absolute staple on British television every year and if you haven't seen it, I'm not entirely sure how you've avoided it. Ferrell plays Buddy the Elf, a man who was brought up as an Elf in Santa's workshop and upon learning that he is a human, travels to New York to find his birth-father. It is full of incredibly silly scenes, hilarious quotes and slapstick humour. Widely considered to be one of the greatest Christmas films ever made, it put Will Ferrell on the map, a few months before Anchorman cemented him as a comedy great. This will definitely put you in the mood for Christmas and you may just start believing in Father Christmas again…
6. The Nightmare Before Christmas (1993)
Directed by Henry Selick
Genre: Animated Christmas musical
Starring Chris Sarandon, Catherine O'Hara
This is a true cult classic – think back 15 years and you might remember the abundance of Jack Skellington bags that every goth seemed to be adorned with. Jack Skellington is the leader of Halloween Town but is slowly getting bored of the same old shenanigans, year in year out. He ends up finding a portal to Christmas Town and tries to bring his findings to the people of his town. Tim Burton initially conceived the idea of a Jack Skellington back in 1980s in a piece of poetry. The film went on to be nominated for an Academy Award for Best Visual Effects and has been reissued in 3D. It's a massively different take on the 'Christmas Classic' so if you're looking for something a bit eccentric to increase your festive cheer, then this is a good one for all of the family.
5. Gremlins (1984)
Directed by Joe Dante
Genre: Comedy Horror
Starring Zach Galligan, Phoebe Cates
Oh hello, curveball! Yes, yes, we know what you're thinking, this isn't a bloody Christmas film. We beg to differ – it's set at Christmas, so by association, this makes it a Christmas film. The film tells the story of a young man who receives a Mogwai as a pet with rules that it should not get wet, never feed it after midnight and don't let it wander into bright lights. The result if you break these rules? Little Mogwai spawns some aggressive and way less cute beings who wreak havoc and mischief among the town. This film might be perfect for you if you're feeling slightly 'Bah Humbug'. A bit of destruction may help your mood.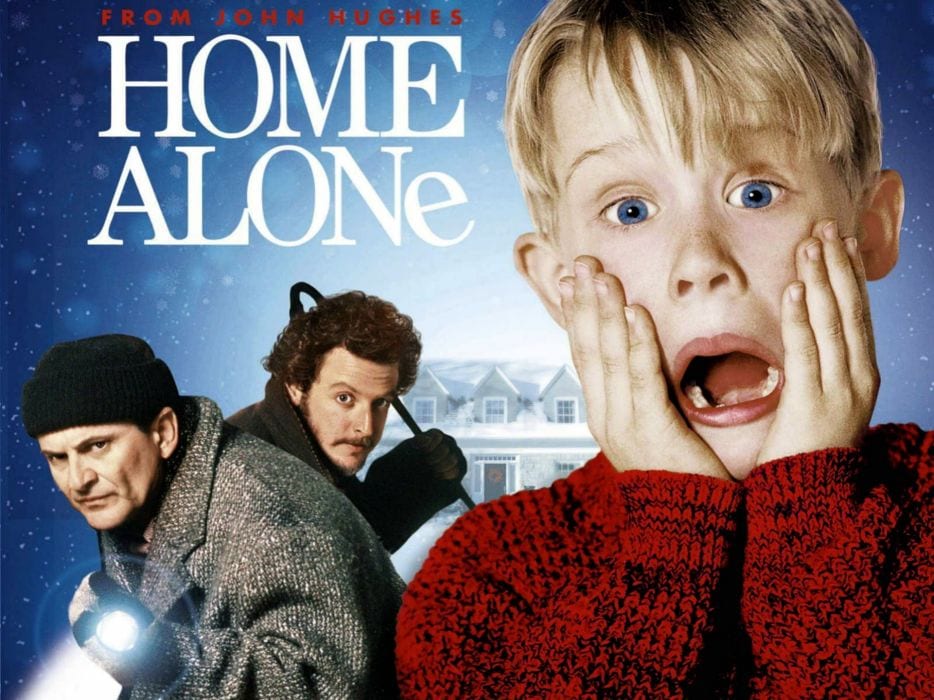 4. Home Alone (1990)
Directed by Chris Columbus
Genre: Family comedy
Starring Macaulay Culkin, Joe Pesci, Daniel Stern
Macaulay Culkin's Kevin McCallister has been abandoned by his entire family. They'd rather go on holiday without him. Who can blame them? They claimed they left him accidentally, but who really knows. Hilarity soon ensues when two local thieves target Kevin's house, assuming there is no one currently occupying it. They soon get their comeuppance however when young Kevin plays a number of (sometimes) stomach churning tricks on them. Home Alone is truly a classic – it's timeless! No matter how many times you watch it, you still grimace at the same bits and find the same scenes funny. Home Alone cemented Macaulay Culkin as a celebrated child actor, the role even earning him a Golden Globe nomination at the grand old age of 10. This is the kind of film you could introduce to your children, and they'll introduce it to their own children for generations to come.
Click below to continue on to the last page…