Superman Returns (John Ottman, 2003)
Since John Williams' penned his now immortalized score for Superman in 1978, the franchise has served as a revolving door for various composers in a multitude of mediums. Most notable of which were Ken Thorne and Alexander Courage's contributions in the Superman sequels, as well as Jay Gruska's effort for the Lois & Clark: The New Adventures of Superman TV series. But despite their best efforts, none of them were able to intelligibly advance the musical ideas of the original film. However, 25 years later under composer John Ottman's watchful gaze a successor worthy of Williams's work in the original finally happened. I've been familiar with Ottman's efforts over the years, collaborating frequently with director Bryan Singer on The Usual Suspects, Apt Pupil and X2: X-Men United, but this is undoubtedly the jewel in the crown of his achievements, at that point in time. And if you are looking for a score that flawlessly adapted and progressed the originals music ideas whilst conjuring fresh, original ones, look no further than Ottman's work here. It is the perfect companion piece to Williams' original.
Album Highlights: Memories, How Could You Leave Us, So Long Superman, Reprise/Fly Way
Joker (Hildur Guðnadóttir, 2019)
At this point in time Todd Philip's Joker walking away at least with a few Oscars, is pretty much an absolute certainty. The film racked up a whopping 11 nominations last week making it the highest Oscar nominated film of 2019. One of the most unforgettable aspects of Joker is undeniably it's hauntingly dissonant score crafted by Icelandic musician Hildur Guðnadóttir. It may sometimes be a laborious task listening to it on album format, but it's hard to imagine the film, without it. The music by Guðnadóttir elevates and compliments the film in many ways making the overall cinematic experience that much more impactful. Having swept the 2019 award season for her musical contribution for Joker it's quite likely Guðnadóttir will inevitably walk away with the coveted Oscar award as well, come February. And I cannot think of a more deserving composer than her, to win this top prize.
Album Highlights: Defeated Clown, Bathroom Dance, Penny Taken to the Hospital, Call Me Joker
Shazam! (Benjamin Wallfisch, 2019)
Benjamin Wallfish's score can be defined as the very anti-thesis of Zimmer's efforts for the DC Comic properties. It functions as both a playful throwback to the superhero sounds of yesteryear, as well as being a love-letter to John Williams body of work. Everything from Williams' music for Indiana Jones to Superman and E.T. is referenced here. And boy oh boy, it's an absolute joy to listen to this score, which is a far cry from the perpetually monotonous recycled sound being passed off as 'film-scores' these days. Wallfisch captures both the comedic, light-hearted aspect of the film as well as the sinister, darker aspects with absolute ease, making for a wholesome listening experience. The past few years have been tremendous for Wallfisch with contributions to films like Blade Runner 2049, It Chapter 1 & 2 and Annabelle: Creation. And if the score for Shazam! is any indication, we can expect great things from this talented composer, in the coming decade.
Album Highlights: Shazam, The Consul of Wizards, Seeking Spell, Finale
Constantine (Brian Tyler & Klaus Badelt, 2005)
The big screen adaptation was cynical occult detective John Constantine was based upon the DC/Vertigo comic book property Hellblazer by Jamie Delano and Garth Ennis. Although the comics depicted him as a hard-drinking Englishman resembling singer-songwriter Sting, the film took certain liberties, portraying him as a snarky chain-smoking American. Overall, Constantine was generally well received by critics and audiences alike and has since its release, developed a cult-following of sorts. The score too has received praise over the years for its unique blend of orchestral and synthetic elements with Tyler being responsible for the former, and Badelt for the latter. It's a well-known fact however that Warner Bros., dissatisfied with Tyler's brooding orchestral score hired Klaus Badelt to inject some 'cool' at the eleventh-hour. Thankfully though the end result, is a success. Though one wonders, what a score composed solely by Tyler would have sounded like, in the context of this unique theological noir action film.
Album Highlights: Meet John Constantine, Deo et Patri, Resurrection, Circle of Hell
Justice League: The Flashpoint Paradox (Frederik Wiedmann, 2013)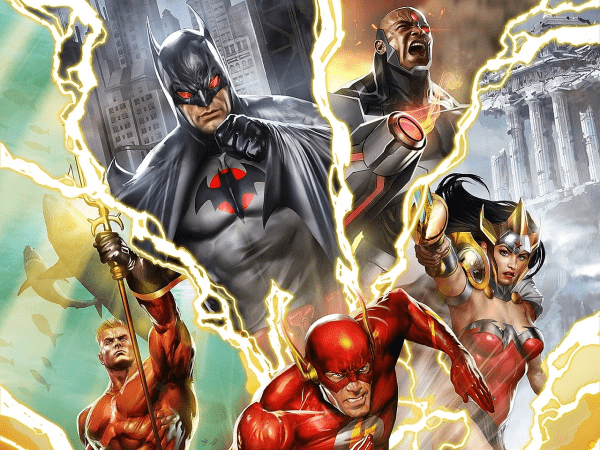 If there is one consistent aspect of the DC Animated Universe (DCAU) for the past few years, it has got to be German composer Frederik Wiedemann's musical contribution for it, which acts as a connective-tissue of sorts, maintaining a sense of continuity from a musical perspective. But despite scoring music for over ten films in the DCAU, JL: The Flashpoint Paradox still remains his superior most effort. His musical style is a beautiful blend of rich orchestral elements and electronic synthesizers. The pulse-pounding action compositions bring to mind the works of veteran composers John Debney and Brian Tyler while the moodier yet melodious segments hint at some of maestro Thomas Newman's efforts. But by and large, this is a fairly dark score, as befitting the hard-hitting edgy animated affair but that never detracts one's listening experience. Here's hoping Mr. Wiedmann, continues his journey in the DCAU.
Album Highlights: The Incident, Rogue, Last Man Standing, Hell of a Messenger
Hasitha Fernando – Follow me on Twitter.