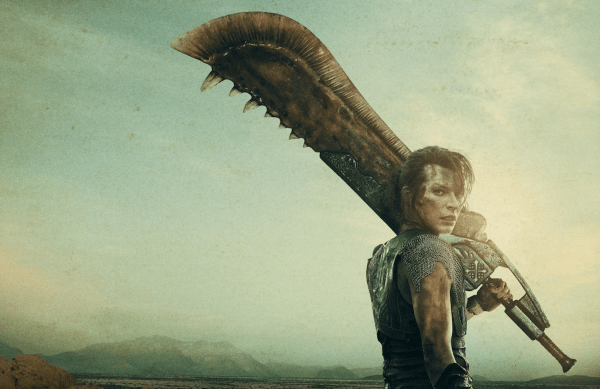 While we've already had a look at Milla Jovovich's Lieutenant Artemis wielding her Giant Jawblade in the upcoming Monster Hunter film, a new image from the video game adaptation has surfaced online which shows off a brand-new weapon of hers, the slinger.
This tool will act like a slingshot, as well as a transportation device, by utilizing a grappling hook. While this image may not seem like the most action-packed, it promises that Lieutenant Artemis will have a full arsenal of weapons at her disposal.
Jovovich will join her Resident Evil director and husband Paul W.S. Anderson as he helms Monster Hunter, an adaptation of the Capcom video game franchise. Tony Jaa, Tip 'T.I.' Harris, Meagan Good, Diego Boneta, Josh Helman, and Ron Perlman will star alongside Jovovich in the film.
"Behind our world, there is another: a world of dangerous and powerful monsters that rule their domain with deadly ferocity. When Lt. Artemis (Milla Jovovich) and her loyal soldiers are transported from our world to the new world, the unflappable lieutenant receives the shock of her life. In her desperate battle for survival against enormous enemies with incredible powers and unstoppable, revolting attacks, Artemis will team up with a mysterious man who has found a way to fight back."
Monster Hunter is currently set for a release on September 4th, 2020.