Beverly Hills Cop, 1984.
Directed by Martin Brest.
Starring Eddie Murphy, Judge Reinhold, John Ashton, Lisa Eibacher, Ronny Cox, and Steven Berkoff.
SYNOPSIS:
Eddie Murphy's classic Beverly Hills Cop arrives on 4K Ultra HD in a new edition that also includes a Blu-ray disc and a digital code. The film looks better than ever, although nothing new was created for the bonus features, so you'll need to decide if improved image quality is enough for you to upgrade.
I'm fascinated by the way stardom waxes and wanes. For example, Fatty Arbuckle was one of the biggest stars of the silent era and was involved in what was dubbed at the time "the trial of the century," but how many people would recognize his name if you conducted a random poll today? And how many stars, so to speak, of Rome's gladiator games, or of Mayan sports, are lost to time?
That's what ran through my mind when I received a copy of Beverly Hills Cop on 4K UltraHD for a review. I was an avid Saturday Night Live watcher as a kid, and I have fond memories of Eddie Murphy coming into his own with his parody of Mister Rogers Neighborhood and other classic characters. He quickly parlayed that success into a burgeoning film career, starting with such hits as 48 Hrs. and Trading Places (also out in a new edition from Paramount) and his stand-up film Delirious before blowing the doors open with Beverly Hills Cop. He may not be a huge star today, but back then, he was one of the biggest.
Murphy plays Detroit Police Department detective Axel Foley, who's childish and reckless but has great street smarts that enable him to break cases open, albeit with some fall-out along the way. He finds himself facing a reprimand after yet another near-disastrous incident, but when his best friend ends up dead in front of his apartment, Axel takes his antics to Beverly Hills.
In California, Axel runs afoul of detective Billy Rosewood (Judge Reinhold) and sergeant John Taggart (John Aston) but follows the same playbook he's always used. Predictably, he drives the pair crazy while pursuing the case to the end, but it's not the story that's important here. It's simply a blast watching Murphy chew the scenery, a comedian in his prime who was riding a rocket ship of a career.
Beverly Hills Cop was remastered in 4K for a previous Blu-ray release, and my understanding is that's the same source used here. Like most 4K UltraHD releases that aren't simply a port of an existing Blu-ray, the film looks as close to a theatrical presentation as is possible with today's home video technology. Sure, you can nitpick certain shots that look softer than they should, but if you're not the type who watches movies on a huge screen and pauses them to scrutinize little details, you'll be happy with how the film looks.
That previously released Blu-ray disc is included in this set, along with a code for a digital copy. I don't own prior home video editions of Beverly Hills Cop, so I don't know if everything from the past was carried over. Nothing new was created for this release, and some of the bonus features are on both discs. Here's what you'll find in this set:
Audio commentary: Director Martin Brest recorded this track a long time ago for a DVD release, but it still holds up here. Among other things, he talks about his initial reluctance to direct the film and why he hates the freeze-frame ending that ended up in the movie anyway. He loses some steam partway through, but he perks up for the action-filled climax.
Deleted scenes: Two excised scenes are presented here, running a little under four minutes total and not really adding much to the story. They weren't remastered, but they're still worth watching for Eddie Murphy fans who can't get enough of the guy.
Behind the Scenes: 1984 Interviews (7 minutes): Brest and Murphy appear here for some fluffy comments about the film.
BHC '84 Mixtape: Movie soundtracks used to be a big deal, and Beverly Hills Cop features several tracks that were hits at the time. This bonus feature lets you go straight to the scenes in the film where the songs appear.
The Music of Beverly Hills Cop (8 minutes): Producer Jerry Bruckheimer, Brest, and others discuss those aforementioned hit songs and why they ended up in the film. They're all silly 80s pop songs, but I think they work in the context of the movie. It's like how I can appreciate Ray Parker Jr.'s "Ghostbusters" song in that film, but I'm not going to fire it up on Apple Music.
Beverly Hills Cop: The Phenomenon Begins (29 minutes): This featurette takes a look at the movie from its early days of development, including the answer to the trivia question, "Which major 80s action film star was going to be the star instead?" Brest and Murphy appear here, along with other members of the cast, writers Danilo Bach and Dan Petrie, and editor Billy Weber.
A Glimpse Inside the Casting Process (10 minutes): Casting director Margery Simkin leads this discussion, along with Brest and some members of the cast. There's some retread of material from The Phenomenon Begins, but it's still an interesting look at how the film was cast.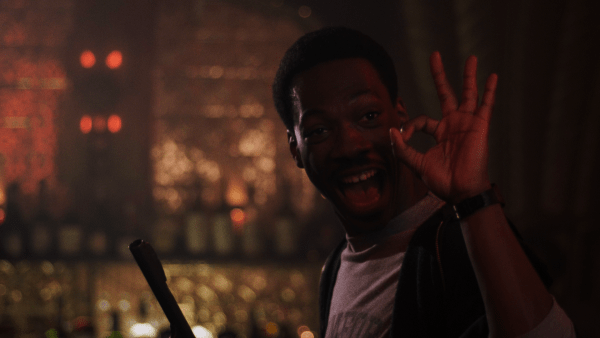 An isolated score, a map to the shooting locations, and the theatrical trailer round out this edition.
Flickering Myth Rating – Film: ★ ★ ★ ★/Movie: ★ ★ ★ ★
Brad Cook