Demons 1 & 2 Limited Edition set
Directed by Lamberto Bava.
Starring Bobby Rhodes, Geretta Geretta, Urbano Barberini, Karl Zinny, Natasha Hovey, Michele Soavi, Asia Argento, David Knight, Nicoletta Elmi, Lino Salemme, Coralina Cataldi-Tassoni.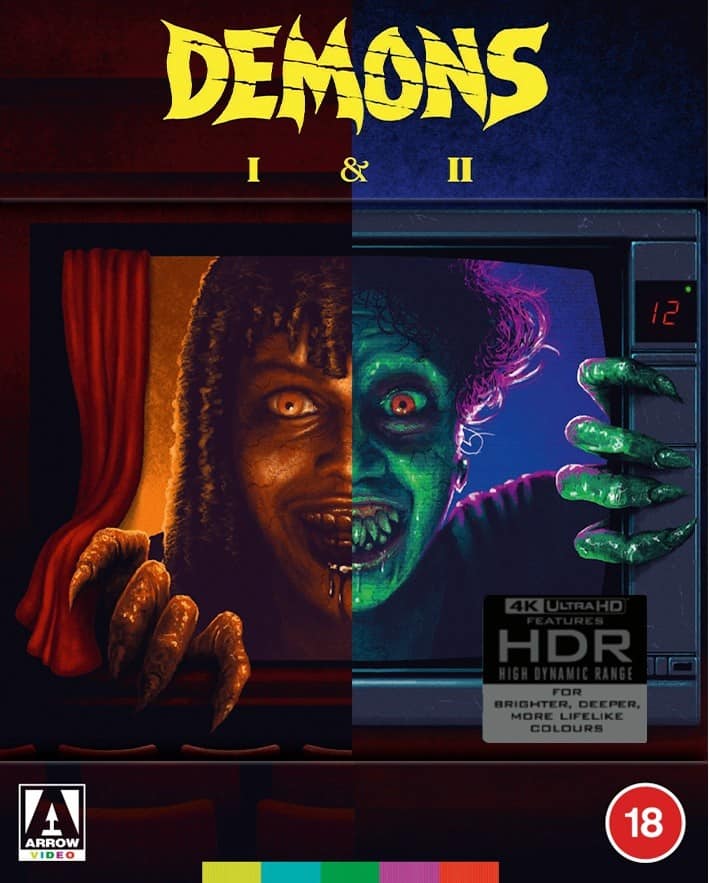 SYNOPSIS:
Lamberto Bava's Bonsoir heavy metal classic splat-fests get a 4K re-issue from Arrow Video in what is possibly the greatest home entertainment release ever.
Having been a tent pole Blu-ray release for Arrow Video back in 2012 it was only a matter of time before the wizards worked their magic over Lamberto Bava's demented Demons and its equally nuts sequel Demons 2 again to add to their impressive 4K catalogue, and thankfully they got to it sooner rather than later as movies like this don't get made anymore and the world really needs more entertainment like this at the moment.
This is because Demons has no agenda, no message and doesn't try to preach anything other than enjoying yourself for 90 minutes as patrons are invited to the screening of a horror film in a Berlin cinema by Michele Soavi wearing a metal plate in his face, so not creepy at all then. There is a mask on display in the foyer where prostitute Rosemary (Geretta Geretta) tries it on and cuts her face, which is odd as a character in the film they are watching does the same thing and turns into a demon, a snarling instrument of evil that spreads it's infection through its claws (despite the demon on the cinema screen using a knife, but never mind), creating more drooling creatures dripping with goo. After that, things don't look good for Rosemary, her pimp Tony (Bobby Rhodes) and the other patrons as the pus-filled boil on her face explodes, someone has bricked up all the exits during the 20 minutes they were in there, and where did that helicopter come from?
The movie pretty much hits the ground running and once Geretta Geretta gets covered in yellow goo it goes into overdrive and doesn't let up until the nonsensical but no-less-enjoyable climax, which comes after a character rides a motorbike through the cinema brandishing a samurai sword while German proto-thrash metal band Accept's 'Fast as a Shark' proves to be the perfect soundtrack for lobbing heads off. The fact that scene isn't the finale tells you how mad Demons is, and thanks to its thumping soundtrack and gloriously gloopy effects it never dips and keeps up the pace so by the time you question its logic – of lack thereof – the credits have rolled and you're left with Claudio Simonetti's excellent theme tune bouncing around your cranium.
And so to Demons 2 and, as the movie's original tagline stated, the nightmare continues as the action moves to a modern apartment block where the inhabitants all seem to be watching a television programme about the demons' first attack. Everyone, that is, except the guests at Sally's birthday party, who have their own problems trying to smile and be happy whilst dancing to the The Smiths while Sally (Coralina Cataldi-Tassoni) sulks in her bedroom and watches the TV show.
During this scene we see the first example of Demons 2 trying to add a little something different as a resurrected demon spots Sally through the TV screen and makes his way into her bedroom, so for everyone who fawns over Ringu and how original and innovative they think it is, Demons 2 did it 13 years earlier. It also tries to do an 'acid for blood' thing as well but apparently another film already did that.
Anyway, Demons 2 continues in pretty much the same manner as its predecessor, albeit slightly – and it is very slightly – toned down; the violence is still manic and frenetic but the demon blood that spews from their mouths has turned from red to dark green, the soundtrack has gone from the heavy metal attack of Saxon and Accept to the dark rock and new wave of The Cult, Gene Loves Jezebel and Dead Can Dance, and Bobby Rhodes is no longer a pimp. Here, he is a gym instructor whose motivational technique is basically shouting and insulting people, which is what he did in the first film but he had a white pimp suit on then so that made it cooler. In Demons 2 he wears an orange vest and grey joggers, his wardrobe reflecting the toned down nature of the production.
Maybe not as iconic but equally as much fun, you can see Demons 2's DNA in more modern movies like 28 Days Later and [REC] – check out the shot of the demons looking up the stairwell before they charge, which the Spanish movie lovingly homaged – and as with the first movie it barely lets up as claws burst through finger nails, fangs push out teeth and a dog drinks infected blood – oh no, not the dog! With more amazing effects and a few feeble attempts to add a bit of arty flair to proceedings, Demons 2 is a hoot that still delivers a few creepy moments and never fails to entertain.
So if you purchased the previous Blu-ray release you may be wondering whether you need to double dip and buy this 4K restoration, and the answer is a massive YES, OF COURSE YOU SHOULD! As well as a crisp and detailed image, neon colours that pop out of the screen like an '80s nightclub in your living room – albeit a nightclub full of marauding drooling demons – and a pair of soundtracks that are worth buying a decent set of speakers for, Arrow have dug deep and thrown in some new extras to enhance your experience, most notably a brand new audio commentary for Demons by critics Kat Ellinger and Heather Drain, and one for Demons 2 by critic Travis Crawford that both go into detail about the complicated list of films in the Demons cannon (although these are the only two that are connected) as well as many other informative tidbits for you to consume. There is also a new visual essay by author and critic Michael Mackenzie exploring Dario Argento's career as a producer (because he produced both movies, see?) and a new visual essay on space and technology in Demons and Demons 2 by author and critic Alexandra Heller-Nicholas, both of which are hugely informative, as is all of the other bonus content that has been ported over from the previous release. Of interest as well is the fact that Demons is presented in its full uncut version in both English and Italian as well as featuring the slightly trimmed and redubbed US cut, so all bases are covered there (and watching it in Italian adds another level of fun if you have never seen it that way before). There is also a 60-page booklet featuring new writing by Roberto Curti, Rachael Nisbet and Alexandra Heller-Nicholas for even more Demons related shenanigans.
Yes, Demons is both brilliant and silly and possibly one of the purest horror movies ever made, its only requirement is that you turn off your logical thinking brain and enjoy. Demons 2 may be slightly less impactful as it tries to tug on your heartstrings a little more but ultimately it is every bit as goofy and just as much of a great time, and what is wrong with simply enjoying some beautifully presented gory, violent nonsense without the need for a social conscience or hammering home a message? Nothing at all, that's what.
Demons – Flickering Myth Rating – Film: ★ / Movie: ★ ★ ★ ★ ★
Demons 2 – Flickering Myth Rating – Film: ★ / Movie: ★ ★ ★ ★ ★
Chris Ward