In the latest instalment of our action A-Z, we look at films beginning with R to V… 
Summer has been in full swing. The cinemas are back up and running and the streaming services have been releasing content left and right. Summer means action! It's the season. If you've run yourself dry of current content then fear not, I'm here to run you through a nostalgic look back at an array of action films. From classics, to cult films to video store bottom shelf fillers, here are the R to V (in our A-Z) of action…
Rage
Gary Daniels was a specialist in ass-kickery throughout the 90's. His physical prowess as a martial artist translated well as an on-screen fighter too (occasionally there can be a difference, and one doesn't guarantee proficiency in the other). With PM Entertainment, Daniels delivered a number of enjoyable carnage filled action films, absolutely loaded with stunts, gun battles, fist fights and car flips (always car flips…so many car flips). Among his PM output, the very best were the triple R trilogy. Riot, Recoil and Rage. All three were superb and Riot is arguably the best, but as you'll see, my 'R' selections have a certain rage theme. Rage sees an unsuspecting teacher (Daniels) become an unwitting experiment where he's transformed into a ramped up super soldier. He escapes and is then on the run as the shady faction try to erase their mistake. Cue the aforementioned PM specialties in abundance in one of their most lavish productions. Some of the stunts are sensational.
The Rage
Proving one of the better Lorenzo Lamas action efforts of the mid-90's, The Rage benefits from the former Renegade and Falcon Crest star in good fettle, as well as an excellent supporting cast. Said support comes from Roy Scheider, perennially underrated during his golden period in the 70's, and relegated to straight to video supporting roles in the 90's. Then there's David Carradine and Gary Busey (by this point in time he wasn't quite so popular as a big screen villain for studios sadly). Busey is a maniacal serial killer and gang leader, whose specialty is grimly perverse. The action, if a little sparse, is nicely constructed, including a couple of excellent car chases. The direction is solidly efficient if unspectacular, both benefitting from the wealth of experience Sidney J.Furie brought to the project, but at the same time perhaps lacking some creative spark he was increasingly short of by this point in his career.
Rage and Honor
Aussie stunt maestro, fight choreographer and actor, Richard Norton teams with the original Queen of action cinema, Cynthia Rothrock in one of many collaborations between the two icons. In Rage and Honor (I'll assume Norton is the Rage and Rothrock is the honor), we have a melding of Dangerous Minds and generic martial arts fare. A cop (Norton) teams up with a teacher (Rothrock) to clean the streets of drugs as a cartel threatens to take over (headed by a villainous and heavily mulleted Brian Thompson). It's not quite China O'Brien or Lady Dragon, but the twosome of icons was perennially reliable. Action specialist Terence H. Winkless (Bloodfist) provides solid direction to the whole affair. It's elevated by the likeable leads, reliable villain and of course, plenty of fight scenes.
Seven Samurai
This wrote the book on action cinema. This laid out a formula that every modern Marvel film still adheres to, with its underdog story of heroes fighting against the odds, and a heady mix of drama, humour and action along the way. Okay, it's vastly superior, executed with an Auteur vision over 'market expectations' but most action blockbusters owe something to this film, and others in Kurosawa's CV (bridged by Star Wars, which everyone looks back to, which itself looked back heavily to Kurosawa). Great performances all around but a particularly mesmerising and charismatic turn by Toshiro Mifune (one of the greatest actors of all time). The set pieces are impeccably put together too, shot and cut with visceral power that is way ahead of its time. It just does not get any better.
The Shooter
This Melville-ode Euro Thriller represented the strengths and weaknesses of Dolph Lundgren as a marketable big screen star in the 90's. On the one hand, around this time he was looking to diversify his output, be it Men of War (written by Oscar winner John Sayles) or the introspective and artistically inclined action film Silent Trigger. In The Shooter we've got all manner of conspiracies and espionage as Michael Dane (Lundgren) tries to track a nefarious female hitwoman who is believed to have pulled off a recent diplomatic assassination. This is more dialogue driven and intricately plotted than a standard Lundgren shoot-em-up, but at the same time, never quite goes all in, still feeling as if some aspects were simplified or other scenes were put in to make it more Lundgren friendly. It thus floats between being a thriller and an action. That said, the Prague locations look great and Ted Kotcheff brings class to the directors chair. The most notable aspect though, in a career first and probably not quite since, is the fact Lundgren and his female lead have chemistry (it's rare, but more so down to genre convention rather than Lundgren himself). Dutch actress Maruschka Detmers really elevates her role, providing a sense of allure and enigma. It's actually, given this is essentially a low budget action film in the mid-90's, a really engaging female role and kind of makes the film.
Streets of Fire
Rock 'n' roll action from Walter Hill. It's a little unfairly forgotten, perhaps less prominent in Hill's CV than some of his more iconic work like The Warriors and 48 Hours. Still, the film looks great. Michael Pare brings a bit of an edge with a combo of Brando and Dean charisma, opposite Diane Lane who is also excellent. Willem Defoe is atypically superb, allowed the freedom to let loose. It's a late discovery kind of film for many, and for those who have long watched it, there's a very definite nostalgia associated with this cult favourite.
Tango and Cash
In the era of buddy cop cinema, Tango and Cash may not be Lethal Weapon level, but by God is this one a lot of fun. For all it lacks in logic, and some off kilter moments (including Michael J Pollard as a quirky Q-esque weapon/gadget supplier), this film almost couldn't fail, with an in pomp Kurt Russell and Sly Stallone firing pot shots at each other throughout. There are some good set pieces, with no expense spared, whilst Jack Palance cranks up his performance to a level only Jack Palance could reach. He's hammier than a pig farm but it just adds to the film's appeal.
Tiger on The Beat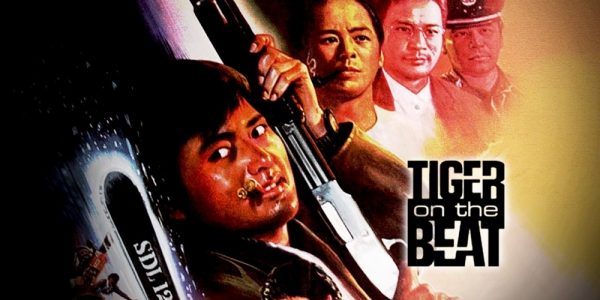 A quirky combination of Jackie Chan martial arts comedy formula and Ringo Lam/John Woo gun carnage. Tiger on The Beat has a couple of mismatched cops lumbered with helping a female drug dealer take down a drugs ring. The laughs come thick and fast with plenty of farcical comedy (which Chow Yun-Fat is very adept at). The action sequences are also as plentiful and insane as you expect from one of the top end action films of that period in HK cinema. Chainsaws at the ready.
Tough and Deadly
Mismatched buddy up once again as Roddy Piper is teamed with an amnesiac with abs and martial arts prowess, played by Billy Blanks. If Jason Bourne invented Tae-Bo? This is action-a-minute, with great chemistry between Blanks and Piper. They'd reteam against with Back in Action shortly after (not connected to Tough and Deadly), and video fans of this era might wistfully wonder whether they could have worked together more. Piper always had way too much charisma to be doing cheap video action films, but when the films and cohorts were closer to his level, the results were enjoyable. Tough and Deadly is the epitome of what a video action film should have been back in the day. It's just a lot of fun, simple, and briskly paced. Director Steve Cohen never worked prolifically in features, but between this and Martial Law (Chad McQueen, Cynthia Rothrock) he certainly had a gift for elevating standard cop action fare at this budget level.
Under Siege
Die Hard on a boat with Steven Seagal. Die Hard seemed to launch a sub-genre all of its own, with a mixed bag of results. Under Siege marks one of the best of the bunch with great direction from Andrew Davis (just prior to The Fugitive). Seagal was in his pomp and this was arguably the peak of his career. Ironically in retrospect, some fans feel this film is away from the more hand to hand focused style seen in his earlier works. It could be said that Seagal gets a little overshadowed by the villains here. That's no sleight given a film that features Colm Meaney, Gary Busey and Tommy Lee Jones on the bad guy roster. The latter two in particular are in great form, and Tommy Lee Jones was a year away from winning an Oscar in The Fugitive. This was the kind of film, that Hollywood had not yet discovered, Jones was just too good for. Consequently it has an exceptional villain and hugely benefits from him. Aside from anything else this still feels like the biggest thing Seagal did. It's got scale and everything is on point.
Undisputed 2
When Walter Hill made a little known prison boxing drama starring Ving Rhames and Wesley Snipes, I doubt anyone expected it to spawn a successful martial arts action franchise. Here, Michael Jai White (Mr Perenially underrated) takes on the role vacated by Rhames. Now the boxer finds himself in the arse end of Bulgaria, inside a prison where Yuri Boyka (Scott Adkins in his star making role) reigns supreme as the underground fighting champion. Inevitably Chambers (White) comes into the fight circuit, leading to an inevitable showdown with Boyka. Something happened in the film. Given White was playing a boxer, he decided to keep his legs out of the fights for the majority of the film. At the same time, audiences were blown away by the physical dynamism of Scott Adkins whose gymnastically complex martial arts fighting on screen looks dazzling. To little surprise, the subsequent sequels became Boyka-centric as he (and Adkins) ultimately became the face of the franchise.
Universal Soldier: Regeneration
Opening with a car chase that is right up with some of the very best this century, Universal Soldier: Regeneration announced itself with a bang. Director John Hyams took a distinctly goofy franchise that no one knew needed to be a franchise and he injected an assured, auteur artistry to proceedings. A lot of thought and attention to detail went into creating this world on a budget, and inhabiting it with malfunctioning fighting machines. Franchise leader Luc Devereaux (Van Damme) is stripped of his unwavering heroism and made inherently flawed. He's a Frankenstein monster…then we have the extreme version of the monster in the returning Lundgren who injects Andrew Scott's psychotic villainy with a touch of Roy Batty's complexity. Given the film, and the fact both leading stars had limited screen-time, there are rough edges but car chase aside the Unisol mano-a-mano battles are pulverisingly brutal and the rematch of Van Damme vs Lundgren is epically destructive and has real weight.
V For Vendetta
A reimagining of 1984, this film was heavily billed as being a new Wachowski film back in the day. The directors had not long finished The Matrix franchise. As it is, their script was taken and directed by James McTiegue, though the film bore a lot of stylistic similarities to the Wachowskis' previous works. V For Vendetta has ended up gaining a cult following and becoming someone pop culturally iconic thanks to the Guy Fawkes mask being so prominent in the film. Hugo Weaving, in a largely vocal role is excellent and Natalie Portman gives a great performance too. Of course it never quite hits Matrix level, nor is it quite as good as 1984 (starring John Hurt, who appears as the villain in V) but as far as 84 odes it beats Equilibrium and indeed the Matrix sequels.
Violent Cop
Takeshi Kitano's directorial debut is a striking, quirky and violent action thriller which delivers its action scenes in brutal punctuations. Kitano is the titular violent cop and is completely, stoically, mesmerising. Kitano's distinct stylistic tendencies are very evident here in this raw and brutal film. Kitano's image here as the Bad Lieutenant out of control belies his comedic image which preceded this film, and the film's odd soundtrack makes the film weirdly enigmatic.
Viper
Lorenzo Lamas is back. Here, genre specialist, Tibor Takacs provides his distinct flair to proceedings in a straight up action film. Takacs, who got his start in cult horror, became something of a reliable action director in the 90's video market (he did a couple of underrated flicks with Mark Dacascos, including Sabotage). Lamas plays Travis, who has to help his brother who has run afoul of gangsters. There are plenty of fights and opportunities for Lamas to show off his martial arts prowess (which wasn't always the cast in his action films). This is pretty cheesy, playing out like an Always Sunny vision of action cinema, or indeed The Simpsons, but it adds to the appeal. At one point Lamas even somersaults over an oncoming car and runs a lot in slow motion (occasionally away from explosions).
What's your favourite action film beginning with R-V. Let us know on our social channels @flickeringmyth. Join us next time for the final instalment as we round off our action A-Z…
Tom Jolliffe is an award winning screenwriter and passionate cinephile. He has a number of films out on DVD/VOD around the world and several releases due out in 2021/2022, including, Renegades (Lee Majors, Danny Trejo, Michael Pare, Tiny Lister, Nick Moran, Patsy Kensit, Ian Ogilvy and Billy Murray), Crackdown, When Darkness Falls and War of The Worlds: The Attack (Vincent Regan). Find more info at the best personal site you'll ever see here.