…Next up from the MCU of course is February's Black Panther, and this week brought us a new trailer for the Ryan Coogler-directed solo movie featuring some previously unseen footage and gives us another look at Chadwick Boseman's T'Challa and and Michael B. Jordan's Erik Killmonger in action; watch it here…
…Black Panther will of course then be followed by Avengers: Infinity War, and while we're still waiting for the first trailer, this week did see some leaked screenshots which gave us our first look at Thanos' Black Order member Proxima Midnight, along with shots of Captain America, Black Widow, Falcon, The Vision, Scarlet Witch, Gamora, Drax and Star-Lord [see here], while the Russo brothers shared a set photo teasing mass destruction [see here], Sebastian Stan spoke about the difficulties of filming Infinity War and its untitled sequel [read his comments here], and Kevin Feige described the production as "an emotional experience" [read his comments here]…
…It's long been requested by fans, and if Stan Lee is to be believed, it's only a matter of time before we get to see the Black Widow headlining her own solo Marvel movie, with Lee reportedly stating at Brisbane's Supanova Comic Con that: "One day there will be a Black Widow movie…"
…Netflix unleashed its latest Marvel series this week as The Punisher hit the streaming service. If you're yet to start binging the series, you can watch a new trailer here, along with a batch of clips here. The Jon Bernthal-headlined series has been dividing critics, and you can take a look at Liam Hoofe's reviews of Episode One and Episode Two as well as Samuel Brace's 'The Punisher Early Reaction: A Sublime Start to a Show Replete with Promise', while you may want to check out a couple of Punisher related features here at Flickering Myth in James Turner's 'Why The Punisher Films Failed' and Ben Robins' 'The Punisher: All of the Different Frank Castles Ranked'…
…In other Netflix news, it seems that filming on Daredevil season three is now underway, while production on season two of Iron Fist will reportedly begin this December…
…Marvel has another new series debuting this month, and as we await the premiere of Runaways on November 21st, Hulu has unveiled two new promo posters featuring Alex (Rhenzy Feliz), Nico (Lyrica Okano), Chase (Gregg Sulkin), Gert (Ariela Barer), Molly (Allegra Acosta), and Karolina (Virginia Gardner); take a look at the posters here…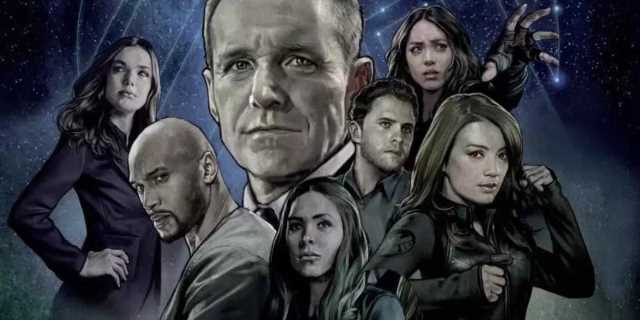 …Following the season finale of Marvel's Inhumans [read our review here], ABC is gearing up for the return of Marvel's Agents of S.H.I.E.L.D. with the network releasing a season five poster, along with a clip and synopsis for the premiere episode 'Orientation', which will air on December 1st…
…20th Century Fox kicked off the promotional campaign for Deadpool 2 with the release of a bizarre first trailer which sees Ryan Reynold's Merc with a Mouth parodying artist Bob Ross [watch it here], along with a faux synopsis which reads: "After surviving a near fatal bovine attack, a disfigured cafeteria chef (Wade Wilson) struggles to fulfill his dream of becoming Mayberry's hottest bartender while also learning to cope with his lost sense of taste. Searching to regain his spice for life, as well as a flux capacitor, Wade must battle ninjas, the yakuza, and a pack of sexually aggressive canines, as he journeys around the world to discover the importance of family, friendship, and flavor – finding a new taste for adventure and earning the coveted coffee mug title of World's Best Lover." Meanwhile, Deadpool and Cable co-creator Rob Liefeld also took to social media to share a photo of him on set alongside Josh Brolin in costume as Nathan Summers; check that out here…
…20th Century Fox has added another X-Men spinoff to its upcoming slate with the announcement this week that James Franco is set to take on the role of Jamie Madrox for a Multiple Man movie, which is being scripted by Allan Heinberg (Wonder Woman), with Franco and X-Men veteran Simon Kinberg producing…
…You can read Rachel Bellwoar's review of this past week's episode of The Gifted 'eXtreme measures' here, while we also have a promo and images for the upcoming eighth episode 'threat of eXtinction' [see here and here]…
…As production continues on the Venom solo movie, Tom Hardy took to social media to share a behind-the-scenes photo of him relaxing in Eddie Brock's apartment [see here]. Meanwhile, it's also been announced that the studio has added a third Spidey spinoff to its slate with a feature film for Morbius, the Living Vampire, which has been penned by screenwriters Burk Sharpless and Matt Sazama (Power Rangers, Dracula Untold)..
…Disney-Pixar has announced released the first trailer for its animated superhero sequel The Incredibles 2, along with an official synopsis [check them out here]; meanwhile, we've also got word that Bob Odenkirk (Better Call Saul) and Catherine Keener (Get Out) have signed on to the voice cast, joining the previously announced Craig T. Nelson as Mr. Incredible, Holly Hunter as Elastigirl, Samuel L. Jackson as Frozone, Sarah Vowell as Violet, Huck Milner as Dash, and director Brad Bird as Edna Mode…
…And finally, it seems another Kick-Ass movie could be in the works, with comic book writer Mark Millar posting an image of Aaron Taylor-Johnson's Kick-Ass and Chloe Grace Moretz's Hit-Girl complete with the caption: "Right, this brilliance won't write itself. Time to help get a press release together for the big Kick-Ass and Hit-Girl news next week."
Gary Collinson is a writer and lecturer from the North East of England. He is the editor-in-chief of FlickeringMyth.com and the author of Holy Franchise, Batman! Bringing the Caped Crusader to the Screen.