Samuel Brace on Star Wars: The Last Jedi…
Given the longevity of the Star Wars series and the various factions amongst the franchise's fans that have emerged over the decades, it seems to me that it's nigh impossible to please each one of them, and perhaps, if you believe this hypothesis carries any water, that Rian Johnson should be forgiven for not even trying.
Now, I should preface my case here by reiterating my own personal disappointment with Star Wars: The Last Jedi, the film on which of course Johnson was the director. My qualms regarding the film, however, it would seem, are but microscopic grumbles in comparison to the rather censorious asseverations that have often been unfairly used as a cudgel against The Last Jedi from other parts of the fandom. This is not to suggest that the gripes held by fans aren't without merit, some are in fact more than reasonable misgivings, many of which I share.
At any point, no matter what I think of the film itself, there is, in my estimation, no doubt that Rian Johnson would have had an impossible task in catering to the various wants of each group of Star Wars fan, and while I would have preferred his takeaway from that theory resulted in in another form, I find it hard to bare any real animus towards the man for deciding, "Oh, to hell with it, why even bother".
But what of these supposed factions of Star Wars fandom? Well, it would appear to me that the dividing lines are rather obvious, the tribes formed far from nebulous. First we have the original trilogy (OT) fans; those of whom grew up with the birth of the saga, the first of us to adopt Star Wars into the heart. Then, we have the prequel trilogy (PT) fans, a group who were introduced to the series with The Phantom Menace, or at least had their first theatrical Star Wars experience with George Lucas's much maligned (I would contend, slightly unfairly) set of films. Finally, there is an admittedly much smaller group, the newest to take up arms, those who have discovered and are discovering Star Wars right now thanks to Disney's revisit to the franchise, starting of course with J.J. Abrams' The Force Awakens.
These are our three groups and these groups look at Star Wars through a different lens from one another, having different wants and expectations from and for the series, and are therefore almost but impossible to entirely please as one collective group. While the OT and the PT have stark chasms between them in terms of style and aesthetic, each trilogy's fans determine that what they require from any future Star Wars experience is, while not an exact replication, a certain channelling of what Star Wars is to them. All those familiar with the series will clearly see the issues that will naturally occur from such antithetical desires. The newly formed and not yet fully operational sequel trilogy has been, at least with regards to The Force Awakens, an attempt to recapture the passions of our first group, the OT club, while still trying to please prequel fans without making reference to the sacred texts.
The Force Awakens was about as successful as it is possible to be with such a mission while still being chastised in certain quarters for not ticking all the appropriate boxes on the checklists of each of our groups. So when it came to assembling The Last Jedi, with a new group of fans to please having now being formed around The Force Awakens, Rian Johnson was left with the task of cracking this un-crackable code, an unenviable task if there ever was one. While Johnson could have attempted to please everyone and as a result likely produce a watered down version of Star Wars that in some way resembled each group's idea of what Star Wars is, he decided that this was a puzzle which wasn't worth solving.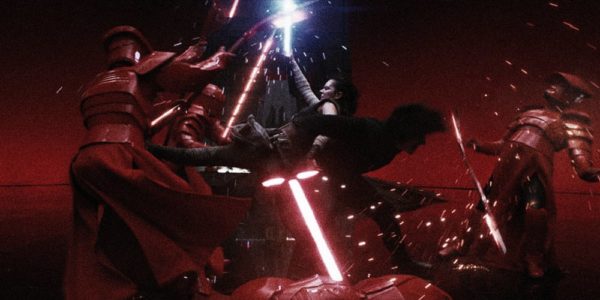 As a result, fans were presented with a product (a far from perfect product) that wasn't what anyone expected. The Last Jedi may have retained the aesthetics of The Force Awakens, but didn't retain the style, The Last Jedi may have retained some characters and continuing plot points from the original trilogy movies, but didn't retain their structure, and while the prequels were causally referred to, they were still not present in any tangible way. Johnson conjured his own vision of a Star Wars story, a flawed vision though it may be.
So, can it therefore be contended, that Johnson was correct in his estimations, that even attempting to please all that wished to be pleased was an endeavour doomed to fail, and that he is therefore somewhat vindicated in taking the road that he did, and that we can appreciate his choice to walk his own path, even though one may not like the product that thusly materialised. It appears to me that the answer should be yes, that while I may never fully condone the specific choices that were made, I can at least appreciate that choices had to be made, even if I take umbrage with the specifics of those choices.
Of course, as previously stated, my reservations regarding The Last Jedi reach nowhere near the vitriolic heights or resemble the desperate wallowing of others currently populating the fandom, so perhaps those disgruntled individuals will be unable to appreciate this notion. Leaving the heartbroken to one side, however, I am pleased in being to take some joy in appreciating certain aspects of what was achieved with The Last Jedi, having pondered its finer details, having mused on its potential outcomes, I am able to clear the mist from my eyes to see that Johnson's film was not without value, that his film is far from meretricious.
I still believe, as one can read about here, that J.J. Abrams has work to do in order to elevate the trilogy to the level which it needs to be, that upon his return to the director's chair in Episode IX, that he has some mess to attend to, but that he and his team should be more than capable of delivering an emphatic ending to the sequel trilogy, that while never being able to please all of our factions, will succeed in areas that The Last Jedi did not.
SEE ALSO: Solo: A Star Wars Story can still be great, but how can this come to be?
Samuel Brace