It has been announced that Star Wars: The Last Jedi is the best reviewed sci-fi movie of 2017.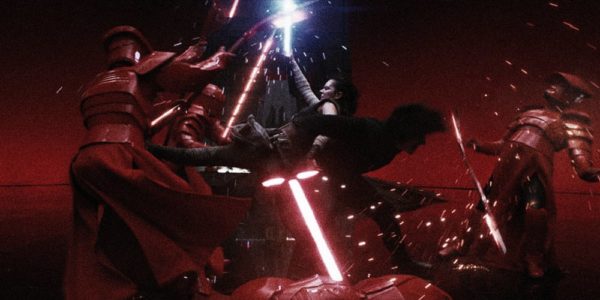 The Last Jedi was met with rapturous applause by critics upon its release with many hailing it as one of the best Star Wars films ever and praising the different direction the film took the series.
Rian Johnson's film wasn't met with such universal approval by audiences but in terms of critics, the film is a substantial success. According to Rotten Tomatoes, who have now released their list of 2017's best reviewed sci-fi films, The Last Jedi has beaten all competition.
Given an adjusted score of 106.601 percent, up from its official 91 percent RT score, The Last Jedi comes in ahead of War for the Planet of the Apes in second place which has scored 105.882 percent. Coming in third was Denis Villenueve's Blade Runner 2049, scoring 102.124 percent.
The Last Jedi's score of 91 percent also places it as the third best reviewed Star Wars film ever, behind The Force Awakens and A New Hope tied in second, with The Empire Strikes Back in first.
SEE ALSO: Rian Johnson says Star Wars: The Last Jedi is the "training" episode of the Sequel Trilogy
In Lucasfilm's Star Wars: The Last Jedi, the Skywalker saga continues as the heroes of The Force Awakens join the galactic legends in an epic adventure that unlocks age-old mysteries of the Force and shocking revelations of the past.
Star Wars: The Last Jedi sees returning cast members Mark Hamill (Luke Skywalker), Carrie Fisher (Leia Organa), Adam Driver (Kylo Ren), Daisy Ridley (Rey), John Boyega (Finn), Oscar Isaac (Poe Dameron), Lupita Nyong'o (Maz Kanata), Domhnall Gleeson (General Hux), Anthony Daniels (C-3PO), Gwendoline Christie (Captain Phasma), Billie Lourd (Lieutenant Connix), Andy Serkis (Supreme Leader Snoke), Peter Mayhew and Joonas Suotamo (Chewbacca), Tim Rose (Admiral Ackbar), Mike Quinn (Nien Nunb) and Warwick Davis joined by new additions Jimmy Vee (Pan) as R2-D2, Kelly Marie Tran (Ladies Like Us) as Rose, Benicio Del Toro (Guardians of the Galaxy) as DJ and Laura Dern (Jurassic Park) as Vice Admiral Holdo.