The Flickering Myth writing team share their thoughts on the first teaser trailer for Venom…
As Sony pushes full steam ahead with its plans for a shared Spider-Man universe (sans Spider-Man, apparently), the studio give us our very first glimpse of the launch title this week with the arrival of a teaser trailer for Venom, which is being directed by Zombieland helmer Ruben Fleischer and stars Tom Hardy in the lead role as Eddie Brock. Here's what the writing team at Flickering Myth made of it…
Chris Cooper: Really underwhelmed. I fully expect Hardy to bring it, and I wonder if they're holding back for after Infinity War. But that was average.
Ben Robins: There's practically nothing to react to without a decent look at the symbiote or Venom himself. Style wise it looks nice and dark, and Hardy seems better than Topher Grace (like that was ever going to be a surprise) but otherwise there's just not enough here to generate any kind of buzz.
Martin Carr: Underwhelming but Ill hold back my verdict fully until the full trailer hits our screens.
Gary Collinson: Personally I was disappointed not to see Venom, or at least some kind of tease. I assume it's because the CGI isn't ready, but it makes me wonder how much of Venom we're actually going to get in this movie, especially when most (all?) of the set photos have Tom Hardy in plain clothes rather than a mo-cap suit. I can't say I have much interest in the movie to be honest, I think these Sony spin-offs are both pointless and a mistake, and the trailer did very little to change my mind. Not quite ready to write it off, but hopefully the next one will do a better job.
Tom Jolliffe: Every blockbuster trailer so far this year (bar Mission: Impossible – Fallout) has been so boring I can feel my chin scraping on the floor as I yawn. Tom Cruise aside, are we going to see anything exciting this year? I like Hardy, but this is so hideously not his kind of film. Every image of that trailer has been seen before in films which are undoubtedly not going to be bettered by this. It looks a bit half assed. There to make up the numbers. Fill a schedule slot.
Tai Freligh: I'm intrigued and want to see more. It did what a teaser is supposed to do..tease without revealing too much. I want the buildup to the reveal of Venom. Frankly I would have been disappointed if they had blown the reveal in the first teaser. Just like seeing Doomsday in the BvS trailer was a mistake. I think they're playing it the right way. I'm ready for more.
Gary Collinson: I can see where you are coming from, but the first trailer for Batman v Superman did have Batman and Superman in it. Still, if the CGI isn't ready, there's no point putting something out there I guess.
George Chrysostomou: The only thing that made this a Venom trailer was the tiny amount of budget used to CGI some black veins onto Tom Hardy. Apart from that, it looked completely bland and am really hoping there is more to see here. Also, interested to hear confirmation about the MCU connections.
Helen Murdoch: Exactly what I wanted it to be. Not too much revealed and thoroughly intrigued!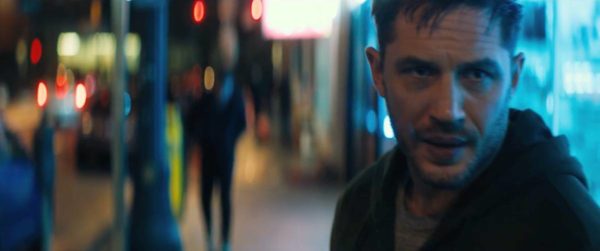 Ricky Church: Tom Hardy is the most intriguing aspect about this movie and it looks like it was well-filmed from the brief glimpses we saw in the teaser. However, I'm still left underwhelmed. Its not even that we didn't get to actually see Venom that left me feeling this way since I wasn't really expecting a full shot of him anyway. Rather, its how the teaser was constructed that didn't fill me with excitement. If I didn't know comic books, I probably wouldn't even know what this movie was since it just ended with a silhouette of Venom's face and a giant 'V' instead of the actual title. It kind of shows the reliance a Venom film has on Spider-Man since without that connection to Spidey, the general audience who doesn't know this character (which I imagine is most of the general audience) won't have too much of a reason to go.
Anghus Houvouras: Meh. Love the cast. Love the source material. A good teaser should have something that leaves you wanting more. I watched the trailer ten minutes ago and all I can remember of it is Tom Hardy's grunting toilet face and a shot of the Golden Gate Bridge. You're boring me Sony.
Sade Green: Tom Hardy sounded.. not completely unintelligible.
Villordsutch: If this didn't have the Venom tag or closing graphic, you could attach this teaser to any upcoming 'supernatural' film. It feels like Sony just wanted something out there (that wasn't Peter bloody Rabbit) that could muscle in on some of the Black Panther buzz. They should have waited and delivered a glimpse of the beast that is Venom along with Mr. Hardy a month or so down the line.
Scott Watson: Colour me underwhelmed… Tom is looking broody and angry and intense and NOT VENOM… Come on… just a teeny tiny glimpse was all that was needed but instead we just got some black stuff sloshing in a cannister. I get it's a teaser, but COME ON… there's teasing and then there's nothing. Must do better Sony.
Tom Beasley: I really like the tone of this. There's a definite atmospheric feel to it and I like that it isn't a typical superhero movie. I feel like people are expecting a lot from an initial teaser.
What are your thoughts on the trailer? Were you underwhelmed, or do you think it did its job as a teaser? Let us know in the comments below…
Directed by Ruben Fleischer (Zombieland), Venom is set for release on October 5th 2018 and features a cast that includes Tom Hardy, Riz Ahmed, Michelle Williams, Woody Harrelson, Jenny Slate, Reid Scott and Scott Haze.