A few days ago the special features for the 4K and Blu-ray home release of Avengers: Infinity War were leaked over on Twitter, but without descriptions of what the these bonus features actually included. Now Marvel Studios and Disney Home Entertainment have revealed just what those special features are, as well as announcing that fans will be able to bring the big Marvel crossover home digitally on July 31st and on 4K and Blu-ray on August 14th in the United States, and on September 3rd in the UK.
SUPPORT FLICKERING MYTH: Order via Amazon US or Amazon UK
Avengers: Infinity War will be available on a 4K Cinematic Universe Edition, Blu-ray and Digital Copy with a Multi-screen Edition, allowing audiences to watch on any platform they like. The Blu-ray and Digital Copy of Avengers Infinity War will include:
Strange Alchemy (5:08)– Share the thrill of characters from across the MCU meeting for the first time—and discover why some were teamed up together.
The Mad Titan (6:34) – Explore the MCU's biggest, baddest villain, his trail of influence through the stories, and the existential threat he represents.
Beyond the Battle: Titan (9:36) – Dive into the climactic struggle on Thanos' ruined world, including the epic stunts and VFX, to uncover the source of its power.
Beyond the Battle: Wakanda (10:58) – Go behind the scenes to find out how the filmmakers pulled off the most massive and challenging battle Marvel had ever attempted.
Deleted and Extended Scenes (10:07)

Happy Knows Best (1:23) – Tony and Pepper spar over the details of their upcoming wedding—until a hassled Happy Hogan pulls up with an urgent request.
Hunt for the Mind Stone (1:24) – On a darkened street, Wanda Maximoff and the wounded Vision attempt to hide from Thanos' brutal allies.
The Guardians Get Their Groove Back (3:20) – As Peter Quill and Drax quarrel over their failed mission to Knowhere, Mantis interrupts with news.
A Father's Choice (4:00) – Thanos confronts Gamora with a vision from her past—and with lying to him about the Soul Stone.

Gag Reel (2:05)– Watch your favorite Super Heroes make super gaffes in this lighthearted collection of on-set antics.
Audio Commentary (approx. 149 min.) by Anthony and Joe Russo, Christopher Markus and Stephen McFeely
Additionally, those who get a digital copy will also get a digital exclusive feature: A Directors' Roundtable (approx. 32 min.) – Eight amazing directors reflect on how their movies contribute to the Marvel Cinematic Universe's larger storytelling adventure. Including Anthony and Joe Russo, Jon Favreau, Joss Whedon, James Gunn, Ryan Coogler, Peyton Reed and Taika Waititi who reflect on how their movies contribute to the MCU's larger storytelling adventure.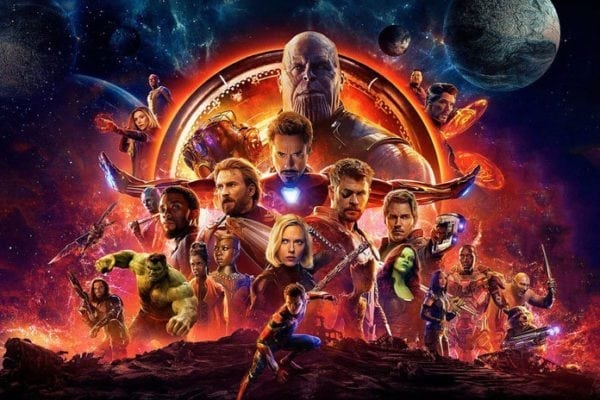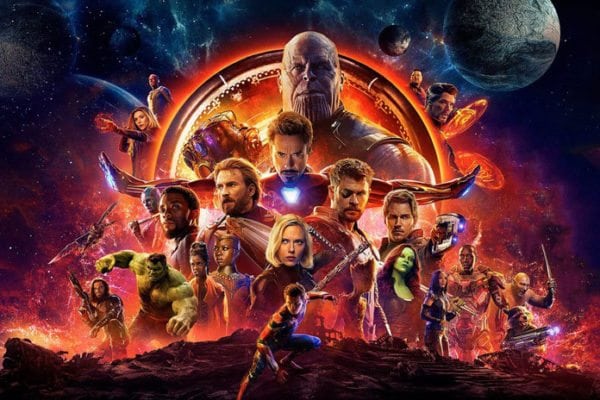 An unprecedented cinematic journey ten years in the making and spanning the entire Marvel Cinematic Universe, Marvel Studios' "Avengers: Infinity War" brings to the screen the ultimate, deadliest showdown of all time. The Avengers and their Super Hero allies must be willing to sacrifice all in an attempt to defeat the powerful Thanos before his blitz of devastation and ruin puts an end to the universe.
Avengers: Infinity War stars Robert Downey Jr. (Iron Man), Chris Evans (Captain America), Mark Ruffalo (Hulk), Chris Hemsworth (Thor), Scarlett Johansson (Black Widow), Chadwick Boseman (Black Panther), Tom Holland (Spider-Man), Sebastian Stan (Winter Soldier), Anthony Mackie (Falcon), Paul Bettany (Vision), Elizabeth Olsen (Scarlet Witch), Don Cheadle (War Machine), Josh Brolin (Thanos), Benedict Cumberbatch (Doctor Strange), Benedict Wong (Wong), Chris Pratt (Star-Lord), Zoe Saldana (Gamora), Dave Bautista (Drax), Bradley Cooper (Rocket), Sean Gunn (Rocket), Vin Diesel (Groot), Karen Gillan (Nebula), Pom Klementieff (Mantis), Tom Hiddleston (Loki), Samuel L. Jackson (Nick Fury), Cobie Smulders (Maria Hill), Benicio Del Toro (The Collector), Danai Gurira (Okoye), Letitia Wright (Shuri), Winston Duke (M'Baku), Terry Notary (Cull Obsidian), Tom Vaughan-Lawlor (Ebony Maw), Carrie Coon (Proxima Midnight), Michael James Shaw (Corvus Glaive) and Peter Dinklage (Eitri).