Jessie Robertson reviews the eleventh episode of The Flash season 5…
Seeing Red may be a great Cheville song, but it's certainly not a great episode of The Flash.
Tonight's episode was way more "CW" than ever before. The main crux of tonight's episode was Cicada is out on a killing spree, killing metas left and right. When Team Flash confronts him, he punches Nora in the back really hard, breaking it. This drives Barry to anger he's not felt before. Hold on….let's break some of this nonsense down before I move on.
There's a whole subplot going on where someone inside the CCPD leaked a list of recently arrested metas (on a nice color coded background!) and gave it to Grace's nurse (who's now apparently evil?) and gave it to Cicada. Commence the killing spree! As he tracks down 2 metas, not only does he kill the super strong one but now he's got martial arts skills to boot? Our next attack takes place in broad daylight no less in an alley that looks very familiar (isn't this where Flash and Arrow fought the first time?).
So, we've established Cicada is currently bloodthirsty, but when he has the chance to keep doing what he's been doing, this time against a member of Team Flash, who have been distracting him from his mission, he doesn't land the killing blow; he just punches her in the back really hard, then whisks away on his flying thunder rod.
This leaves Nora's back broken and her unable to move. Now this felt extremely cheap and manufactured drama to get a reaction out of the audience as Barry and Iris are tearing up as Nora is freaking out she can't move. Obviously, we, the viewer, are at home saying "This isn't going to last." Not only does it not, but the very next time we see Nora, Caitlin fills us in her healing is working , just going slowly. Immediately, this feels like last week's "Trap Barry in Meta Prison for an episode because We have too many main cast members right now to include them all" Week 2. It's poor form and I thought it was atrocious. And they even play in another scene where Iris gets indignant as Sherloque takes this chance to question her, while she's invalid, as if she's not going to be within the next half hour!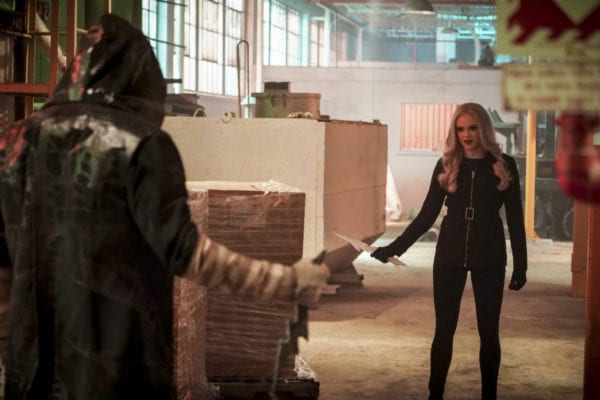 All of this leads to our main topic: Barry's angry again. Not another dark turn for our hero! We just went through this! I get it ; it's his daughter; that has a different kind of weight to it. But by playing it up for heavy drama, all episode long, with even Barry incredulous she's okay by episode's end, it just feels blatantly false.
Let me take on a couple other points: the subplot of getting all these metas (most of them just extras with colored contact lenses) into witness protection was boring. And I don't care about the guy with the snake in his eye enough to feel good when he's turned over a new leaf. Also, Chris Klein, I've ripped him before and tonight was pretty low as well. His gravely voice and terrible timing aren't doing it for me and Cicada is my least favorite villain, easily, by far in Flash history. I can't wait to get rid of this guy.
The only highlights for me tonight were the Caitlin/ Killer Frost exchanges (no Cisco either) and some of Sherloque's fun deducing as he comes ever closer to realizing an alternate of himself is helping Nora with her time travel tutoring.
Rating – 4/10 – Huge disappointment on all fronts – tone, story, acting, excitement. One of the worst Flash episodes in the history of the show to me.
Jessie Robertson