The Lodge, 2019.
Directed by Severin Fiala and Veronika Franz.
Starring Riley Keough, Richard Armitage, Jaeden Lieberher, Alicia Silverstone, Lia McHugh, and Danny Keough.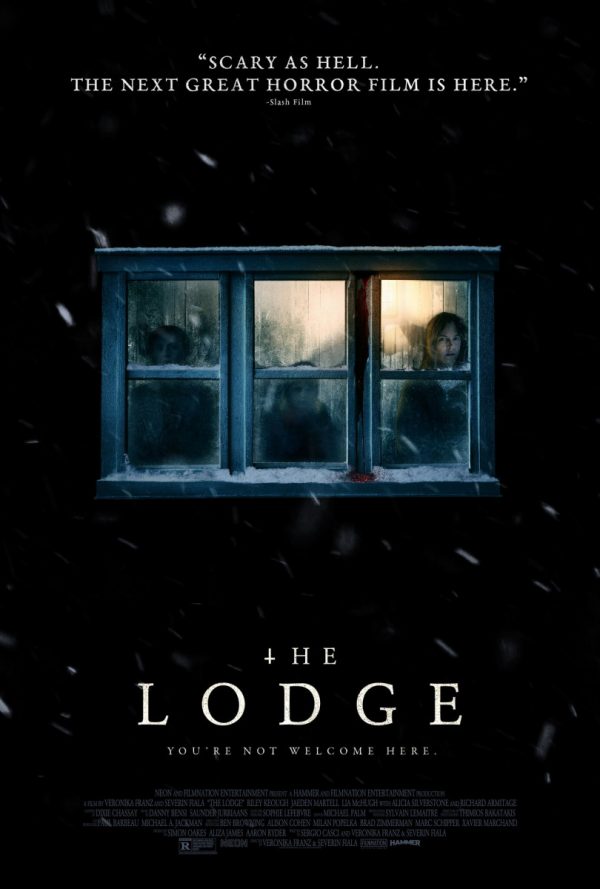 SYNOPSIS:
The Lodge tells the psychologically chilling tale of a woman (Riley Keough) and her new stepchildren isolated in the family's remote winter cabin, locked away to dredge up the mysteries of her dark past and the losses that seem to haunt them all.
You know you're in for a wild ride when a film opens with a literal gunshot to the head. If you thought directors Severin Fiala and Veronika Franz are not messing around with their follow up to Goodnight Mommy. Taking cues from classic films ranging from Rebecca, to The Thing and a little The Shining sprinkled around, The Lodge is posed to be 2019's first horror sensation.
After their mom (Alicia Silverstone) kills herself, Aidan (Jaeden Lieberher) and Mia (Lia McHugh) are sent to live with their father (Richard Armitage). To make matters worse, father wants them all to spend Christmas together with his new, younger girlfriend Grace (Riley Keough), whom he plans to marry.
Of course, there is great animosity between the children and Grace, and the fact that they get trapped in a lodge because of a snowstorm while father is away certainly doesn't help. There is something wrong about Grace, who is the sole survivor of a religious death cult ran by her father (Keough's actual father, Danny Keough). She seems perfectly normal and kind on the outside, but small things set her off, adding to a sense of dread that surrounds the entire film. Then things start happening in the lodge, and the camera lingers on Mia's creepy-looking doll who she talks to. It doesn't help that there are pictures of Mia and Aiden's mom all over the place, as well as lots of Catholic iconography decorating the cabin, which unnerves Grace.
Lieberher and McHugh are outstanding as the kids, and Lieberher specially takes what he learned in It and uses it to great effect in The Lodge. The kids go from adorable to Damien from The Omen every 5 seconds. Indeed, about half of the notes I took during my screening where "Is X person evil?" and "Wait, is Y person really evil?" Fiala and Franz keep you guessing who is really at fault, or if it's all just in Grace's imagination.
Riley Keough does a career-best performance as Grace, who is disturbingly impressive as the focus of the film. We see her starting to get unhinged by the weird things happening in her house, and the confusion and fear in her face as she keeps having vivid dreams that may be more than that. But underneath the dread, there's a sweet and kind woman who is trying to get over her demons, bond with her future step-children, and who loves her dog. This is a nightmarish and unforgettable performance.
Fiala and Franz excel at creating a tense and chilly atmosphere and fill it with dread. As the snow closes in on the titular lodge and the paranoia settles in, memories of The Thing will come to mind. There are some incredible shots that may warrant comparisons to last year's Hereditary, as there are plenty of creepy miniature houses, low angles and shots of room corners. You will feel claustrophobic, then sad for this make-shift family, then terrified by the creepy imagery on screen.
It may be too early to declare The Lodge as the next great horror movie, but it isn't too early to call this one hell of a sophomore feature. The Lodge will keep you on your toes with its constant sense of dread and claustrophobia, even if it draws you in with likeable and relatable characters.
Flickering Myth Rating – Film: ★ ★ ★ ★ / Movie: ★ ★ ★ ★ ★
Rafael Motamayor