The Curse of La Llorona, 2019.
Directed by Michael Chaves.
Starring Linda Cardellini, Raymond Cruz, Marisol Ramirez, Patricia Velasquez, Roman Christou, Jaynee-Lynne Kinchen, Sean Patrick Thomas, and Tony Amendola.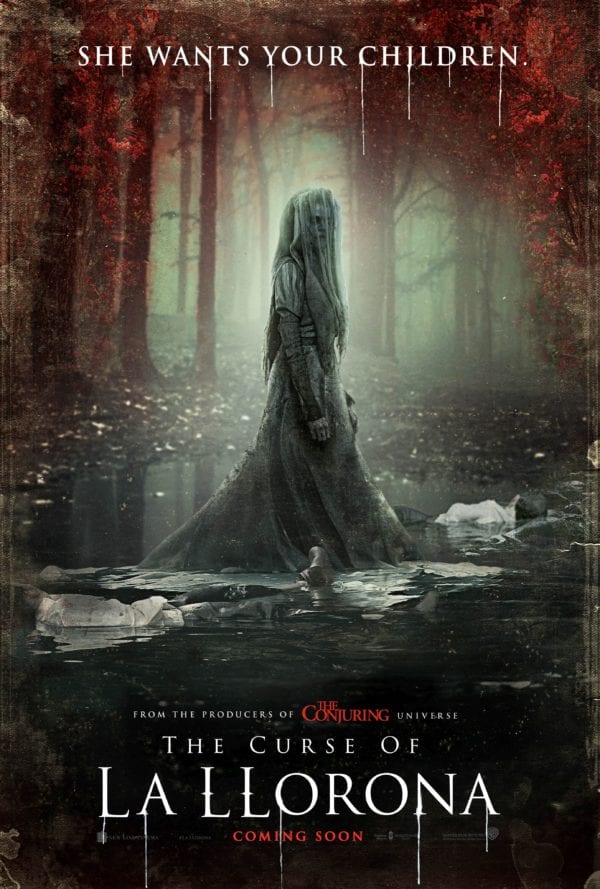 SYNOPSIS:
When a social worker (Linda Cardellini) visits the home of a troubled mother suspected of child neglect, she puts her own family at risk by becoming embroiled in a centuries old curse that attaches itself to her children.
The Conjuring Universe continues to spread its roots throughout multiplexes worldwide, though The Curse of La Llorona marks the first spin-off entry into the franchise not drawn from content in a mainline Conjuring movie.
Instead, this new offering from director Michael Chaves – who was recently tapped to helm The Conjuring 3 – is inspired by the titular Mexican folk tale, better known to English-speaking audiences as The Weeping Woman. But despite the rich lineage of the folklore itself, this aggressively formulaic horror flick boils it down to little more than a well-worn genre schematic.
Long story short – La Llorona is the ghost of a woman who murdered her two children after being jilted by her husband, and has walked the Earth for hundreds of years terrorising family units similar to her own. In 1973 Los Angeles, that turns out to be Anna Tate-Garcia (Linda Cardellini) and her two young kids (Roman Christou and Jaynee-Lynne Kinchen).
To Chaves' mild credit, he wastes no time at all flinging the audience into the central conceit, rather than delving deep into leaden drama that many filmmakers try to pass off as nuanced character development. There is some genuine upset wrought in the film's first act, and it certainly had potential to be an uncommonly wrenching, restrained horror yarn.
Sadly the film's interesting ideas – of which there are ultimately precious few – quickly get overshadowed by a diligent commitment to crusty genre tropes. To name just some of them – we've got exposition-dumping priests, creepy kids, flickering lights, and an avalanche of obnoxious, predictable jump scares. That's not to ignore a lame-brained attempt to create a callback-based scare, involving a young girl and a bathtub, that feels like a pale, feckless imitation of the memorable clapping game from the original Conjuring movie.
Elsewhere Chaves devotes obscene amounts of screen time to languorous sequences of characters walking through dark rooms and hallways, mistaking stillness for suspense. But even when things get loud, La Llorona too often takes a hard-left into unintentional comedy territory, unaided by an antagonist design that isn't remotely scary.
It all leads to a tedious, wildly over-egged climax, featuring one especially idiotic decision involving a child and a doll – no, not Annabelle – that's sure to leave audiences screeching with incredulity. But speaking of Annabelle, the film does provide one link to the wider Conjuring Universe, and it's precisely as arbitrary as expected.
As for the cast, lead Linda Cardellini is vastly over-qualified for this material, though her casting as the protagonist in an unambiguously Mexican story does feel rather deflating, as though Warner Bros. wasn't confident that mainstream audiences would show up for a Mexican lead. Cardellini and her co-stars – especially Raymond Cruz as a former priest trying to help the family – at least lend the concept the dignity it deserves, even if they're always at the mercy of mouldy writing.
Between this and The Nun, it's becoming increasingly tough to excitedly anticipate any Conjuring Universe movie not directed by James Wan – in which case, fans should probably lower their expectations for next year's The Conjuring 3.
At 93 minutes in length, The Curse of La Llorona at least keeps itself short-ish, but much like The Nun, its brevity can't prevent it from turning out an airless slog. A solidly acted but cynically bland squandering of a potential-filled premise; only the most undemanding genre enthusiasts need apply.
Flickering Myth Rating – Film: ★ ★ / Movie: ★ ★
Shaun Munro – Follow me on Twitter for more film rambling.