Having been pushed back from its November 2019 release date, we're now just a little over a year out from the release of Wonder Woman 1984, the follow-up to 2017's smash hit DC superhero blockbuster which reunites director Patty Jenkins with leading lady Gal Gadot.

The film – which Gadot has intriguingly described as "not a sequel [but] a new chapter" – jumps the action forward some seven decades to the mid-80s, and Jenkins has explained to Deadline that the time period has been chosen for a very specific reason:
"All I can say is that 1984 itself is definitely very evocative to what's important in that movie and resonates with right now. I picked 1984 for a very specific reason. I think it was the pinnacle of the success in the '80s, in my opinion, because it's before the market started to get a little more struggling as the '80s went on. And it was like the top of the top. It was such an incredible time. I feel like there's something about the excess of that period of time, which is so linked up to where we are in the world right now, that it's set there for a reason. That's all I can say."
The filmmaker also went on to discuss the release date change, stating: "I can't wait! I can't believe – it's so funny, for all the entire time that we were making the movie, I was lobbying. They were wanting to move it up much earlier. And I was like 'You guys, it's got to be the summer of 2020, like it's got to be!' And that was what I always wanted. And now, I've just screened a version of the film and I'm like 'Oh my God, can we move it back up again?' I'm dying to release this film! But of course it's good and it's fine, but it's frustrating to have to wait."
SEE ALSO: Description of Wonder Woman 1984 footage shown at CinemaCon
If Jenkins has already completed a rough cut of the movie, then perhaps we'll get a trailer for the film during the San Diego Comic-Con International this July. Here's hoping, anyway…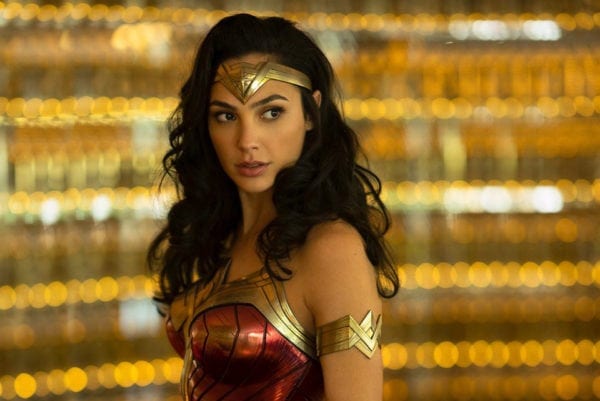 Wonder Woman 1984 sees Gal Gadot once again leading the cast as Diana Prince alongside the returning Chris Pine (Steve Trevor), Ewen Bremner (Charlie), Said Taghmaoui (Sameer), Connie Nielsen (Queen Hippolyta), Robin Wright (General Antiope), Lisa Loven Kongsli (Menalippe), Doutzen Kroes (Venelia) and new additions Kristen Wiig (Ghostbusters) as Barbara Ann Minerva/Cheetah and Pedro Pascal (Game of Thrones), Natasha Rothwell (Love, Simon), Ravi Patel (Master of None, Grandfathered) and Gabriella Wilde (Doctor Who, Poldark) in an as-yet-unrevealed roles. It is set for release on June 5th 2020.