Ricky Church chats with actor Lisa Berry…
Netflix recently released the third season of the Canadian horror anthology series Slasher, which went under the full title of Slasher: Solstice. The new season follows a group of residents in an apartment complex on the anniversary of a brutal murder of one of their neighbours by a killer known only as The Druid – a murder many of the residents witnessed but did nothing to stop. As the day goes on and the annual summer solstice party approaches, The Druid reappears and begins picking off the remaining residents one at a time. With everyone pointing fingers at each other and the detectives in charge of the case hard pressed to catch The Druid, will anyone make it out alive?
Flickering Myth got the chance to speak with Slasher: Solstice star Lisa Berry, who plays lead investigator Detective Roberta Hanson. The discussion ranged from Solstice's large ensemble cast, the season's themes of empathy vs. apathy and the development Hanson goes through in the season. We also chatted about Berry's role in The CW's long-running Supernatural, where over the past few seasons she has played a Reaper named Billie who has become the new Death, and whether or not we'll see Billie again in the upcoming 15th and final season of the horror series. Check out the interview below…
You're starring in the latest season of the anthology series Slasher: Solstice. What can you tell us about your character, Detective Roberta Hansen?
Roberta Hansen wants to be a hero because she didn't solve the murder that took place at the building last year. We meet Roberta at a place where she's really pulled up her bootstraps and she's on a mission to solve this crime. The way I interpreted her was the Roberta Hanson we see in the flashbacks is somebody who didn't take her job as seriously and thought it would be a slam dunk case to solve because of how public the murder was and that's not how it went down. This case became the bane of her existence in the sense that she became a laughingstock because she couldn't catch the killer and it happened in front of so many witnesses which, for any detective, I'm sure it would be hard to really swallow and digest. So she's really on task and really focused about getting the killer and wanting to really bring peace to the residents here before anybody else dies.
Now in the first couple of episodes, we see in the flashbacks and the current time Roberta's dealing with a lot of people that don't really seem to care too much that a murder took place. Apathy seems to be one of the big themes of the season. What are your thoughts on the exploration of the resident's apathy?
You know I think it was really, really smart. Anytime anybody uses the horror genre to really highlight our fears internally, externally, individually and as a society, it's really such an easy genre to get at the heart of what people are afraid of and see where the world is at. I think it's a great way to really highlight that story because it's very much ripped from the headlines of when somebody gets completely accosted socially by media, fans, fanatics and trolls. What does that do to society when one person gets really attacked and who are we when we need each other most? What really throws Roberta's character is that it's like 'well, we can do something now if we care now' and it just has everybody feeling like it's too late, forget about it, and that attitude just continues to spiral.
I hope when people watch the show that they're able to see of these characters walk through the fire of making those choices and where they end up because of it and what would have happened if people banded together, you know? We see in so many instances where somebody had an opportunity to help and they didn't. That is when evil thrives, when good people do nothing. I think that is really highlighted in this season in a way that I hope people take away, that they want to be the people who opened the door, who called the police, who will step up and stand up for their friends or their neighbour because not doing that you have visuals of what that can do and how that can hurt and tear apart not only a person, but a family, a community and ultimately the world. I know I'm getting deep for a horror TV show, but I really love the genre because I think it's really suited at highlighting those themes.
Roberta is pretty no nonsense with how casually some of the residents and other witnesses treat the murder. Like when people are taking pictures of the decapitated head and she very publicly condemns them on video for recording it. Why do you think she's able to call them out so easily?
I think she's able to call them out because she didn't call herself out. She took all the shortcuts, wanting to get home early, thought it was a slam dunk case and she was not really invested in the stakes or solving it. She took a lot of things for granted. I think she sees a lot of people taking things for granted and she just has no tolerance for it because she had to have no tolerance for it within her own life because being that relaxed, being that casual, is how she got herself where she is right now. I think they did such a great job with like wardrobe and hair and makeup because everything tells a story and you see in the
flashbacks she's so much more made up. She's so much more about looks and she just has a different air about her in the way that she wants to be cool. Being a detective, being a cop, it's cool. Now she's got this big murder and there all these witnesses, it's like 'this is going to make my career'. And then she realizes that not doing the work, being greedy, relaxed about it, taking her training for granted, it's something she won't tolerate anymore by the time we meet her. So when we see the residents being the same as her, she's really ready to step up and just call people out and not worry about what it might look like. She's really driven because not catching the killer the first time and having The Druid come back has really just lit the fire under her.
What do you think about how Slasher: Solstice uses and examines the dark side of social media with everyone sharing these graphic images, videos and language?
I love it. Anytime we can rip right from the headline in artwork that we create is amazing because it really hits home. I cannot remember, but you need to talk to you our show runner Ian [Carpenter] because he was very specific. There was somebody who he actually created Justine's character [played by Patrice Goodman] off of because there was a woman who sent a tweet who had very few followers and it was something about she's heading to Africa and "I hope I don't get AIDS" or something like that was what she tweeted. By the time she landed, her feed had blown up and everybody in the world hated her. And while what she did was horrible and completely not okay, it really pushes a question of is bad behavior begetting bad behavior a solution? I remember when we were filming that scene where Connor [played by Gabriel Darku] really gets in my face and we talked about it. It was great because actually she's kind of taking the lashes because she feels like all of this is her fault. While it's not okay to berate, talk down to or yell at an authority figure and especially a police officer, I think she let him have that because she is deeply apologetic for not solving the crime and then what that led to with his mother. So she's got a soft spot for that family. And I think she's really trying hard to give them some closure.
A couple of minutes ago, you were talking about how you're a fan of the horror genre. One thing I'm really liking about this season of Slasher is while there's a lot of gore and murder, it's pretty character driven not just with Roberta, but with all the other characters as well. Could you talk about what made you so interested in Roberta and following the other characters in the show?
I love what you just said because I thought the exact same thing when it all came together. I told Ian and everyone they did such an amazing job because I thought the characters were beautifully fleshed out. Rosie Simon, Paula Brancati, Joanne Vannicola, Dean McDermot, Salvatore Antonio, everybody was just so amazing. As a fan I was just proud of everybody for bringing such grounded, authentic, honest work to the table. I think it really pays off in the fact that you care for these people. You actually want to follow the ride. I was impressed with the ability for every character to be so uniquely different. You know, Violet is such a specific character and she's so amazing and Paula, she's a movie star to me, I absolutely loved her character as well as Salvatore's. How these characters get really fleshed out makes all the difference in the genre theme shows.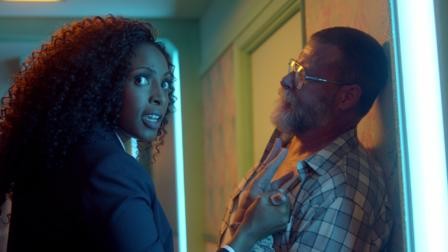 A unique aspect to this season of Slasher compared to the other two is, with the exception of the flashbacks, it takes place in a 24 hour period. How did this change your approach to the character or the show?
Oh man. I believe with every role that you create is so different depending on how you're shooting. For me anyway, because when I'm working on a show where they're block shooting everything, but it's over days or weeks or months or years, you always have little footers of 'This is what I'm coming out of, this is the moment before, this is what just happened'. This is a story that I filled in and the gap that you don't see me so that I have a through line for myself even if it hasn't been written. So when my character is not in the scene I love to take that as an opportunity to be like 'where were they going, who are they hanging out with and how long were they there?' The 24-hour window and it being blocked shot made it extra hard because it was just like, oh wow, these are like fraction of milliseconds of time in between. You don't have big gaps
in time. So there's less of that to do in the way that I would typically do it, but doing it in 24 hours of just makes the work even more specific, even more focused. And so like your emotional state can't shift so dramatically and you have to be mindful of the slow tick, tick, tick, tick, tick, tick, tick, tick, tick. It just makes you really keep better notes of the time left.
You kind of alluded to it a a couple minutes ago, but Slasher: Solstice has such a large and diverse ensemble cast. What's it like to work with such a big collection of actors and actresses on the season?
For me it was the greatest because I got to work with everybody because I had to interview everybody! Everybody else might have only got to work with one person the whole time because that's who all of their scenes are with. So I actually feel super, super lucky because I got to work with everybody. I got to have a moment with Sal, Dean and Paula. And Mercedes Morris, it's so great because to have like Gabriel and Mercedes, these young actors, to come in and just eat it up and be so good was really, really exciting to see because we're in a new age and so it's great to see opportunities going for young kids. When I was in my twenties they weren't given out that many lead roles on a show and they're just hitting it out of the park and they're doing so good. I'm hoping to continue to see that and encourage that because they did a really great job I thought.
Another role you're a known for is the new Death on Supernatural for the last few seasons. What's it like to take on such a fan favorite role and one of the longest series on TV with its 15th and final season? Will you be returning as Death ?
I'd love to. I'd love, but no spoilers! It's been one of the greatest things that's ever happened to me as a person and in my career. I don't think it's easy to step into a role, especially iconic ones with so much history and relationship with the fans and the anthology. Getting to also sing on the show – that's coming! I just feel like it was so serendipitous because I'd been watching the show for a very long time and this is the part of the story where I say 'everybody believe in your dream. That vision placed in your heart is there for a reason' because I would watch the show and I'd be like 'man, that's a show I could be on. I liked them. I think we all get along'.
Fast forward 10 years later and however many auditions for various roles on the show that I did not get, when all was said and done after my last audition for them when I was in Vancouver, they actually thought of a role for me and that's just the coolest thing for any actor to ever get in their careers. When someone's like "I have this role. And I was thinking you'd be really great at it." And then it turned into a role that was supposed to be around for one episode that I have now done for 10 episodes over four seasons. And it is not lost on me that I am one of the very few women of color to have had as many episodes as I've had and to be playing such a major part in a major TV show. I'm just so incredibly grateful for it because I know what that does for me when I see stuff like that on my favorite shows and go "oh my god, she back!" If I could sum it up in one word I would just say honored. It's a really great show and they can have pretty much anybody they want and to have been chosen when that's on the table makes things feel even more wonderful.
Thank you to Lisa Berry for taking the time to speak with us!
Slasher: Solstice is available to watch worldwide on Netflix.
Ricky Church