Anghus Houvouras on Super Mario Bros., and whether it is the worst adapted property ever…
Like any publication or website, there are a number of daily discussions about hot-topics that should be featured on Flickering Myth. A good editor surveys the pop culture landscape and looks to see what the contributors can offer to generate excitement and opinions about what's happening in the entertainment world. Just this week there were conversations around the forthcoming Netflix Punisher series and what supporting features could be written to capitalize on the buzz.
My first thought was to examine the previous attempts at adapting The Punisher. All three had something in common: they're all terrible. And not just terrible, uniquely terrible. Dolph Lundgren's Punisher is terrible in a completely different way than the Thomas Jane version, while there aren't enough words to describe the ludicrous and hilarious Punisher: War Zone. So the first headline that popped into my head was something along the line of 'Is The Punisher the worst adapted property ever?'
It was right around the time the prospect of this column was percolating when my two Nintendo obsessed children discovered the old 1990's The Super Mario Bros. Super Show! on Netflix and started to binge watch. Being a video game obsessed youth I remember the existence of this show. There was a time when it felt like video game icons like Mario and Sonic were poised to take over the world, inevitably leaping from video game cartridges to television and film poised to be the Disney characters of the late 20th century. And it would be Mario and his brother Luigi that helped usher in this new age of four quadrant video game character based entertainment. There was only one problem:
The show and the movie were total disasters.
There's been so much written about the failure of the Super Mario Bros. movie.  Luke Owen has written extensively on the subject in his book Lights, Camera, GAME OVER!. There's also some well written chapters devoted to this cinematic debacle in Blake Harris' Console Wars. I haven't seen nearly as much attention paid to The Super Mario Bros. Super Show!. This is a pile of hot garbage that deserves more derision.
How do you begin to dissect a pile of garbage? I suppose all you can do is roll up your sleeves and dig in. The show is lazy in a way that feels almost perverse. Even the title feels like the laziest possible option. The fact that word 'Super' appears twice is a clear indicator of how little thought was put into this product. I can picture a conference room filled with television executives conceiving the entire creative scope of the show over a liquid lunch. Top shirt buttons unbuttoned, ties loosened, sipping on a glass of bargain basement scotch. Trying to focus on the show but their inebriated minds drifting towards evening dinner plans. Every spoken sentence clearly indicating that none of them had actually played a videogame in their life.
It's almost impossible not to laugh at the opening title sequence which features everything so perfectly wrong about the show: Awful cut-rate animation, the hilarious live-action doppelgangers played by Wrestling Icon Captain Lou Albano as Mario and a guy who showed up a lot on Married With Children episodes as Luigi. They walk about and circle one another like two hobos on PCP who are either about to have a knife fight and bathe in each other's blood or rip off their overalls and start having a marathon hate-sex session and bathe in something else entirely.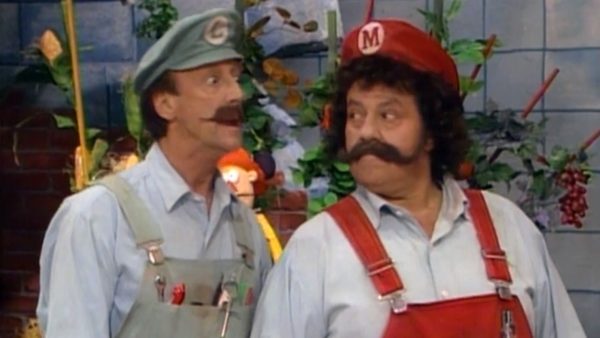 The live action sequences that pop up during each episode are like five-minute crack fueled hate crimes towards the Italian people. Mario and Luigi hang out in their plumber shop/sex dungeon which is always covered in pizza, something that feels cribbed from the then-popular Teenage Mutant Ninja Turtles. Based on each episode, I'm doubting anyone who worked on the show was actually Italian or a plumber, because somehow the show manages to be insulting to both. I know a few Italians, and never once have I heard one use the phrase 'Holy Pepperoni' when excited. The animated sequences indulge in this kind of stereotypical chicanery. When Mario and Luigi are being pursued by enemies, they use cans of pasta sauce to make the road slippery and take them down. This is something rarely employed by Italians and doesn't ever happen in the Super Mario games.
Speaking of the game: many of the villains are backdrops are borrowed from the game Super Mario Bros. 2 which wasn't even an actual Mario game but a rebranded version of Doki Doki Panic for the Famicom. My puzzled children watched as 'Fry Guy', 'Birdo' and 'Mouser' continually harass our heroes.
Even on a technical level, The Super Mario Bros. Super Show! is laughable. The animation is bargain basement awful. At times, shots linger at a disturbing length to pad out the episode. There are these awkward moments of silence that feel as if Tim & Eric are about to pop up and yell 'GREAT JOB'. One action sequence shows Mario throwing a building block towards oncoming enemies, but instead of animating the impact, they employ sound FX and shake the frame. This wasn't exactly the golden age for children's animated programming and even by the low standards of this period the animation is still practically unforgivable.
None of these sings are as egregious as the opening theme. An attempt at rap played over the Mario Bros. theme that almost killed hip-hop culture before it could thrive and become a staple of modern music. There are conspiracy theorists who believe the track was written by a then-unknown Tupac Shakur and may have been responsible for the second attempt on his life.
With the release of Super Mario Odyssey, Nintendo is once again basking in the glow of great reviews and success with video game fans. However, it does seem strange that Nintendo has never been able to capitalize on the success of the most popular video game icon ever outside of the game systems they sell. Even rival Sonic the Hedgehog has found some minor success in the world of comics and television. Although most modern Sonic games are downright unplayable.
I suppose the trade-off for so many amazing games is a lack of presence outside of the gaming realm. Still, with the terrible 1993 movie and a television show so lamentable that every tape should have been destroyed, I believe Super Mario Bros. might be the worst adapted property ever.
Anghus Houvouras