With the first trailer for Aquaman expected to arrive at any time, Entertainment Weekly has unveiled the cover to its latest issue, which features returning Justice League stars Jason Momoa (Aquaman) and Amber Heard (Mera), as well as a first look at Nicole Kidman's Queen Atlanna.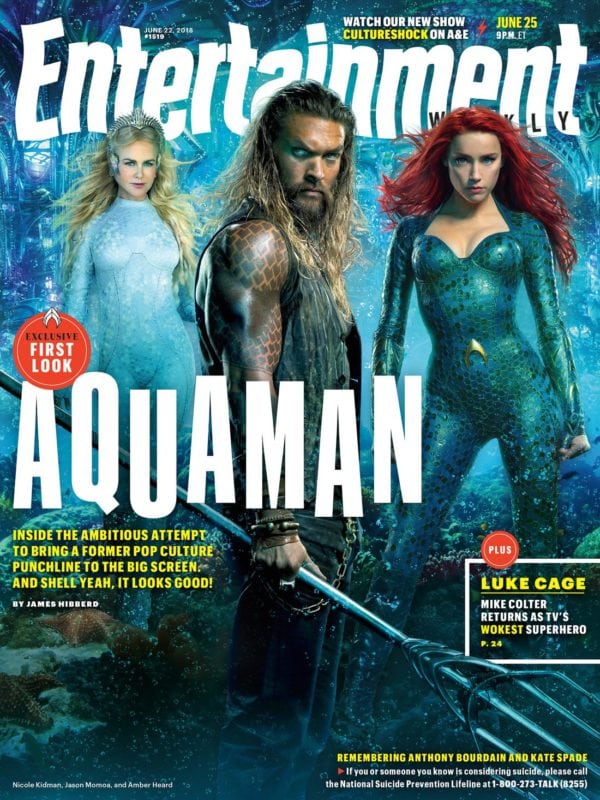 "The water world my movie takes place in is so separate and so far apart from previous DC movies it's like I'm making my own sci-fi fantasy film. This is a whole new underwater world nobody has seen before in live action." said Wan, teasing the setting of the movie, which Warner Bros.' Toby Emmerich has claimed will set the DCEU "on the right path.
Meanwhile, we also have a first look a the villain Black Manta (Yahya Abdul-Mateen II), who has been renamed David Kane, as opposed to the comics' David Hyde.
"He's part mercenary but full-time pirate who in his suit will look like some crazy alien from outer space," states Wan about the villain. "Black Manta is a really interesting character who is somehow factored into this story but our main story is about [Aquaman and his half-brother King Orm]."
Arthur Curry learns that he is the heir to the underwater kingdom of Atlantis, and must step forward to lead his people and to be a hero to the world.
Aquaman is directed by James Wan (The Conjuring) and stars Jason Momoa as the titular hero, reprising his role from Batman v Superman: Dawn of Justice and Justice League, along with Amber Heard as Mera, Patrick Wilson as Ocean Master, Willem Dafoe as Dr. Vulko, Yahya Abdul-Mateen II as Black Manta, Dolph Lundgren as King Nereus, Nicole Kidman as Atlanna, Temuera Morrison as Tom Curry, Ludi Lin as Murk, Michael Beach as Jesse Kane, Randall Park as Otis Dhanji as a young Arthur Curry and Graham McTavish in an as-yet-unrevealed role.