As the promotional push for Aquaman continues, director James Wan has been chatting to The New York Times about the DC blockbuster, with the filmmaker explaining why he chose the oft-ridiculed King of Atlantis for his first superhero movie (having had the choice between that and The Flash), and whether he felt any pressure due to the mixed reception of past DC Extended Universe releases.
"I was definitely aware of that," said Wan. "The irony is, I picked Aquaman because I thought, here's a superhero I can make that is fully under the radar. No one's going to [care] about this film. I can just do whatever I want. Make it easy with no pressure. Fast-forward to three years later and now there's a massive spotlight on it. So, to answer your question, obviously there was a sense of pressure. But I try not to let any of that cloud my vision for the film. I just plow ahead and continue to make the movie I wanted to make."
Aquaman has proven to be more in line with Wonder Woman than Batman v Superman: Dawn of Justice, Suicide Squad and Justice League when it comes to critical response, and the film is also off to a very healthy start at the international box office ahead of its U.S. release, with talks already underway about a sequel. However, Wan isn't thinking that far ahead at the moment, and has no idea what the future holds both for the character and the wider DCEU:
"I don't know what the bigger picture is, but I think it's really cool to take chances with the lesser-known characters and story lines. It's good if all the other films have their own flavor, so they don't force them to feel the same."
SEE ALSO: Aquaman director James Wan explains why he wanted to tell "a standalone story"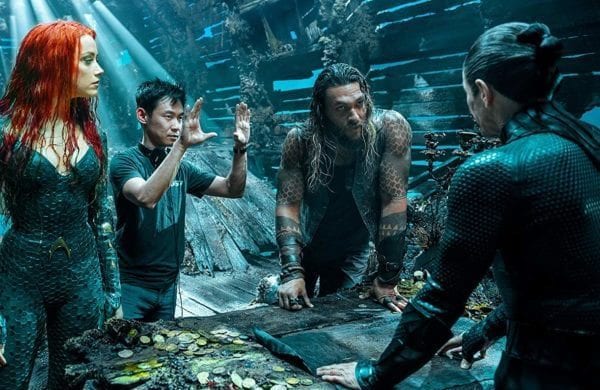 From Warner Bros. Pictures and director James Wan comes an action-packed adventure that spans the vast, visually breathtaking underwater world of the seven seas, "Aquaman", starring Jason Momoa in the title role. The film reveals the origin story of half-human, half-Atlantean Arthur Curry and takes him on the journey of his lifetime — one that will not only force him to face who he really is, but to discover if he is worthy of who he was born to be … a king."
Aquaman is directed by James Wan (The Conjuring) and stars Jason Momoa as the titular hero, reprising his role from Batman v Superman: Dawn of Justice and Justice League, along with Amber Heard as Mera, Patrick Wilson as Ocean Master, Willem Dafoe as Dr. Vulko, Yahya Abdul-Mateen II as Black Manta, Dolph Lundgren as King Nereus, Nicole Kidman as Atlanna, Temuera Morrison as Tom Curry, Ludi Lin as Murk, Michael Beach as Jesse Kane, Djimon Hounsou as the Fisherman King, Randall Park as Dr. Stephen Shin, Otis Dhanji as a young Arthur Curry, Julie Andrews as Karathen and Graham McTavish as King Atlan.