Waiting for the Barbarians, 2019.
Directed by Ciro Guerra.
Starring Mark Rylance, Johnny Depp, Robert Pattinson, Gana Bayarsaikhan, Greta Scacchi, David Dencik.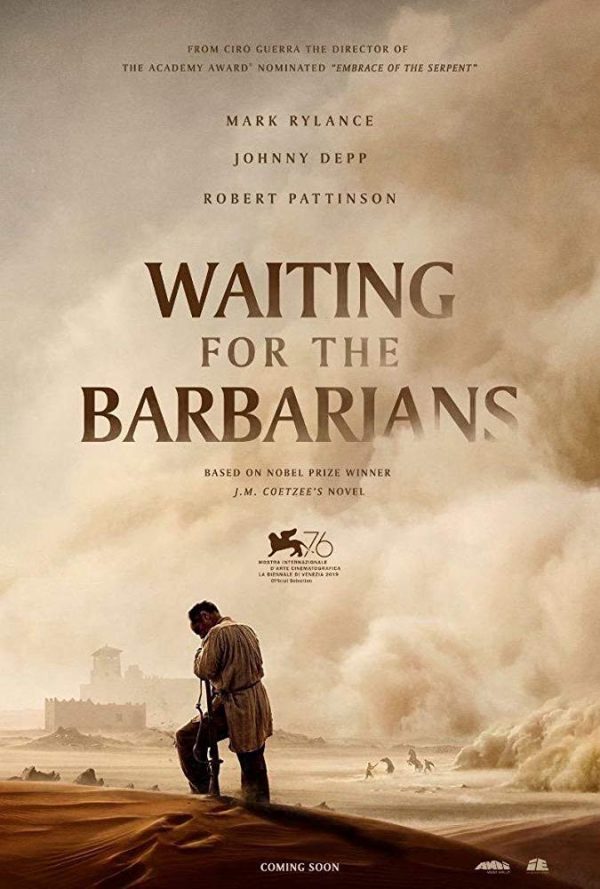 SYNOPSIS:
In a distant, unnamed colonial outpost in the Middle Eastern desert, a Magistrate begins to question his loyalty to the Empire after the arrival of state security officers with morally questionable methods.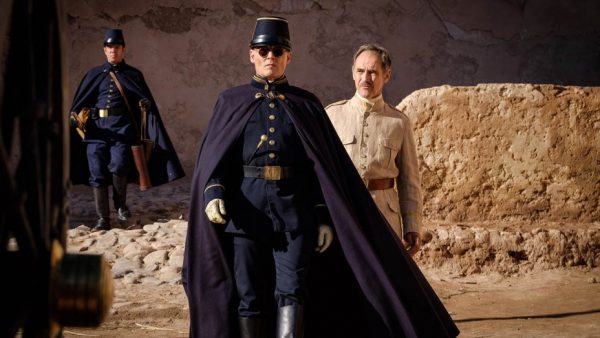 Exploring the effects of colonial oppression is a thematic thread that weaves together the works of Colombian director Ciro Guerra. From his Oscar-nominated breakout film of 2015, Embrace of the Serpent, to last year's Birds of Passage, Guerra's eye has been cast firmly over indigenous communities and their subjugation at the hands of the domineering west. It seems quite fitting then that his first English-language foray, Waiting for the Barbarians — an adaptation of J. M. Coetzee's 1980 novel from a screenplay penned by the author himself — should star three of Hollywood's big hitters in Mark Rylance, Johnny Depp and Robert Pattinson.
This time, however, Guerra' flips his focus from the oppressed to the oppressor. Rylance's Magistrate, complete with primed moustache, high-waisted trousers and beige military jacket, is the film's amicable representation of colonialism. Stationed at a remote settlement in the middle of the desert, his rule is one of quiet exploitation and benevolent indifference in an otherwise wild and unruly wasteland. Referred to only by his title, "the Magistrate", he is a man governed by an upstanding moral compass, where local disputes over disruptive pigs and stolen livestock are settled in a firm but peaceful manner.
But, in what begins as a slow and sorrowful examination of the Magistrate's velvet-glove-over-iron-fist regime soon transitions into something altogether more violent with the arrival of Depp's Colonel Joll. With slicked back hair and striking pair of circular sunglasses to veil any hint of emotion, Joll cuts an icy, if slightly comic-book figure of villainy: his antagonistic status promptly confirmed when he begins torturing locals who he believes are helping plot an all-out frontier war.
After the best part of fifteen years on the swashbuckling franchise film circuit, Depp returns to his smaller, indie roots with Waiting for the Barbarians; but his presence here, occasionally bordering on the caricature, often distracts from the more sincere blows Guerra's film tries to land. Pattinson, an actor who, of late, has redefined himself as a darling of the indie scene, is much less cartoonish as an officer under Joll's command. But his limited screen time renders his character little more than a snarly, cold-hearted baddie.
It is Rylance who is the film's beating heart. Seen early on carefully dusting off archaeological findings by candlelight and later spouting poetic musings — "what bird has the heart to sing in a thicket of thorns?" — his Magistrate is a man with a palpable connection to the past. Like the seasonal changes of the film's four-act structure, he transitions from an assured presence to a soul burdened by loneliness; from a figure of authority to one ultimately powerless against the sweeping westerly winds of change being swiftly thrust upon him.
Even in a film that often falls short of its emotional ambitions, Rylance's portrayal is suitably affecting, and one that carries with it its own sense of ambiguity — a sub-plot involving the safe return of an Indigenous woman (Gana Bayarsaikhan) irreversibly scarred by Joll's practices to her people sees the Magistrate's motivations fall somewhere between his deepening adoration for her and relieving his own growing guilt.
But in following the righteous Rylance under the beating sun of the Guerra's period setting, it's difficult to find shade from the burning pertinence of his film. "I have orders to obey" Joll flatly states when first questioned by Rylance about his actions. From there, the message is anything but subtle: Waiting for the Barbarians is a metaphor for fascism, and we are the eponymous brutes.
Flickering Myth Rating – Film: ★ ★ ★ / Movie: ★ ★ ★
George Nash is a freelance film journalist. Follow him on Twitter via @_Whatsthemotive for movie musings, puns and cereal chatter.