Although we have to wait until next month's trailer reveal at the CCXP convention in Brazil to get our first look at the hotly-anticipated DC sequel Wonder Woman 1984, some MAJOR plot details have now made their way online courtesy of a recent test screening.
These details originally made their way online via Reddit, but the post was apparently removed due to a copyright notice, but not before being summarised by Cosmic Book News. Therefore, it would seem the likelihood of these rumours being on the level are fairly high, so if you want to avoid potential spoilers, just know that the reactions to this test screening were apparently "mixed" with some of the audience feeling that it was "really goofy, really campy and simple, with others offering it's too slow and plot-heavy".
SEE ALSO: Wonder Woman 1984 footage description features a battle inside the White House
Now, read on for the alleged plot details themselves – assuming you're happy to be spoiled BIG TIME if they're true.
So, according to the site's summary, Pedro Pascal's Maxwell Lord has some kind of magic rock which enables him to grant people's wishes, albeit with a price. Wonder Woman accidentally wishes for the return of Steve Trevor, with her former love then possessing the body of another man (only Diana is able to see him looking like Chris Pine), and in exchange she loses the majority of her powers, leaving her vulnerable to bullets, knives and other weapons.
Longing to be a hero like Diana,Lord also grants Kristen Wiig's Barbara Minera her wish, granting her the powers of Cheetah (and a costume that makes her look like a reject from Cats, apparently). However, when Wonder Woman discovers that Lord is using peoples' wishes to increase his own power and sets out to bring him down, Cheetah turns against her idol, not wanting to give up her newfound abilities.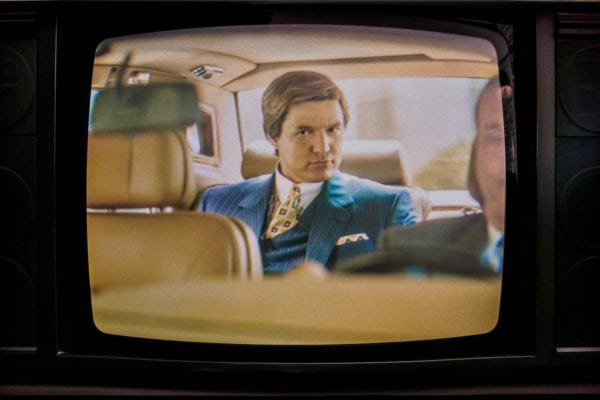 The report goes on to state that the de-powered Wonder Woman and "Steve" set off in pursuit of Lord, stealing a jet which Diana turns invisible using some hitherto unrevealed ability. This leads to a big confrontation in Washington, D.C., where the villain is hoping to use a satellite to amplify his wish-granting abilities and become all-powerful. Our heroes ultimately defeat Lord, who undoes all of his wishes by mistake, with everything then reverting to how it was to begin with.
As a result, Steve Trevor is dead once again, and his host has no memory of his time possessed. He does however apparently strike up a conversation with Diana, who then agrees to go out on a date with him.
Overall, the reactions to the alleged plot details have been met with a negative reaction on Reddit, although of course it should be noted that thing could play out much better on screen. We'll likely get a much better idea of the authenticity of the report when the trailer arrives, but in the meantime let us know what you make of these story details in the comments below…
Wonder Woman 1984 reunites director Patty Jenkins with stars Gal Gadot (Diana Prince), Chris Pine (Steve Trevor), Ewen Bremner (Charlie), Said Taghmaoui (Sameer), Connie Nielsen (Queen Hippolyta), Robin Wright (General Antiope), Lisa Loven Kongsli (Menalippe), Doutzen Kroes (Venelia) and new additions Kristen Wiig (Ghostbusters) as Barbara Ann Minerva/Cheetah, Pedro Pascal (Game of Thrones) as Maxwell Lord, Natasha Rothwell (Love, Simon), Ravi Patel (Master of None, Grandfathered) and Gabriella Wilde (Doctor Who, Poldark) in an as-yet-unrevealed roles. It is set for release on June 5th 2020.