Oscar Isaac, one of the stars of Star Wars: The Rise of Skywalker, says that Poe's goodbye to Leia was his idea.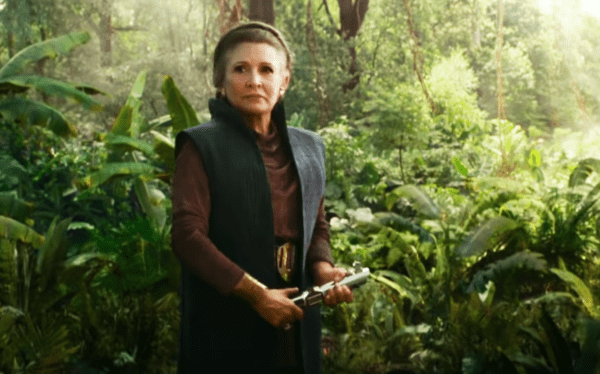 One of the major difficulties faced with Star Wars: The Rise of Skywalker, was how to incorporate Leia into the story even though actress Carrie Fisher had passed away. The film managed to do so very effectively, including her in many key scenes and touching moments via unused footage and clever filmmaking tricks.
Oscar Isaac's Poe even gets to share a goodbye with Leia in the movie and according to the actor when speaking in The Skywalker Legacy documentary (via ComicBook.com), this scene was his idea:
"When the Resistance loses Leia, Poe finds himself inheriting a Resistance that's on the brink of collapse. It's clear that Leia had been grooming him for leadership, but he doesn't even know if there's anything to lead at this point. That scene wasn't originally in the film and I talked to [director] J.J. [Abrams] about, 'Well I think that it'd be great to just see a moment that Poe has with Leia. Even just a moment for him to say goodbye.' That speaks to J.J.'s ability to try things.
"And so out of that moment of goodbye, Lando shows up and reminds him about family and about friends and about not being alone. It turned into this catalyst for, 'Ya know what, we still have a shot.'"
SEE ALSO: Blu-ray Review – Star Wars: The Rise of Skywalker
It's cool that Abrams was willing to allow such a collaborative environment on the set of the film. Fortunately, we now have one final Star Wars instalment with Fisher that sends Leia off in fine fashion.
Star Wars: The Rise of Skywalker sees J.J. Abrams (Star Wars: The Force Awakens) directing a cast that includes Star Wars veterans Daisy Ridley (Rey), Adam Driver (Kylo Ren), John Boyega (Finn), Oscar Isaac (Poe Dameron), Lupita Nyong'o (Maz Kanata), Domhnall Gleeson (General Hux), Kelly Marie Tran (Rose Tico), Joonas Suotamo (Chewbacca), Billie Lourd (Lieutenant Connix), Greg Grunberg (Snap Wexley), Mark Hamill (Luke Skywalker), Anthony Daniels (C-3PO), Billy Dee Williams (Lando Calrissian), Ian McDiarmid (Emperor Palpatine) and Carrie Fisher (Leia Organa) as well as new additions Naomi Ackie (Lady Macbeth), Richard E. Grant (Logan), Dominic Monaghan (Lost), and Keri Russell (The Americans).