Followed, 2020.
Directed by Antoine Le.
Starring John Savage, Kelsey Griswold, Matthew Solomon, Sam Valentine, Karan Sagoo, Tim Drier, and Caitlin Grace.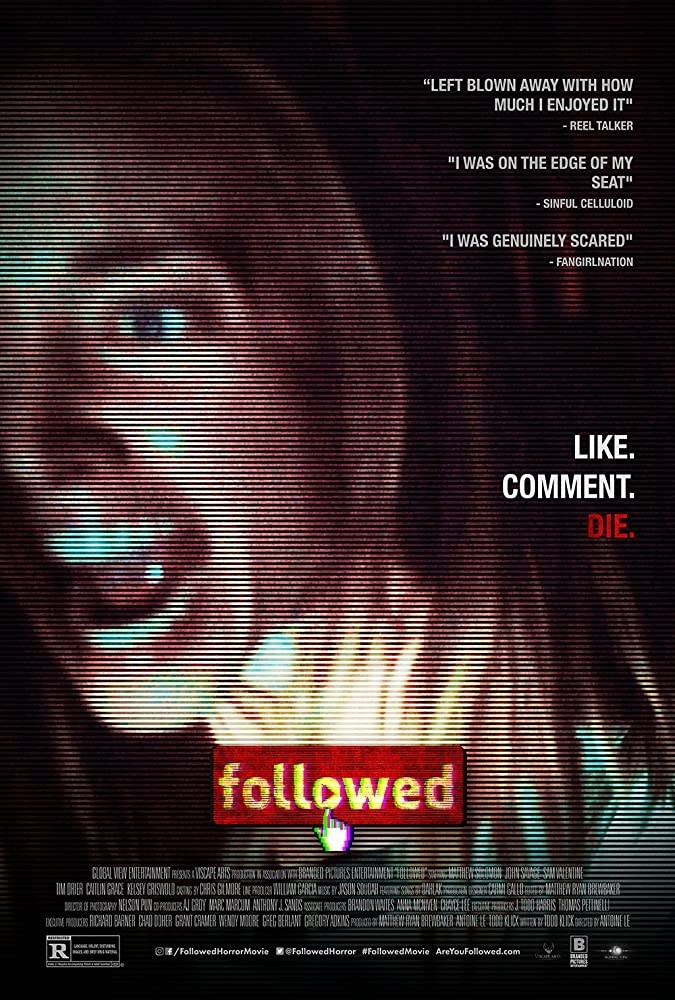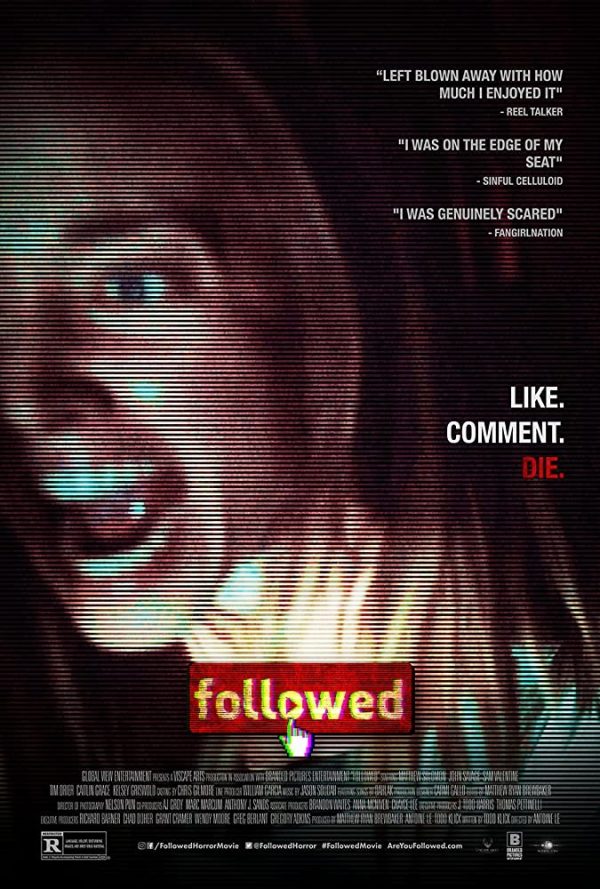 SYNOPSIS:
To gain more subscribers, a controversial social media influencer stays at a cursed hotel to terrifying results.
Another YouTube personality who craves attention. Another haunted location with closets full of blood-stained skeletons. Another untraceable internet video that tells "the whole truth" behind pre-edited paranormal investigations. Followed turns its camera on social media horrors as filmmakers have since the techno-horror boom around Unfriended's success (or earlier with The Den, etc.), without furthering subgenre conversations. Cameras glitch with spooky intercuts, characters ignore the reddest of flags, and spirits prove themselves very real despite unconvinced on-screen hosts. It's no failure or dud, yet boilerplate "Influencer Horror" blueprints favor those foundational norms indie horror fans have seen seventeen thousand times before.
Energetic vlogger Mike, aka "DropTheMike" (Matthew Solomon), is on the verge of securing his most significant opportunity. Clothing company Haute Gothic offers him a $250K sponsorship contract if he can reach [x] amount of followers by a specific date, which isn't any number to ignore. Mike allows his fans to vote on where his morbid channel should explore next, leaving his fate to his adoring "minions." After votes are tallied, Mike announces he'll be spending three nights around Halloween at Los Angeles' spectrally infested Hotel Lennox (with his crew). Even better? He's booked 1980s serial killer David Olmos' (Ethan Alexander) room! Lights off, cameras on.
Writer Todd Klick isn't interested in summoning any-old ghosts; there's a mythology behind the Lennox's gruesome history. Introducing David Olmos, the fictional satanist who lived at the Lennox and slaughtered prostitutes based on necrophiliac rituals. Gnarly, right? Followed benefits from Olmos' existence, stepping above those generic apparitional appearances in other less appealing found footage films. The letdown comes in the form of attacks and "interactions," as Olmos' afterlife torment never lives up to his revolting rap sheet. Director Antoine Le manages some nightmarish shadowplay (Head-Flop Man) but loses the initial intrigue summoned by Klick's true-crime groundwork.
Matthew Solomon as "DropTheMike" nails vlogger self-importance and performativity, but yeesh, do I hate his character. The way he's written, we're supposed to wince at every groan-worthy pun and juvenile gender-slam joke or sexual innuendo. Mike's either flaunting his coolness factor in front of friends or calling his viewers "idiots" to their digital faces, which plays into his moronic chasing of ghosts even when crew members begin noticing danger warnings abound. Maybe that means Solomon does a fantastic job embodying the exact celebrity-starved stereotype Klick aims to dissect? Whether or not, Mike's "charm" becomes tiresome as his foolish dashes into the darkest unknowns endanger everyone around him while his monologues only become more annoying. Especially when he rationalizes away malevolent forces as "superfans" dressed in costumes.
We get to see "Behind Camera Mike" and "On-Camera Mike," I get it. That still doesn't mean DropTheMike is anything more than a narcissistic chatterbox who makes lewd comments and goes through the same motions of friendship manipulation these types of characters always showcase. An emotional bombshell attempts to coax empathic responses through a pivotal character arc shift but is hardly deserved. Doubly so for a late-film tragedy.
That's the larger issue with Followed. Glimpses of maggot-covered cow tongues and peers down red-backlit hallways present some serviceable horror moments. No question. Alas, as the third-act starts ramping up? Narrative milestones become more and more expected. Mike foolishly carries out Korea's "Elevator Ritual" which unleashes an undead pursuer, his friends get spooked, he's left alone. Then there's one final descent into the depths of the Lennox's basement underbelly that Mike accepts alone. Every motivation, every decision, is plotted without ambition beyond what's been scripted countless times elsewhere. You need amplified scares and atmosphere to set apart these more formulaic found-footage beats, all of which escape Le's direction. Scares are never that "scary," cinematography whips back-and-forth to distort payoff glimpses, and there's no real reward as curtains draw closed. Klick hopes to merge Mike's obsession over macabre culture with the Lennox's guest list, only to lose grip of actual horrors along the way. Never as invasive or escalating as, say, Hell House LLC.
Followed is another found-footage display of doors opening by themselves, provoked demons, and mysterious uploads on a laptop screen as we watch from the anonymous user's viewpoint. It's a film that struggles to issue agency unto benchmark developments – say a drug dealer who's caught on camera then used as a single throwaway conflict pawn – as DropTheMike pushes forward towards his see-it-from-a-mile-away fate. It's a film that causes frustration because you so desperately want it to hurdle the jump between "forgettable" and "freaky-fun," but said leap never comes. I wanted to experience fear and chills up my spine, but there's not much beyond feelings of repetition. So the algorithm repeats.
Flickering Myth Rating – Film: ★ ★ ★ / Movie: ★ ★
Matt spends his after-work hours posting nonsense on the internet instead of sleeping like a normal human. He seems like a pretty cool guy, but don't feed him after midnight just to be safe (beers are allowed/encouraged). Follow him on Twitter/Instagram/Letterboxd (@DoNatoBomb).