Hellraiser: Judgment, 2018.
Directed by Gary J. Tunnicliffe
Starring Damon Carney, Randy Wayne, Alexandra Harris, Heather Langenkamp, Paul T. Taylor.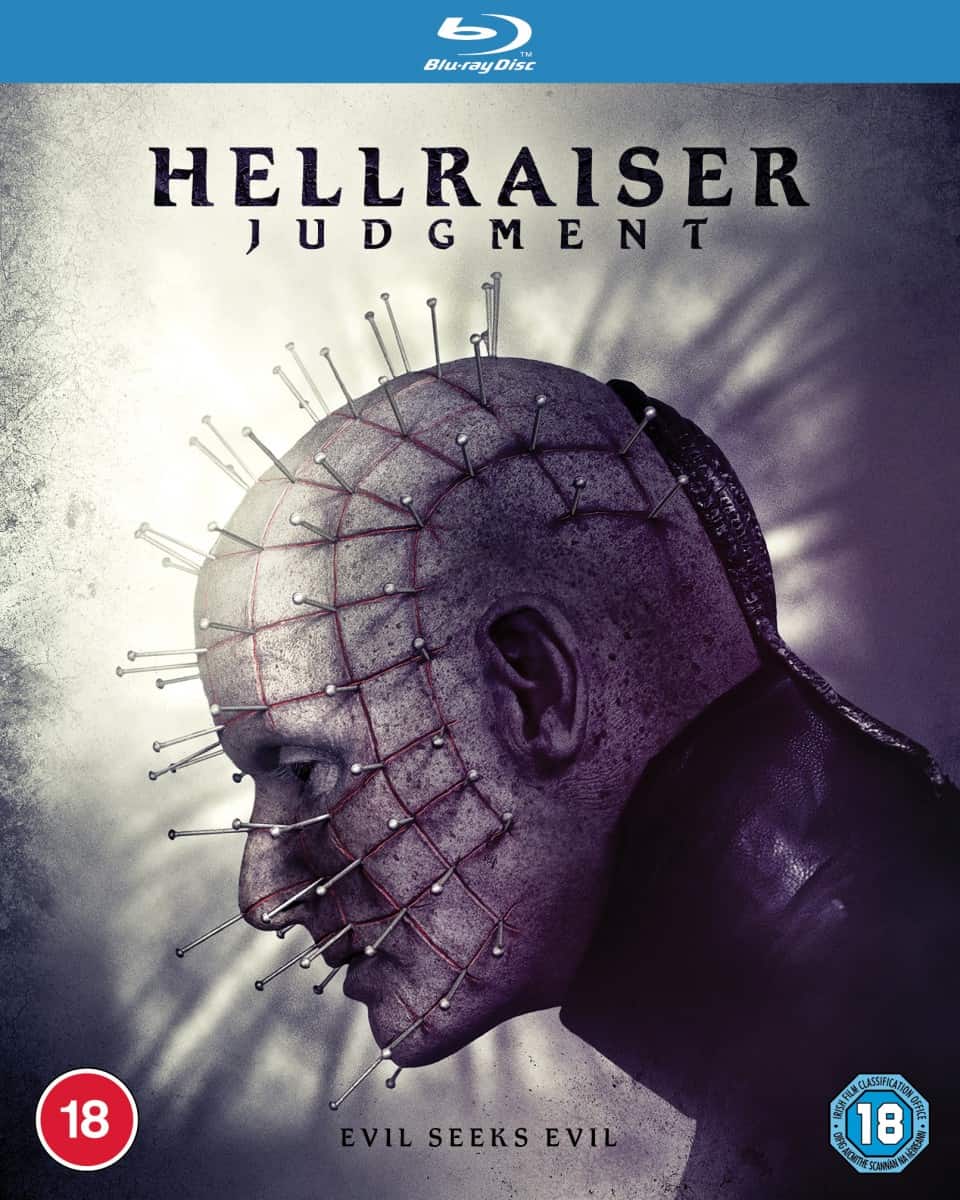 SYNOPSIS:
Detectives Sean and David Carter are on the case to hunt down a gruesome serial killer who is terrorizing the city. Joining forces with Detective Christine Egerton, they dig deeper into a maze of horror, which may lead them into the depths of hell.
After nine previous Hellraiser films, it seems like the entire concept of Cenobites offering sadomasochistic pleasures in a hellish dimension has been exhausted. And yet, director Gary J. Tunnicliffe helmed the 2018 Hellraiser: Judgment as if to prove there's still a little life in the franchise… But after seeing the film ahead of its UK release on digital, it's clear there's not enough life to make the tenth instalment a particularly memorable experience.
Surprisingly it kicks off to strong start by introducing a new faction of demons, the Stygian Inquisition, who lure depraved souls into abandoned houses which act as gateways to hell to be judged for the crimes. This new faction includes the likes of the Auditor (played by the director) who writes all the victim's crimes on paper made out of flesh. And since Tunnicliffe had a large hand in actually getting the sequel off the ground, perhaps that's why his performance feels the most lively out of the cast.
The Auditor oozes an air of sadistic calmness which is quite unsettling in itself, while the rest of his demonic cohort all have fascinating designs. From naked sirens who use vomit to determine a judgement, to a gas mask-wearing gimp who skins the victims – it at least has some imagination. In fact seeing the Stygian Inquisition feels like a natural evolution of Pinhead's torturous designs, with the opening scenes providing some truly gross-out moments of gloopy body horror that live up to the originals.
Unfortunately from there, it is all downhill. Sure, no one is tuning in to a Hellraiser films for fascinating character development or an exploration of the human soul – but the rest of the cast are so lifeless as they investigate a serial killer. Introducing a procedural aspect to the franchise has so much potential, which is why it's so disappointing that they're the dullest parts of Judgment. The trio of detectives are incredibly two-dimensional, and none of them are particularly great in trying to keep the film moving. The entire serial killer plot is ripped out of the likes of Seven or Saw with the 'whodunnit' resulting in a predictable, eye-roll worthy ending.
On further reading, Hellraiser: Judgment was produced by Dimension Films simply to keep the rights to the franchise and that's painstakingly obvious thanks to the low-budget visuals of anything aside from the Stygian Inquisition scenes with the Auditor and Pinhead. And yes, it could be argued that part of Hellraiser's allure is its cheap and scrappy, grimy vision of eternal punishment – but at least previous chapters actually had charm. It's a shame, because Tunnicliffe is clearly a fan of the franchise – and maybe with a bigger budget he could've pulled off something genuinely impressive. But the entire serial killer sub-plot grinds the film to such a boring halt, it's as if Pinhead himself was forcing us to watch it in a hell of our own making.
All that being said, Judgment's attempts to widen the Hellraiser mythology are interesting – and if the Stygian Inquisition were given the entire spotlight over a trio of bumbling detectives, perhaps it might've been a little more entertaining. Our only hope is that Southbound and V/H/S director David Bruckner reinvigorates Hellraiser for a new generation with his planned reboot from Spyglass Entertainment.
Flickering Myth Rating – Film: ★  / Movie: ★ ★
Eammon Jacobs