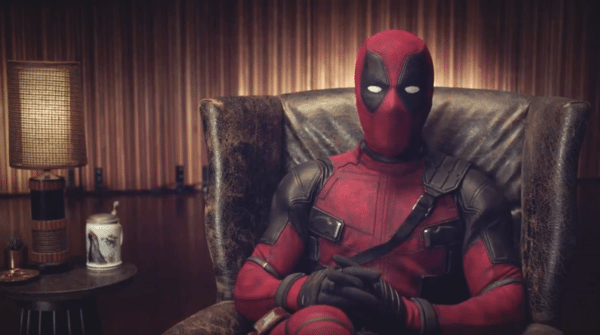 Deadpool has a message for the "beautiful sun-kissed home of Pele, hairless genitalia, and the world's largest Jared Leto statue" in this teaser trailer for the Merc with a Mouth's upcoming sequel, Deadpool 2.
If you hadn't worked it out from the obscure clues, Ryan Reynold's was talking about Brazil, where Deadpool has recorded a special message for the 2017 Brazil Comic-Con, which is taking place this weekend. Not only is it full of the expected comic gems, but it also offers attendees a unique chance to prove their fandom. So look him straight in the nipples, and tell him he didn't just nail that.
SEE ALSO: The Deadpool 2 teaser trailer gets a LEGO remake
After surviving a near fatal bovine attack, a disfigured cafeteria chef (Wade Wilson) struggles to fulfill his dream of becoming Mayberry's hottest bartender while also learning to cope with his lost sense of taste. Searching to regain his spice for life, as well as a flux capacitor, Wade must battle ninjas, the yakuza, and a pack of sexually aggressive canines, as he journeys around the world to discover the importance of family, friendship, and flavor – finding a new taste for adventure and earning the coveted coffee mug title of World's Best Lover. 
Deadpool 2 sees David Leitch (John Wick) directing a cast that includes returning stars Ryan Reynolds (Wade Wilson), Morena Baccarin (Vanessa), T.J. Miller (Weasel), Brianna Hildebrand (Negasonic Teenage Warhead), Stefan Kapicic (Colossus), Leslie Uggams (Blind Al) and Karan Soni (Dopinder) alongside new additions Zazie Beetz (Atlanta) as Domino, Josh Brolin (Avengers: Infinity War) as Cable, Jack Kesy (The Strain) as the film's villain, and Shioli Kutsuna (The Outsider), Eddie Marsan (Atomic Blonde) and Julian Dennison (Hunt for the Wilderpeople) in as-yet-unrevealed roles.
Deadpool 2 is set for release on June 1st 2018.