Tori Brazier reviews the ninth episode of Lucifer season 3…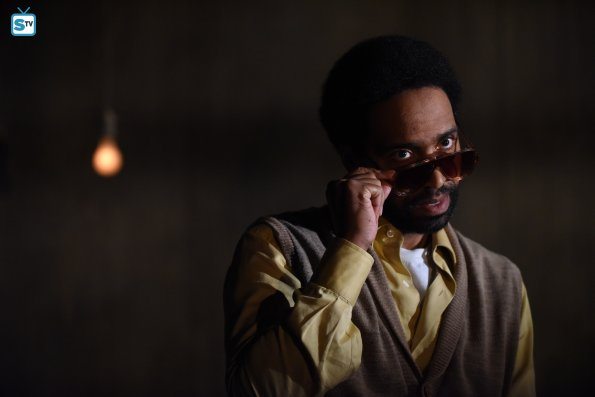 After a rather drawn-out process, season three's ninth episode of Lucifer finally wends its way back to pick up the important plot thread of the season: finding (and besting) the Sinnerman (Kevin Carroll). Although frustrating at times, the meandering of Lucifer into some more inconsequential sub-plots this season has served to ratchet up the tension (and expectation) when it comes to this 'Big Bad'. He has stolen Lucifer's (Tom Ellis) devil face and forcibly re-attached his wings, which demonstrates his knowledge of this fallen angel's true identity and power – if not a similar celestial/demonic status for himself, too. Now he's killing people and placing the bodies in positions reminiscent of the favour Lucifer has granted to each in the past (e.g. mob status, entrepreneurial success in hair care etc.), to taunt him.
'The Sinnerman' also ambitiously attends to the myriad of supporting characters that have been established this season, moving forward several of the individual personal stories. Maze (Lesley-Ann Brandt) returns from vague bounty-hunting in order to be made uneasy over Amenadiel (D.B. Woodside) and Linda's (Rachael Harris) burgeoning friendship, which this week takes the romantic turn that has so obviously been coming for a while. Pierce (Tom Welling) is also finally back from his injury, meaning he and Chloe (Lauren German) can continue to enjoy a frisson or two in the workplace, as previously noted by sparky Ella (Aimee Garcia).
Charlotte (Tricia Helfer), meanwhile, is settling into her new role in the D.A.'s office, which puts her on the side of the police for the first time in her career. Helfer revels in the chance to play a redeemed (or redeemable) character, eager to please but not yet relaxed in her job – especially when former clients (i.e. the mob) rock up… The comforting moment that she and Dan (Kevin Alejandro) share in the toilets also hints at a possible return to their relationship of the previous season – except, y'know, without her body being possessed by Lucifer's tricky mother.
As well as louder, more bombastic sections during 'The Sinnerman' (like Chloe's dramatic kitchen shoot-out with the villain), this episode also has a firm hand on the orchestration of smaller, more intimate moments: Linda and Amenadiel's 'what are we?' conversation has noticeably lovely but subtle music playing underneath throughout. Pierce and Chloe share a similar quiet scene later on when she confides in him details of her father's death while on duty – something she hasn't even shared with Lucifer.
With the Sinnerman remanded in custody so (relatively-speaking) easily this episode, his true awe perhaps remains to be seen. Despite still prevailing in being one step ahead of Lucifer – first in trapping him in a freezer and only communicating via video link, and second in dramatically blinding himself at the end of the episode to avoid Lucifer's hypnotic gaze – the Sinnerman appears mundane. He wears tank tops and lots of beige. This clearly indicates a lot of room still left for development of this plot – and character – arc in the coming episodes of Lucifer. This was simply a taste.
SEE ALSO: Watch a promo for Lucifer's Midseason Finale – 'The Sin Bin'
Tori Brazier